We are offering you best eCommerce WordPress themes that have amazing designs and a lot of useful features. Have a look at our collection and please leave a link if we missed some great themes.

Blanco is clear, easy to customize WordPress template. Many new features such as powerful admin module, slideshow, new products display on homepage, extra links and blocks and so on. This Magento template is one of the most powerful and flexible templates at WP store.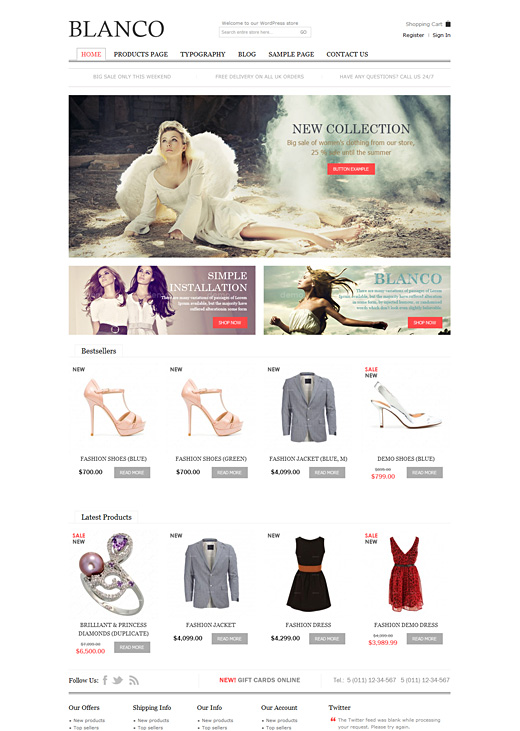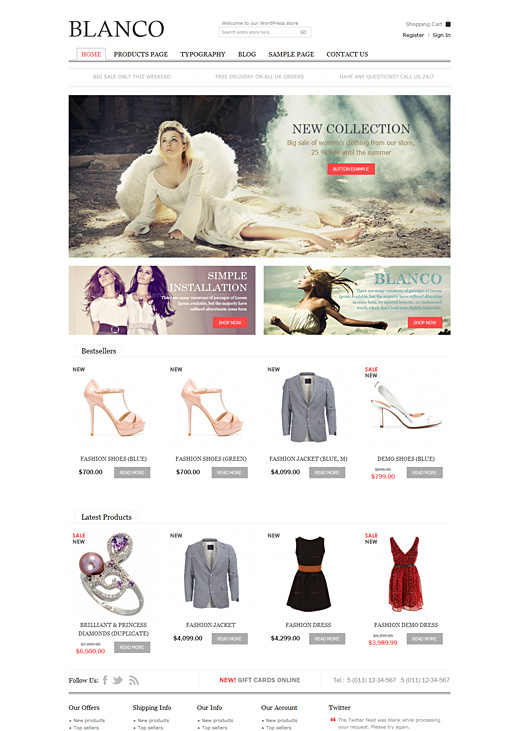 Essential is clean, performance optimized responsive ecommerce theme easily configured from WP admin. Get your web shop ready in no time, customize it from WP admin, add your tweaks and plugins and start selling in minutes.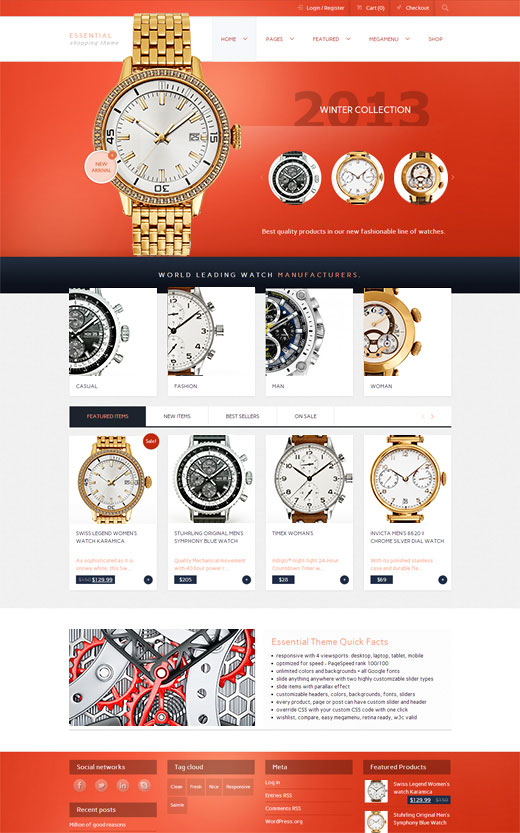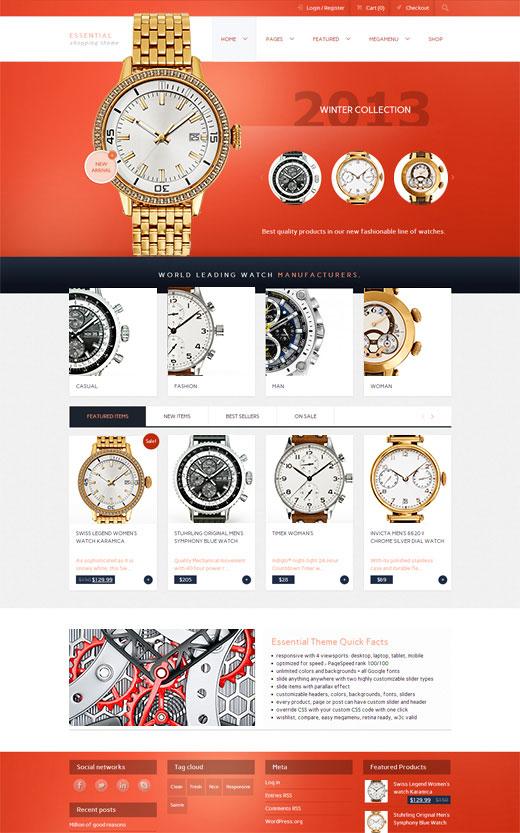 Boutique WordPress eCommerce theme gives you the power to open your own online storefront. The theme has been built to integrate with some of the most popular eCommerce plugins available, allowing people to use their favorite system without any conflicts.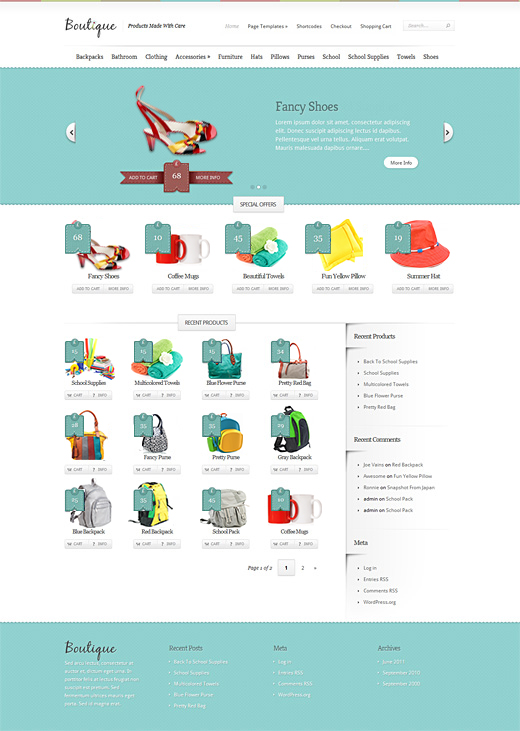 Gigawatt is a great eCommerce theme for those who love simplicity and clearance. This WordPress theme has a lot of unique features, responsive design, WooCommerce compatibilities, two light color schemes and others.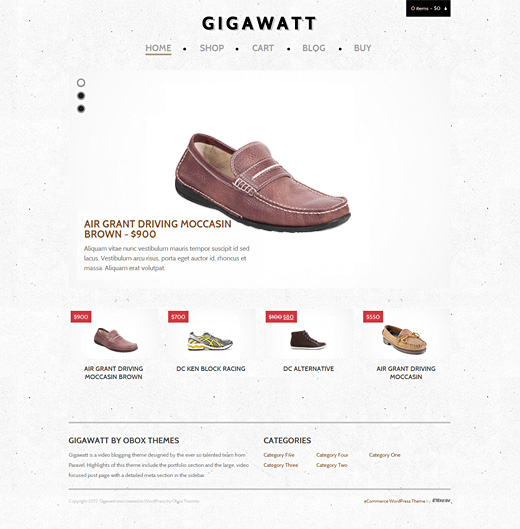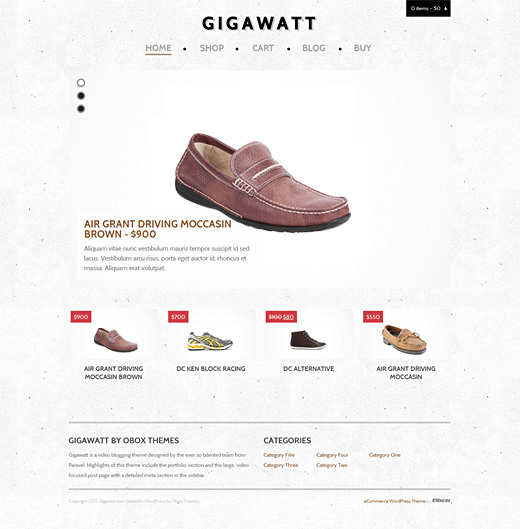 Barberry is a Modern Fully Responsive Retina Ready WooCommerce theme based on Twitter Bootstrap. Start your Store right away with Barberry ecommerce theme.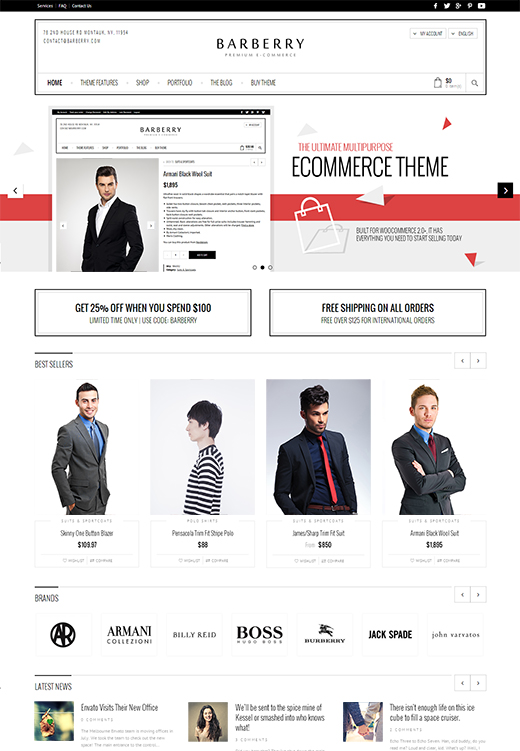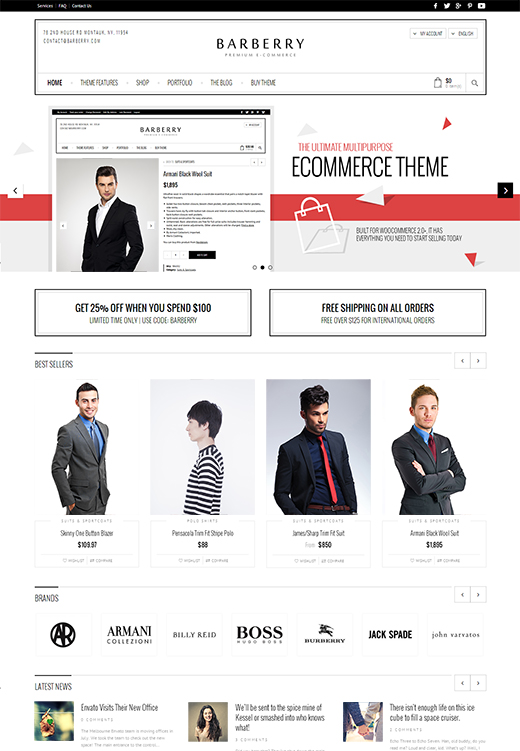 IDStore Responsive Multi-Purpose Ecommerce Theme – is a professionally developed, high-quality, functional template for the sites working on WordPress. You may admire image gallery, blog posts and all the other peculiarities available with WordPress.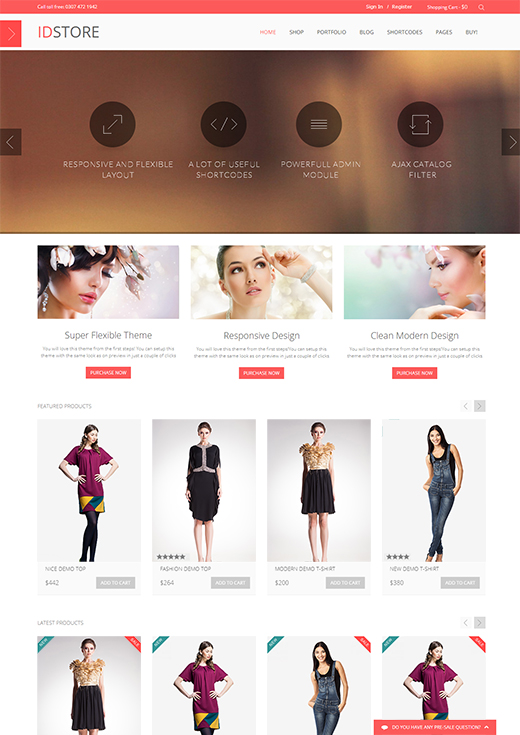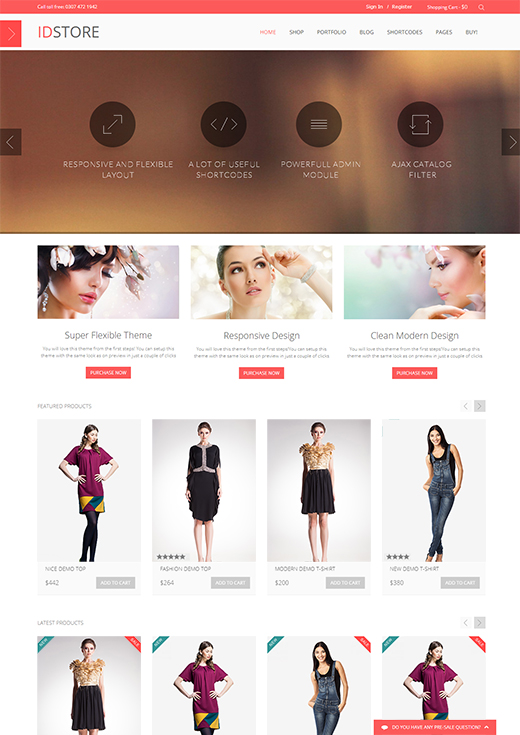 Cosmetico is a beautiful eCommerce Theme for WordPress with multiply skins and options.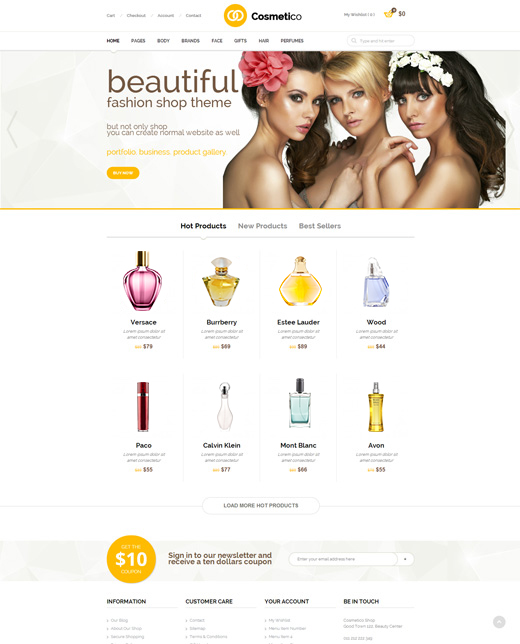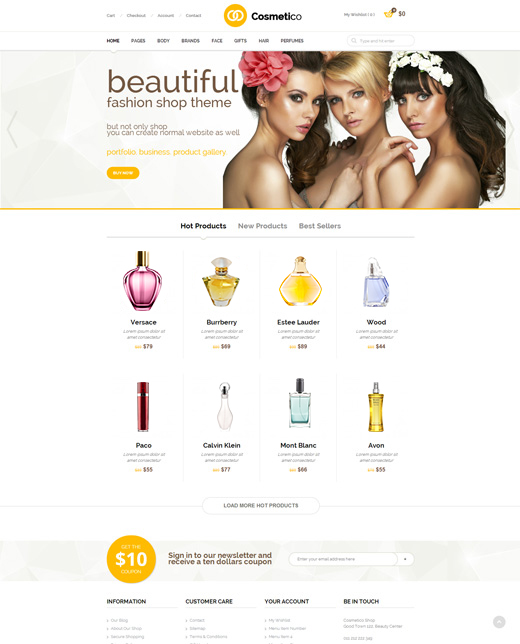 Sellya is a fully responsive WordPress eCommerce theme for any store, it uses Bootstrap and it's created by using the latest HTML5 and CSS3 features. Admin panel with 230+ custom build options allows you to do extreme customizations without knowing any HTML or CSS.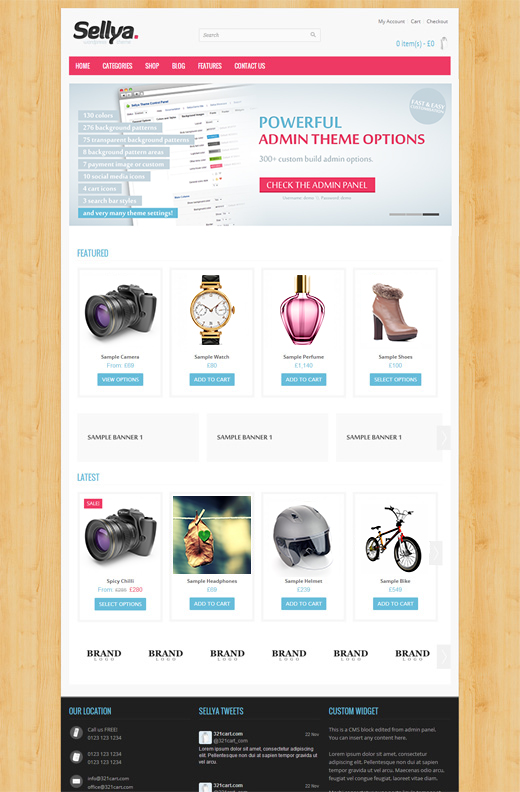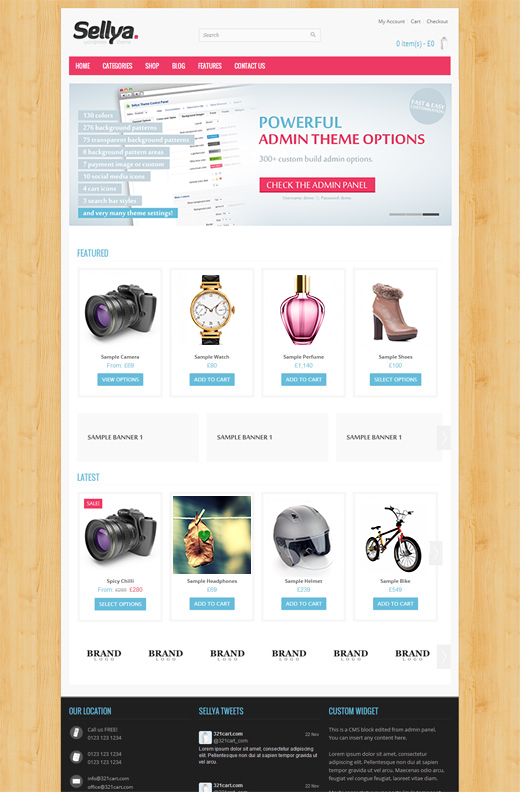 Mommy Blog is a super cute WordPress theme suited to a children's business or stay at home mothers website. This theme comes configured ready to go with Jigoshop. Jigoshop is a very easy to use professional e-commerce solution for WordPress.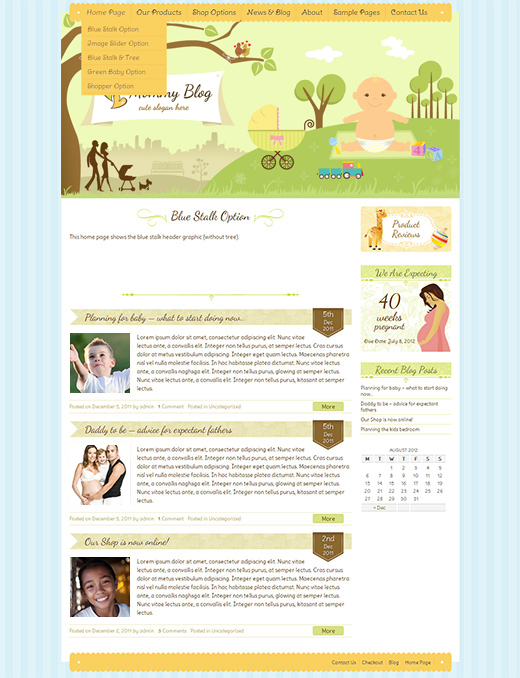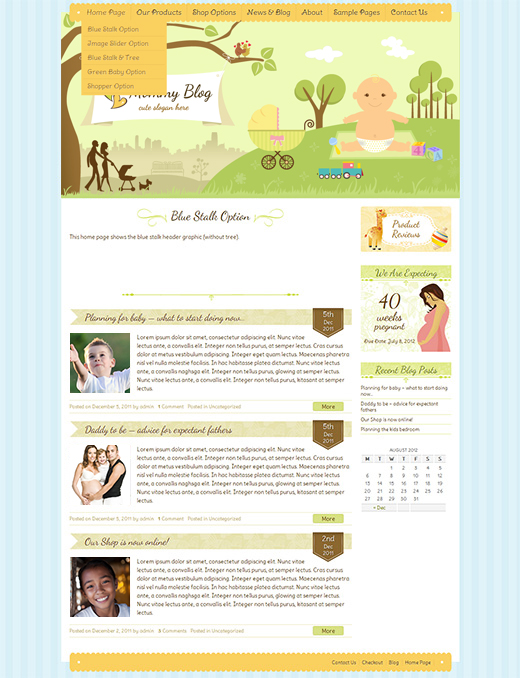 WordPress eCommerce RoeDok Responsive theme, WooCommerce theme is our new WordPress Fashion Template specially designed for Fashion store, particularly, clothing, accessories, shoes, and jewelry. It has such a modern design style that many customers request. Extremely clean and neat, pure white is a perfect reflection for your products.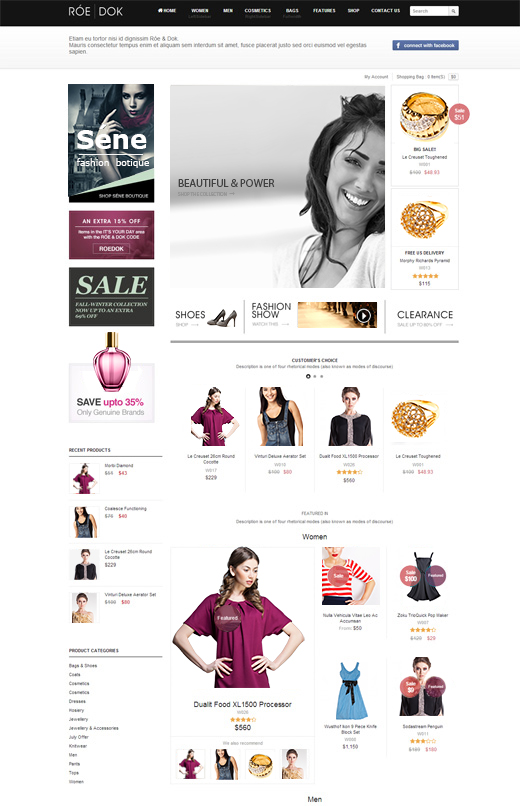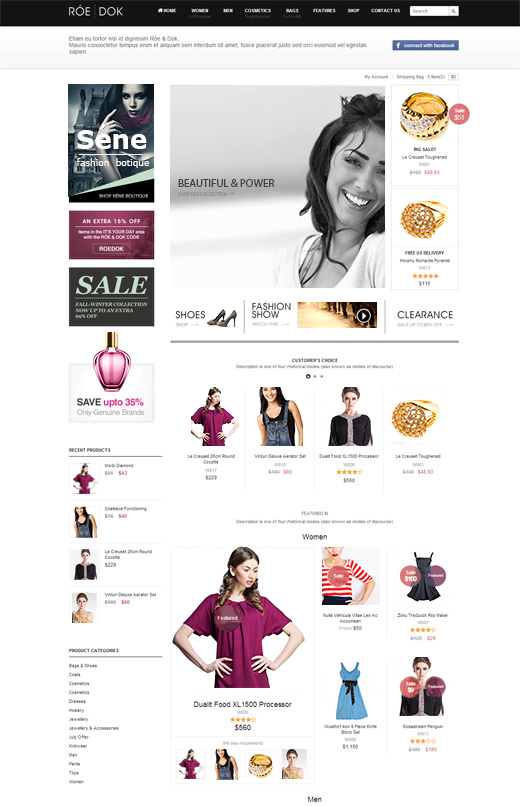 Hudson is the ideal solution for a blog, eShop, online catalog, eCommerce website or any other related project.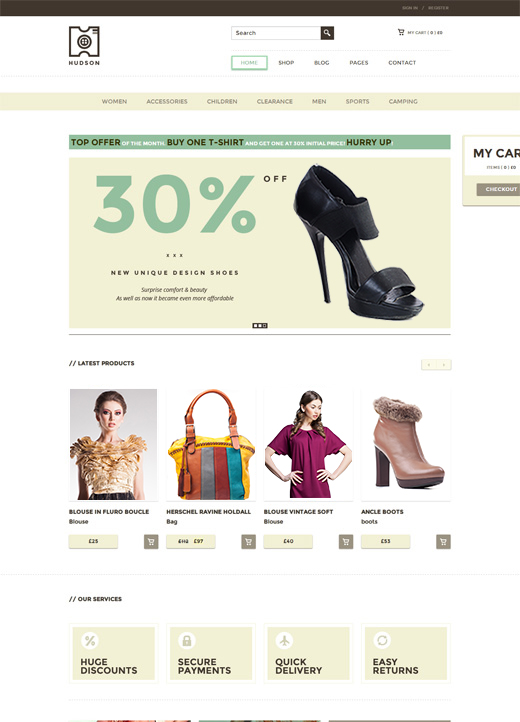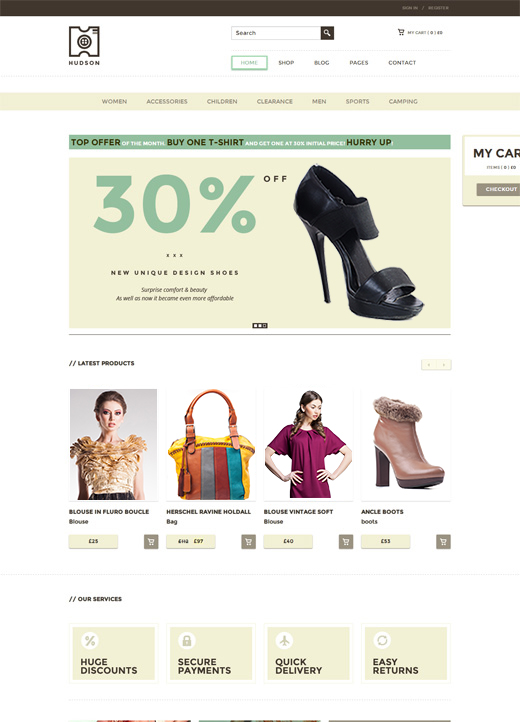 Stored eCommerce Theme is built to make use of the Cart66 ecommerce plugin, making your WordPress install an awesome looking store. Stored makes it easy to get your products front and center to start making sales.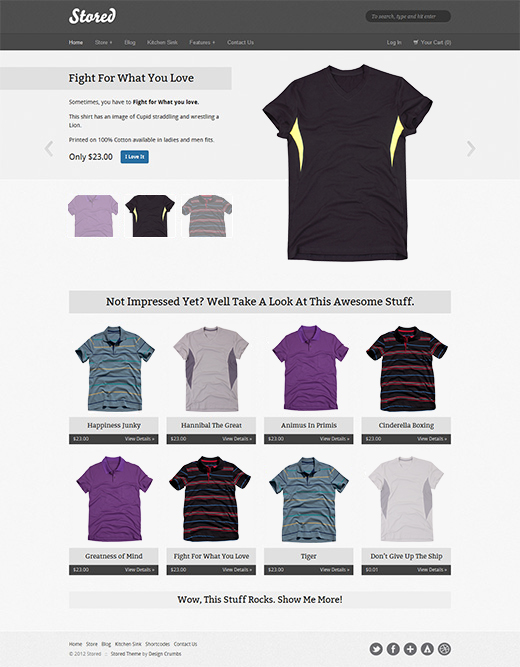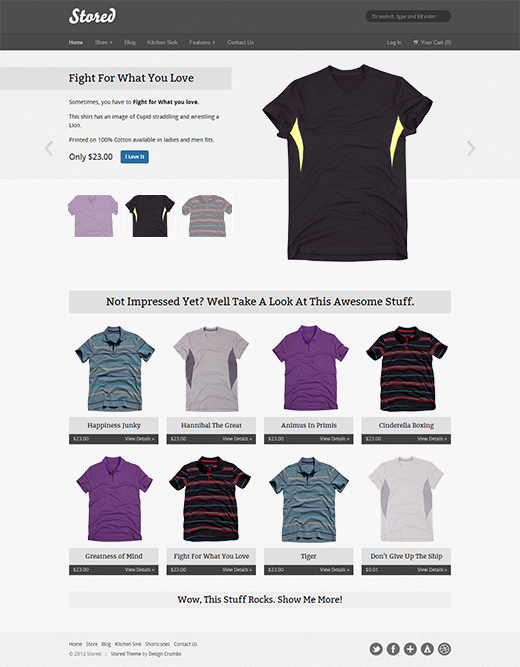 Clean Style wordpress e-commerce theme, with wp-e-commerce plugin, ajax contact form, animated sortable gallery and much much more. Will be good for photographers who want to sell their images, but can early be converted to any kind of e-commerce store.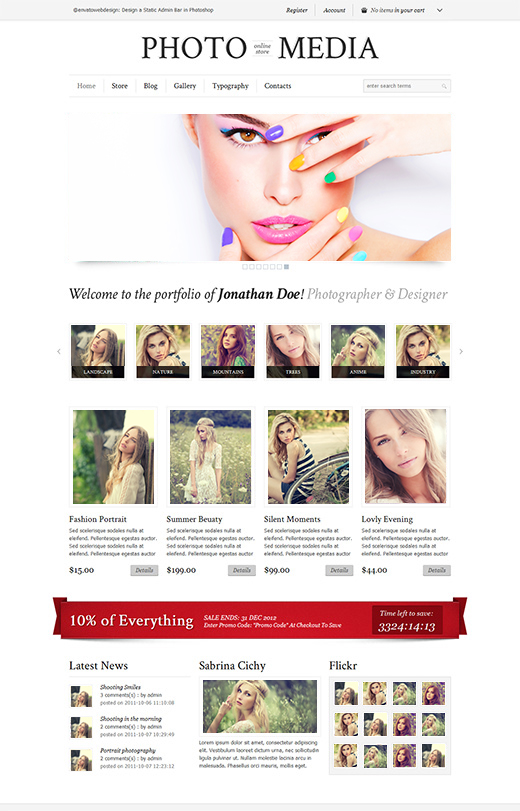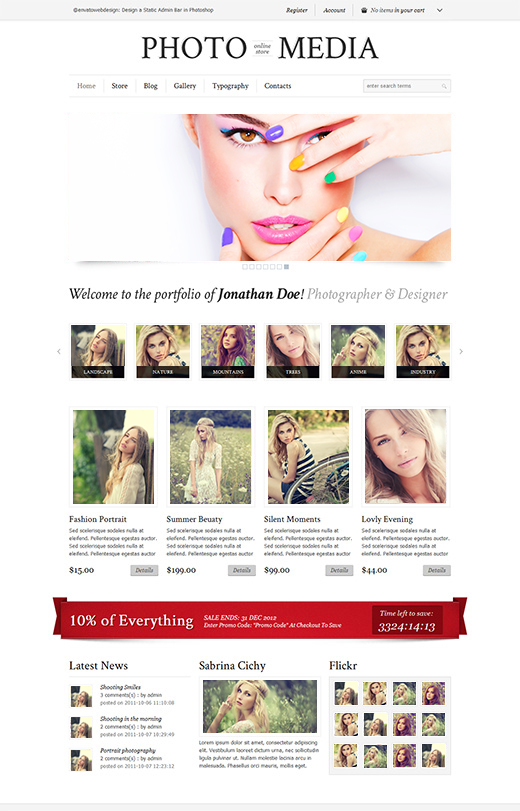 And so, we introduce Store, our latest eCommerce centric theme. It's design is elegant and characterful, much like Handmade but with a more versatile and less rigid style.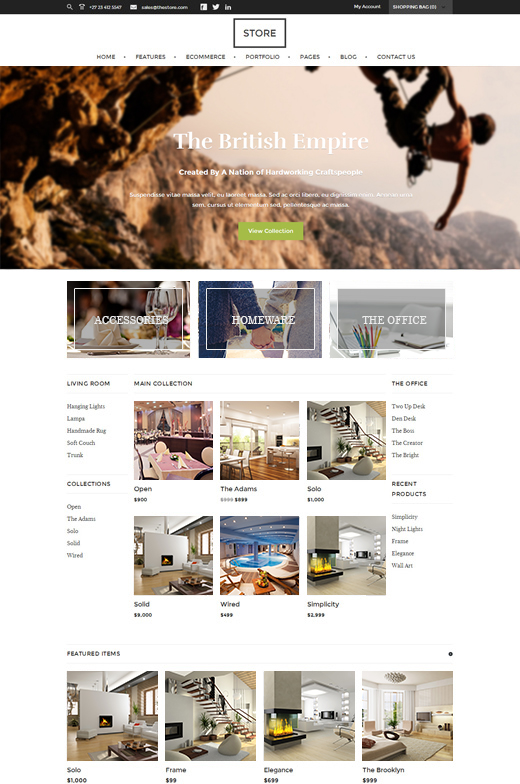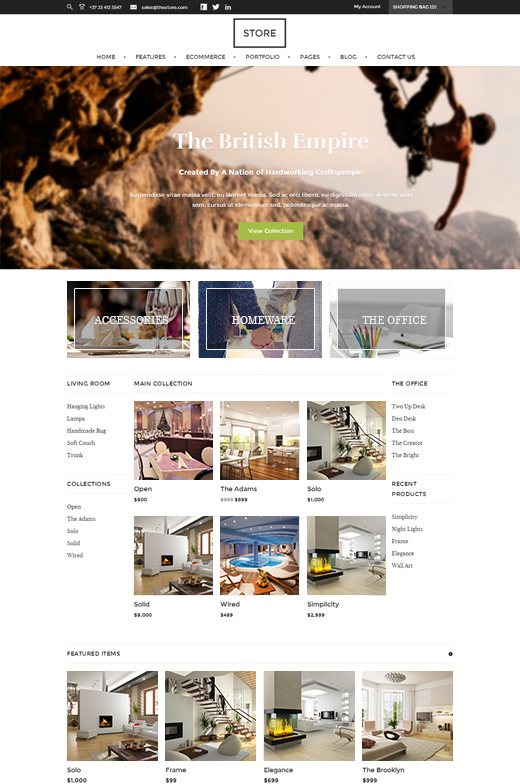 Flatsome is a beautiful responsive theme inspired by modern eCommerce designs. We're a WooCommerce-only company that loves eCommerce and WordPress. We want your shop to look amazing and be loved by your customers!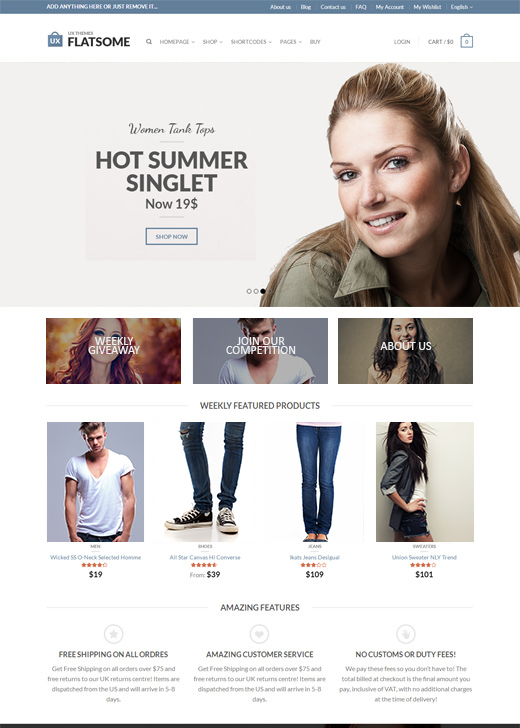 Featuring Mantel, a stunning eCommerce theme designed with abundance of white space  for your apparel/clothing  store and business. It comes with a big image slider with handful effects on the homepage, large product image on the product page, and several layout options to display your products in the Shop area.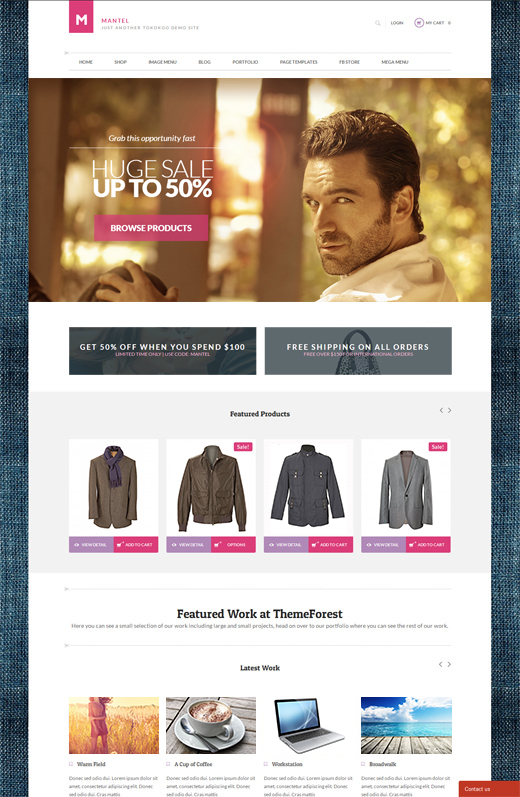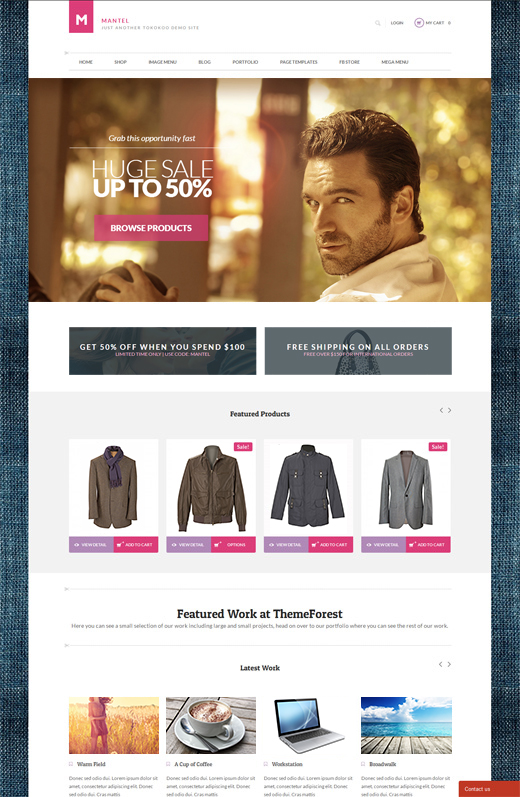 SmartShop is a clean and responsive wordpress theme for ecommerce and shopping cart websites. This theme is fully compatible with WooCommerce System.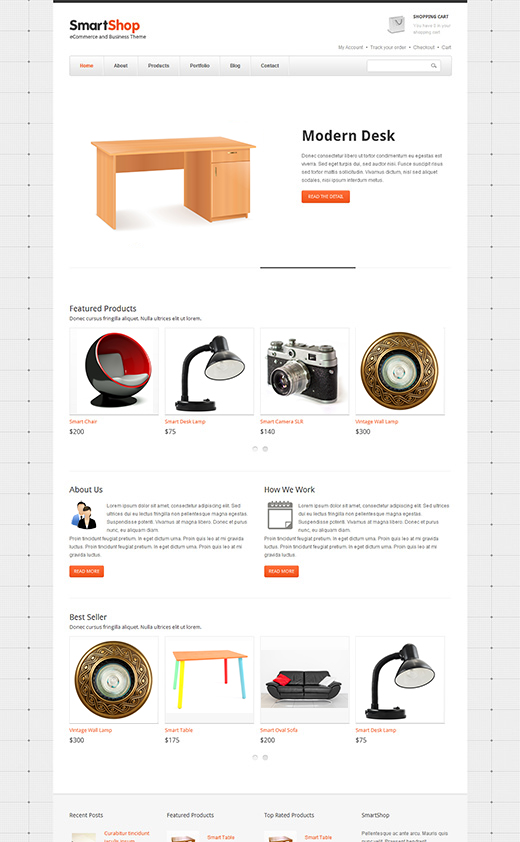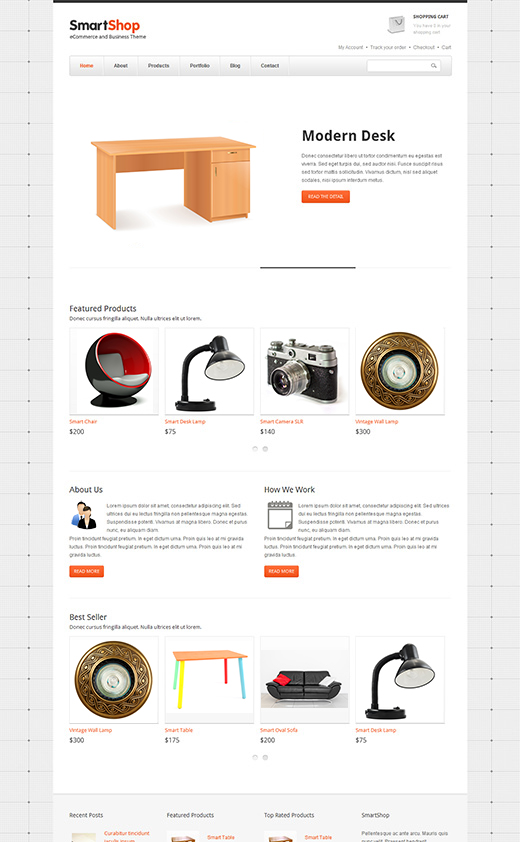 Lathika JigoShop is responsive e-commerce WordPress theme designed specifically for use with JigoShop plugin. It doesn't make the difference whether you are about to sell digital, physical or virtual products, it's just perfect for all.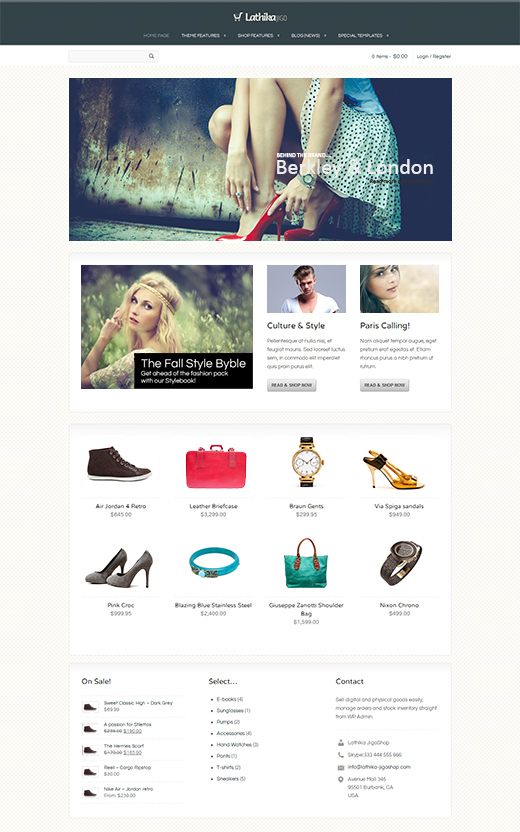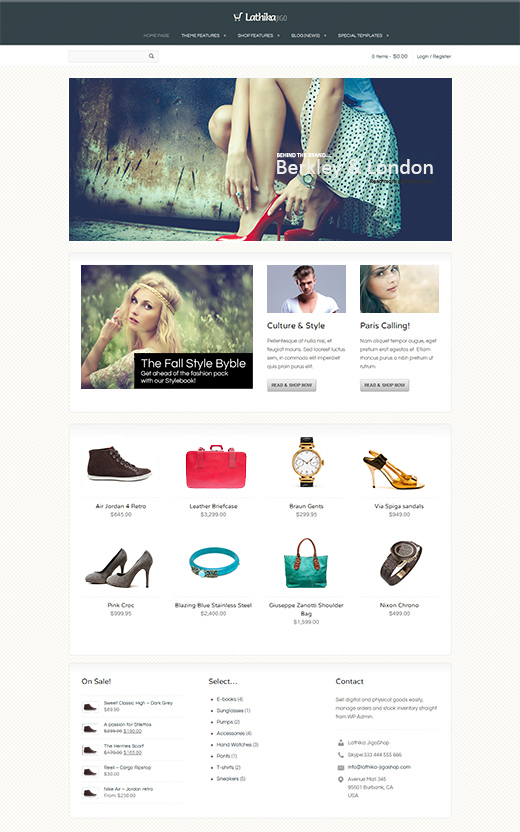 Storefront Pro for WordPress is a responsive shopping cart theme written in HTML5 / CSS3 , which provides a convenient way for your customers to buy your products at home or on the go and which seamlessly adapts to your customers screen sizes no matter if they use a desktop pc, a tablet or a smartphone to view your site.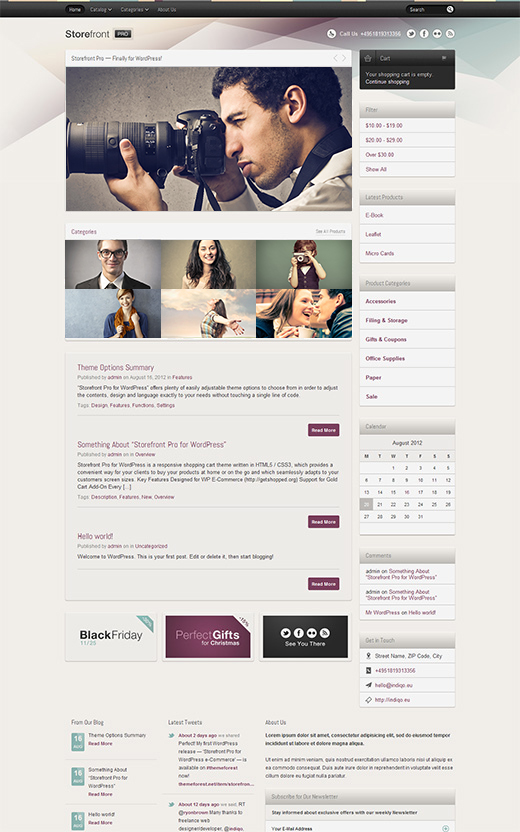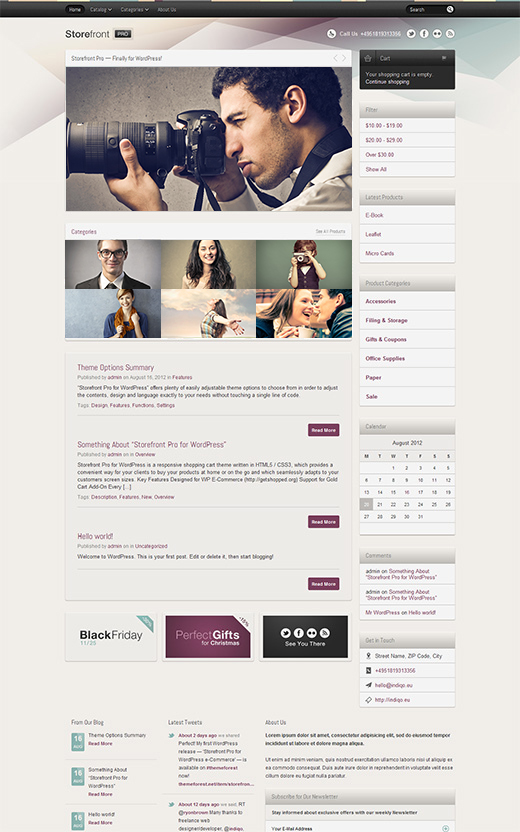 Yes, Commerce WordPress theme is Premium WordPress ecommerce theme with pinterest style that'd be perfect and suitable for your retail and online business store. You can sell wide-range categories, almost any type of your products for your online store.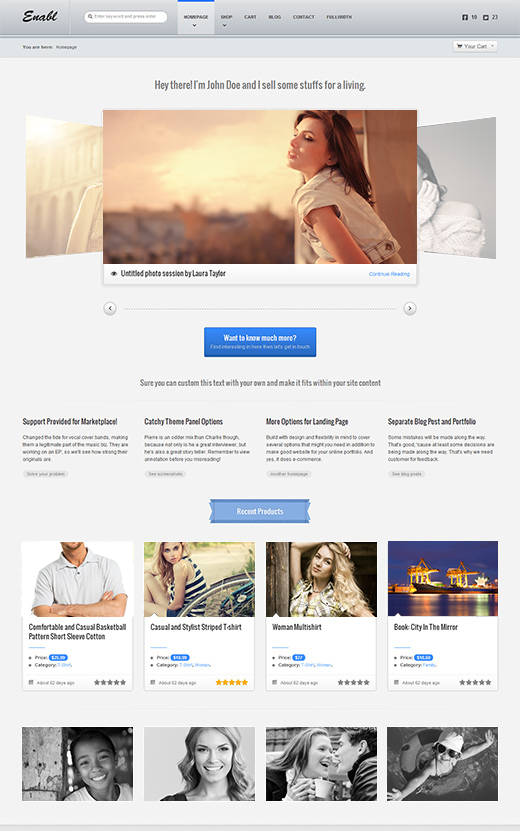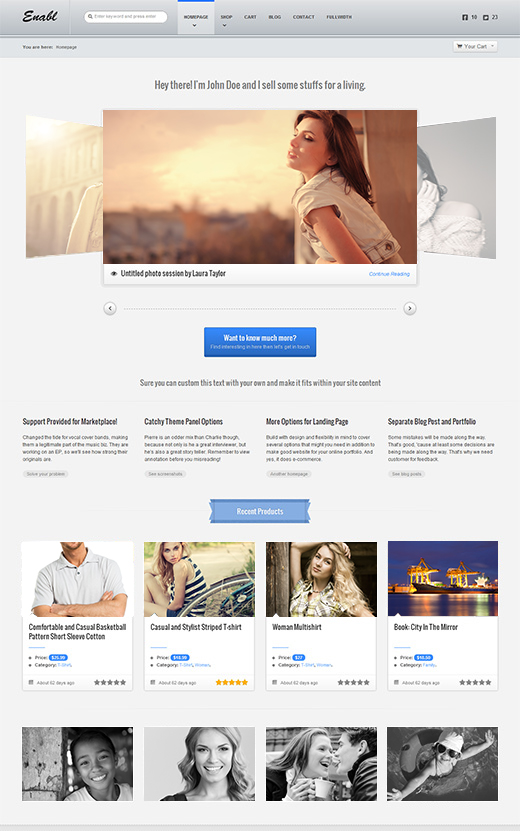 Enfinity is an elegant and flexible WordPress e-commerce theme with an adaptive layout and many features inside. It has got a (really) powerful admin panel, you can try it by enter the preview?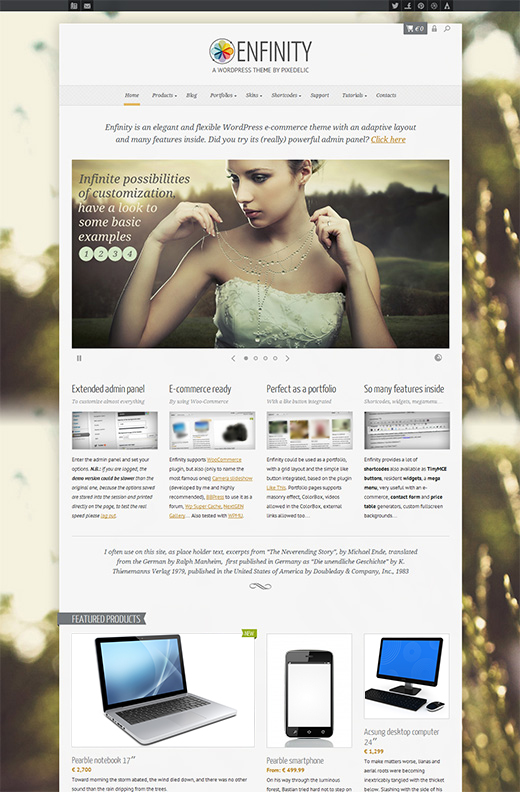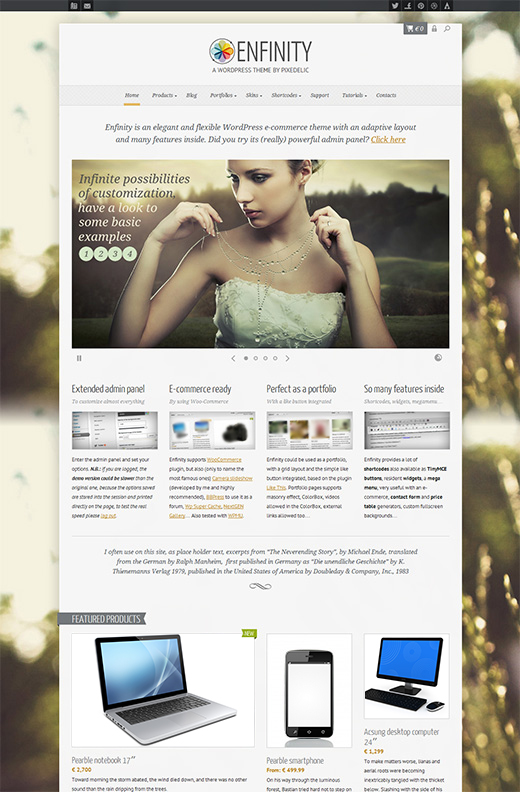 SMPL is a robust, responsive business theme with a clean, modular design. With integrated styling for WooCommerce you can enable e-commerce shop facilities out of the box, or enable later with the re-assurance that your site can scale with your business's growth.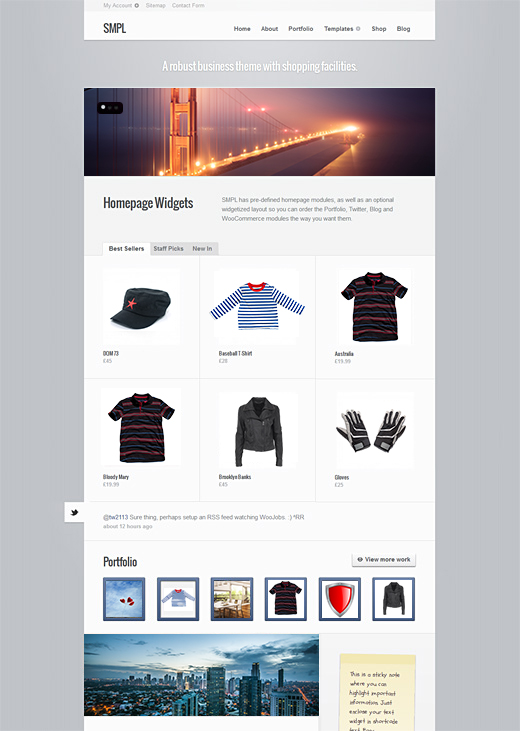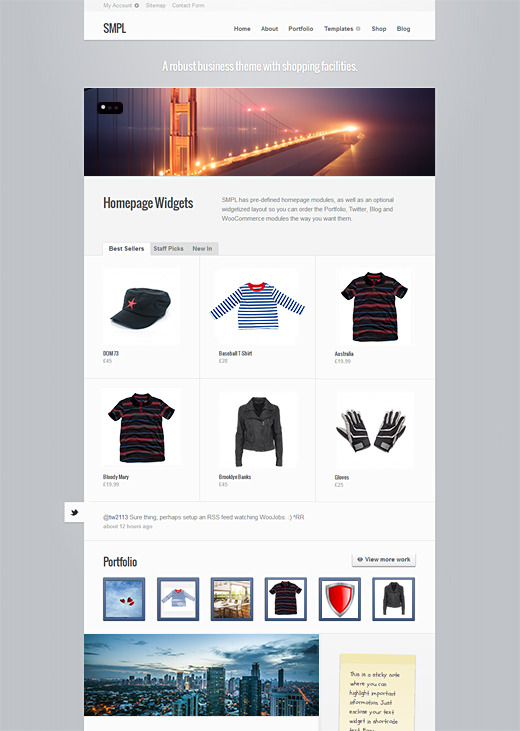 DownloadShop WordPress theme is made to allow users to sell digital goods. What kind of digital goods? Any kind! As long as file for sale is kept (uploaded) as ZIP archive you can be safe. It means that you can easily sell stock photos, fonts, videos, templates, software, icons – whatever you like.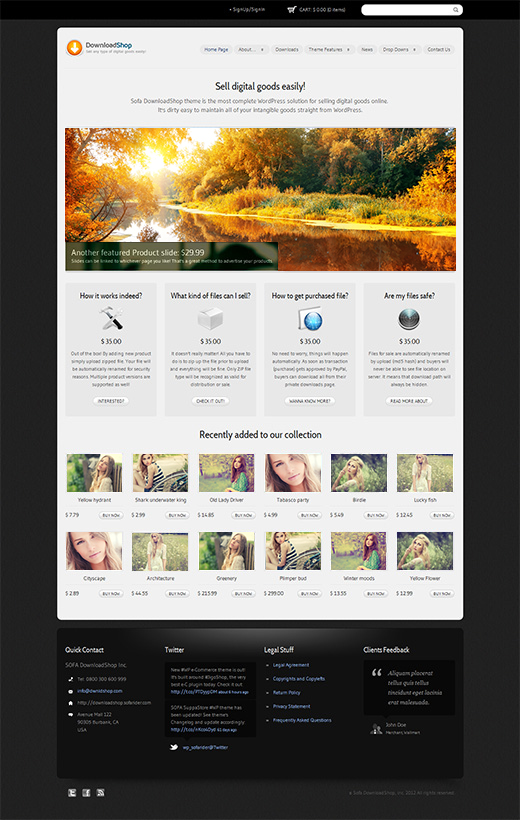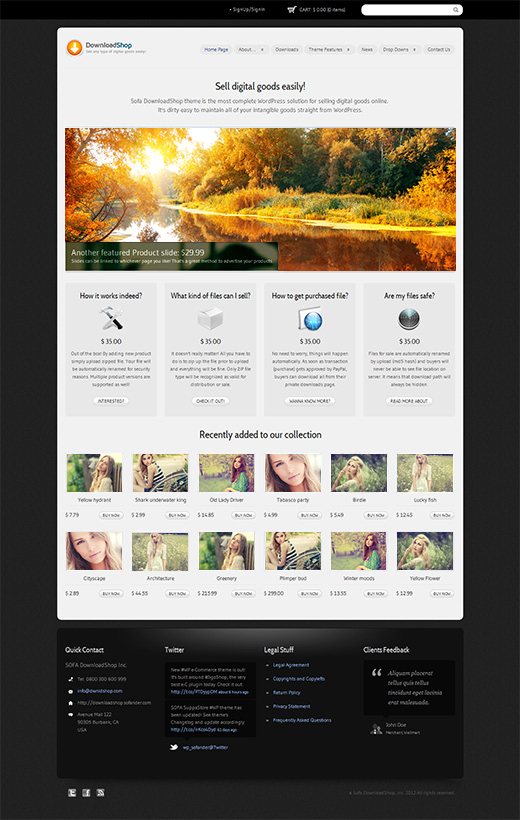 Arloji is designed to make your small business looks 'big', established and reliable. With lots of airy space between large images and detailed typography, Arloji leads your website visitors to focus more on your content.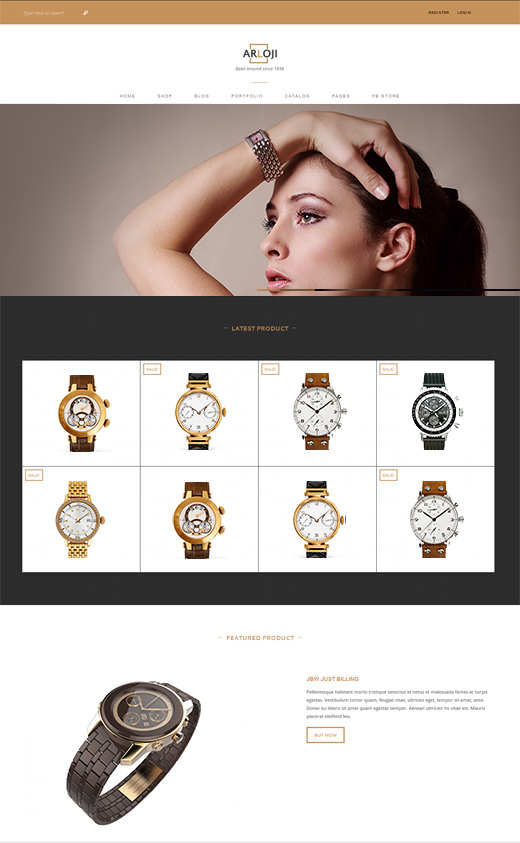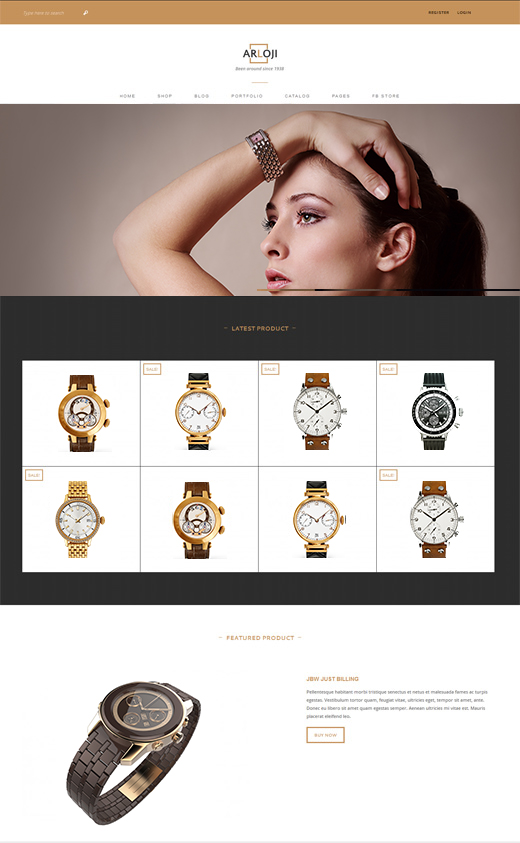 Sistina is a clean and modern Woo Commerce theme, designed with a fresh flat style and with a great responsive and retina-ready design.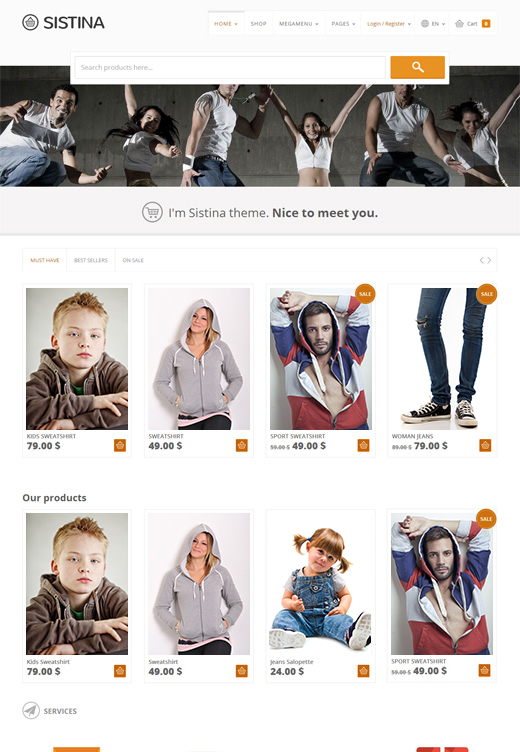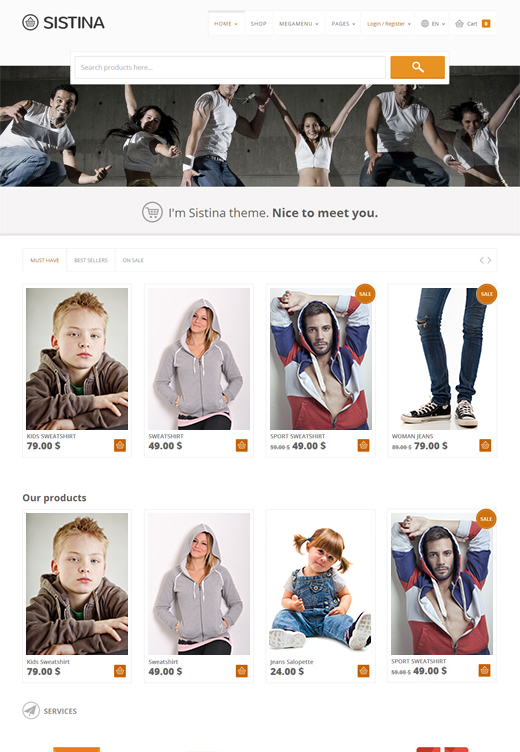 This child theme will add WooCommerce goodness to the Whitelight parent theme, allowing you to add a module to the customized homepage and get all the WooCommerce styling and functionality it deserves.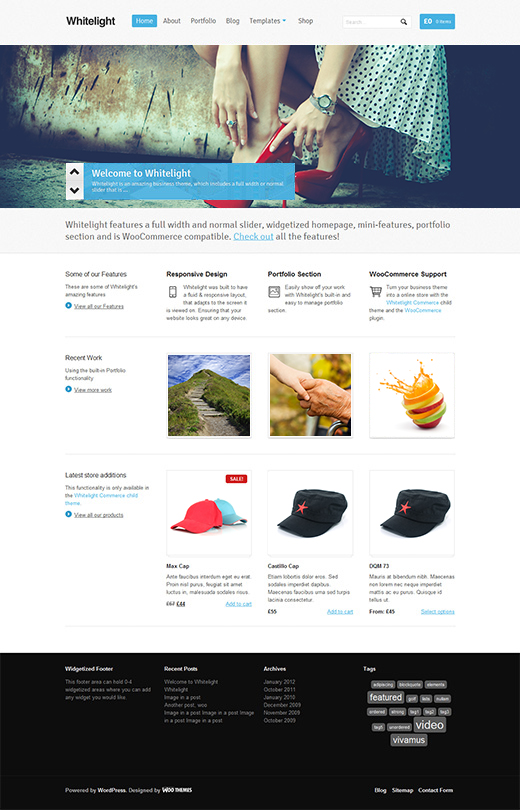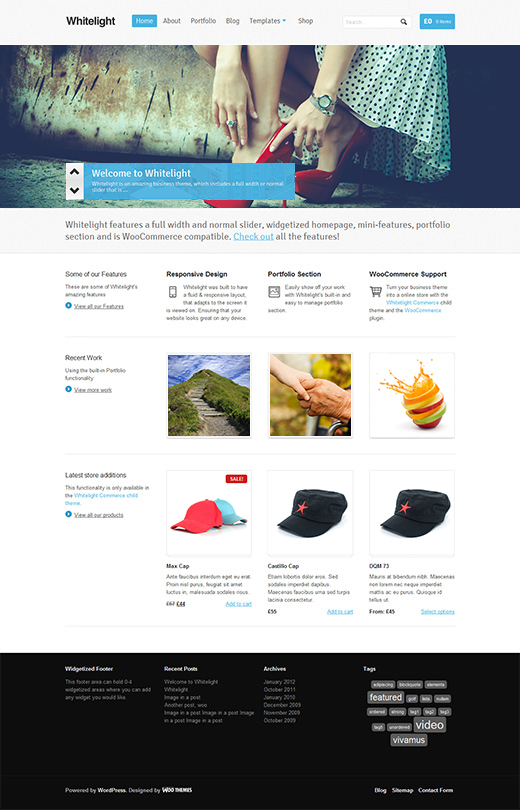 456Market is a modern WooCommerce theme, built on Bootstrap grid system for eCommerce, corporate websites. Theme is fully translation ready, compatible with WPML Multilingual CMS, WooCommerce Wishlists, WooCommerce Professor Cloud and WooCommerce Compare Products PRO plugins.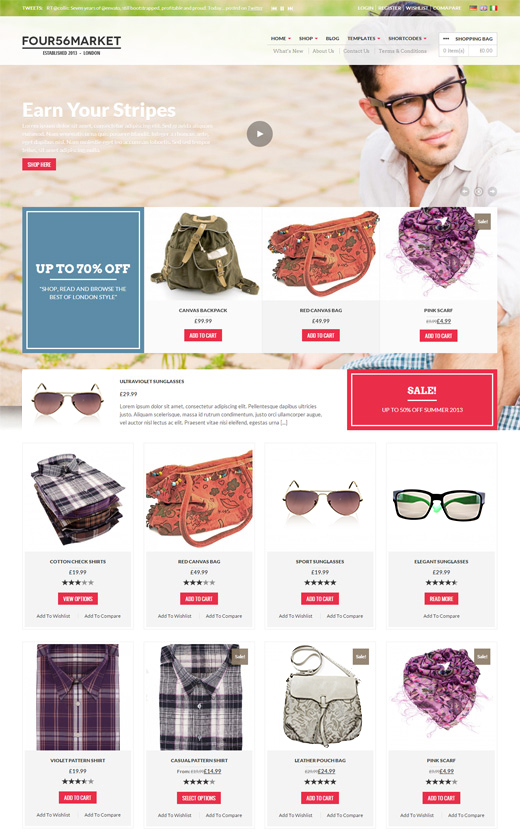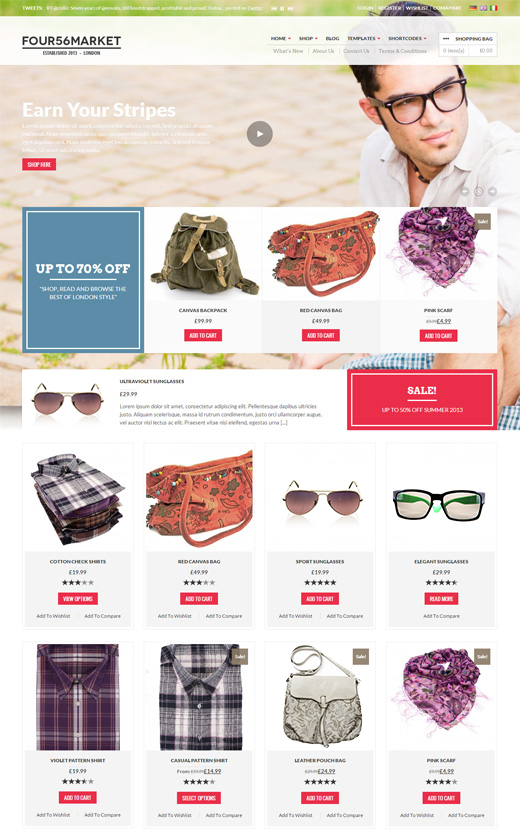 The Vineyard is a complete, flexable and beautiful eCommerce WordPress theme. The specificly designed store pages will show off your products perfectly. It fully supports the cart66 plugin for a complete webshop experience. Packed with options, custom widgets and shortcodes, this theme will not dissapoint!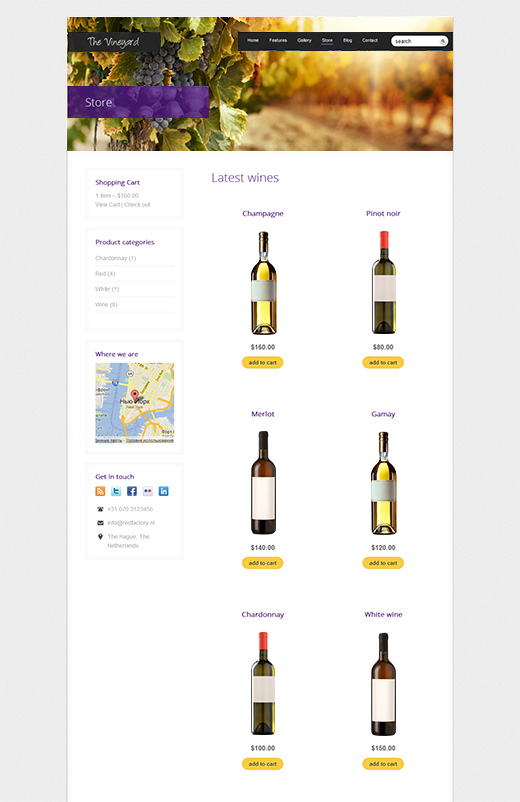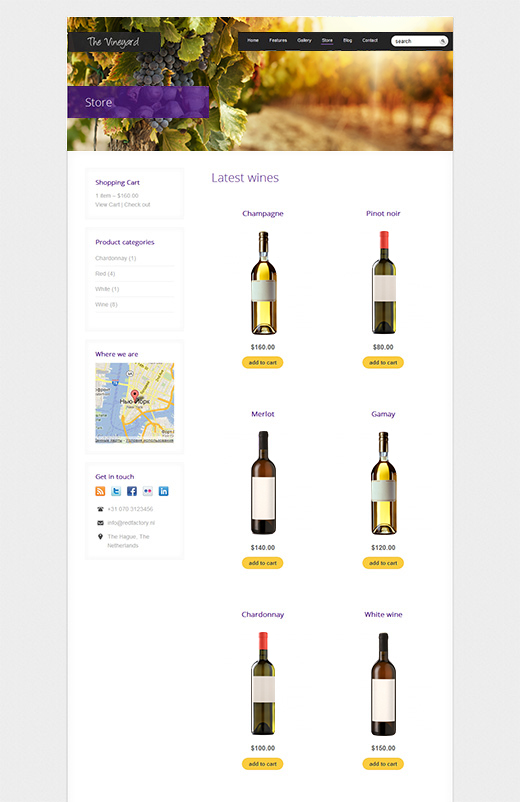 Flexible e-commerce theme, with wp-e-commerce plugin, ajax contact form, animated sortable gallery and much much more.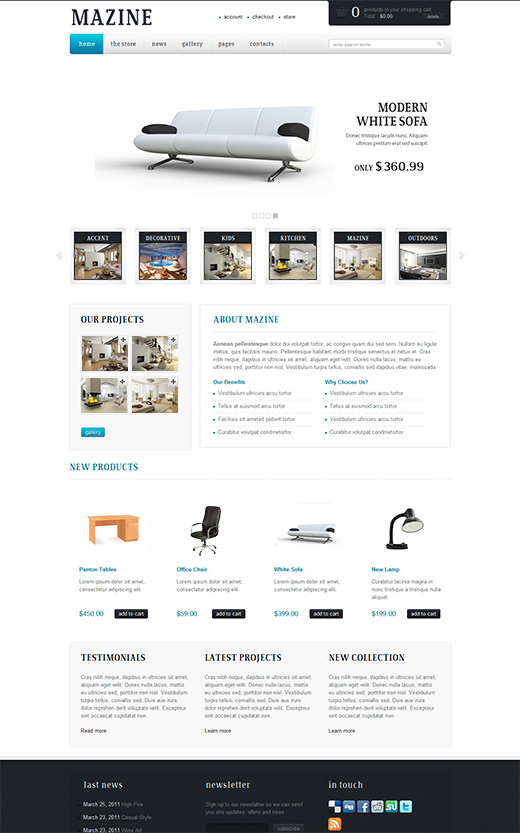 MayaShop is a fresh WordPress theme that utilises the powerful JigoShop and Woo Commerce plugins to create a versatile WordPress powered shop, with unlimited layout options and unlimited skins. Make this theme your own.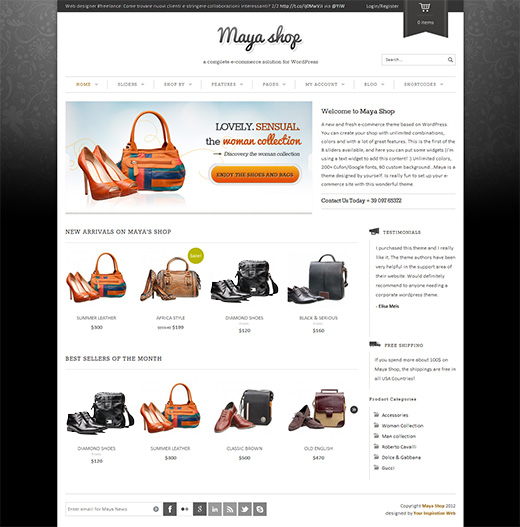 Abundance is an elegant and flexible WordPress eCommerce Theme, suited for users with no coding knowledge as well as deverlopers. The Theme is built on top of the fabulous woocommerce shop plugin It comes with a plethora of options so you can modify layout, styling, colors and fonts directly from within the backend.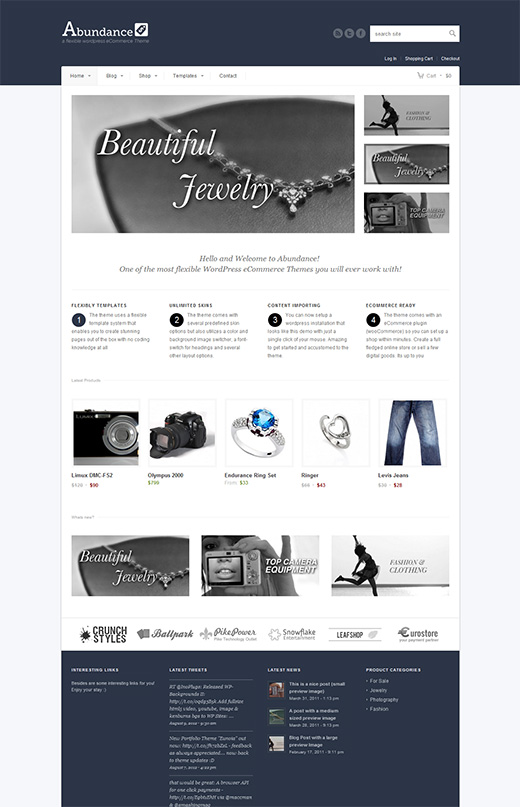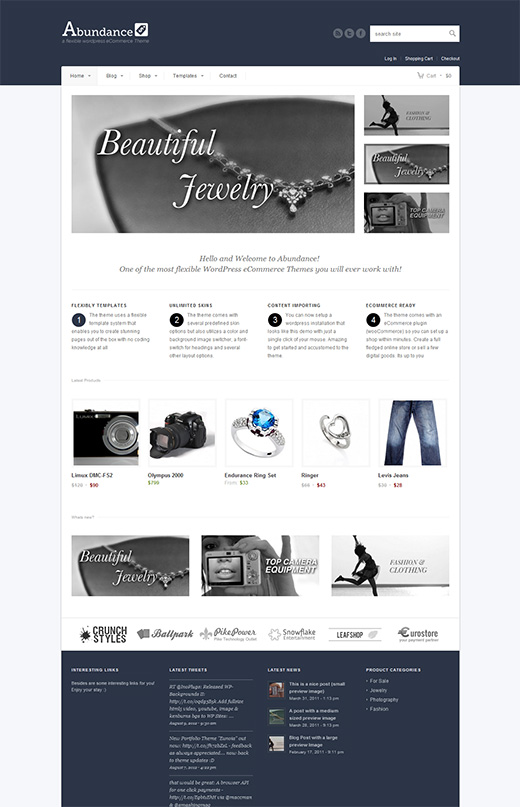 Neighborhood is super responsive, retina ready, and built upon the 1170px Twitter Bootstrap framework. Featuring a clean, modern, and superbly slick design, packed with the most powerful Swift Framework which offers limitless possibilities.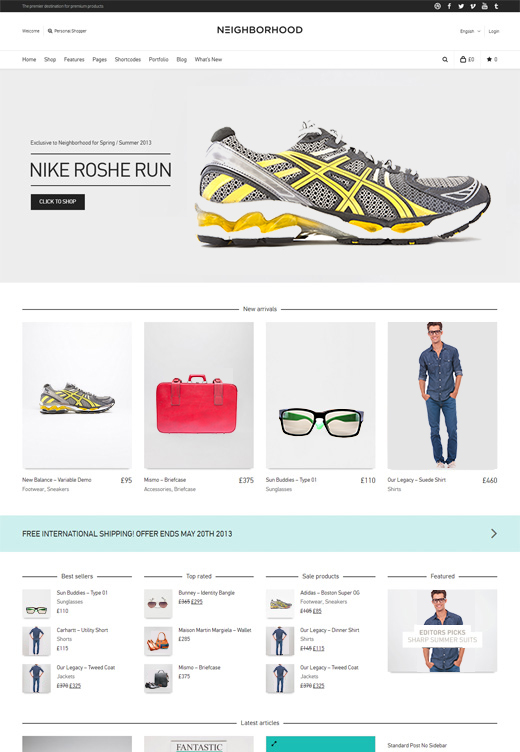 Outlet is a professionally developed eCommerce theme that is built with flexibility and performance in mind. The sleek clean modern design is combined with upto date coding practices and has an integrated smart loader that only loads the necessary resources for each page or post for quick browsing.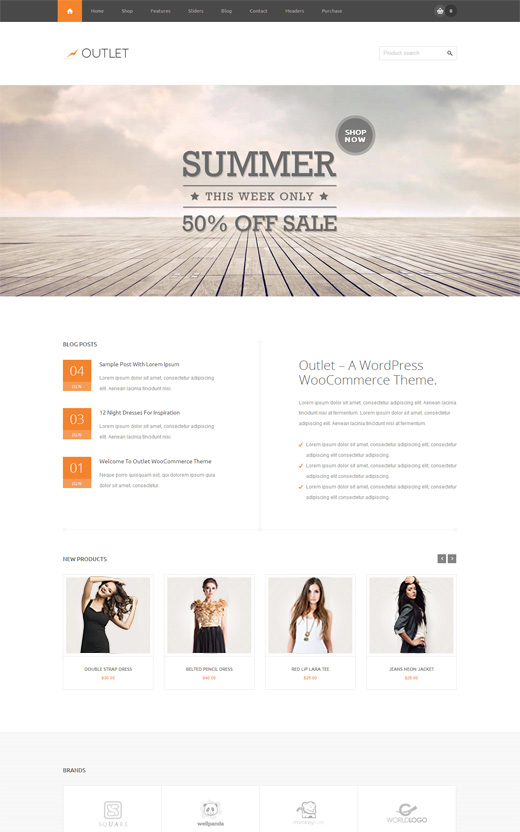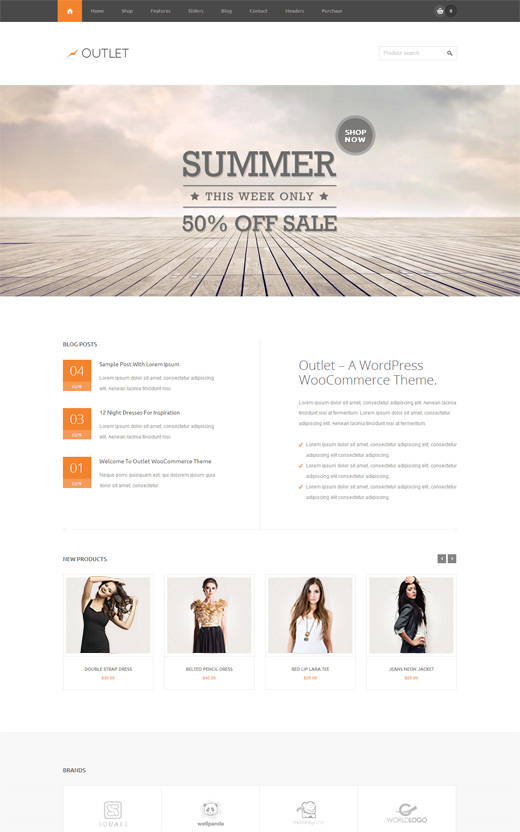 Shopster is here! Create a stylish online stop, company web site, personal portfolio or simply a blog. Mix and match to create the site that you want. You're the boss.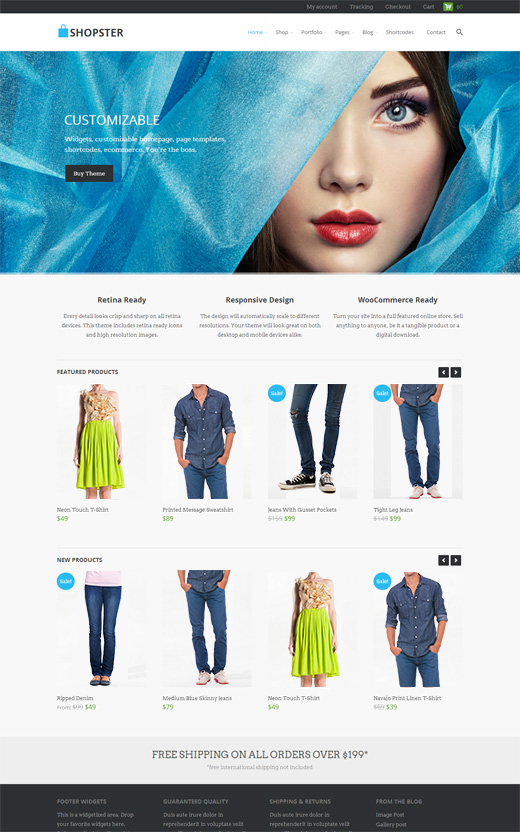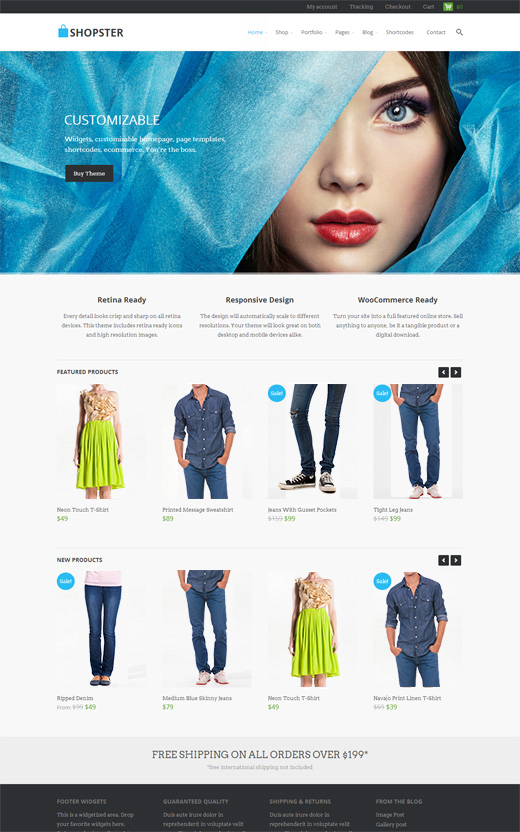 Shelflife is a clean, e-commerce focussed theme with a homepage dedicated to featured, popular and recent products with dedicated spaces for mini-features and promotions powered by their own custom post types, as well as a widgetized sidebar and footer regions.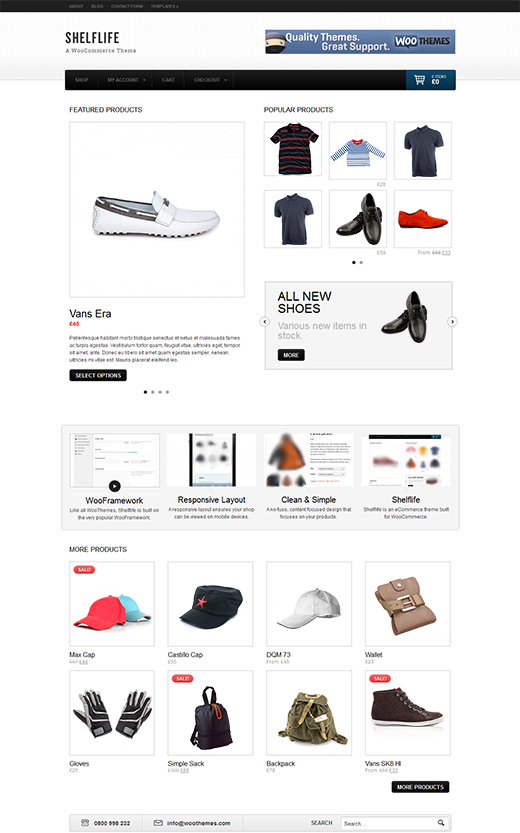 Armonico is a truly flexible eCommerce theme for WordPress. It's been designed with smooth and minimal design to easily mesh with the desired look and feel of any brand.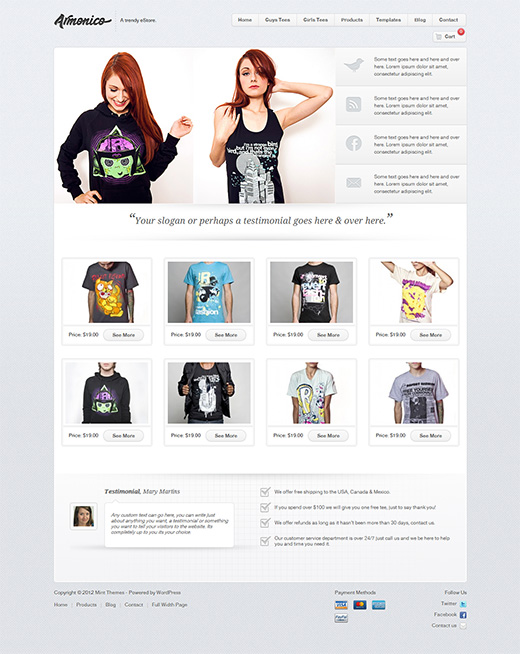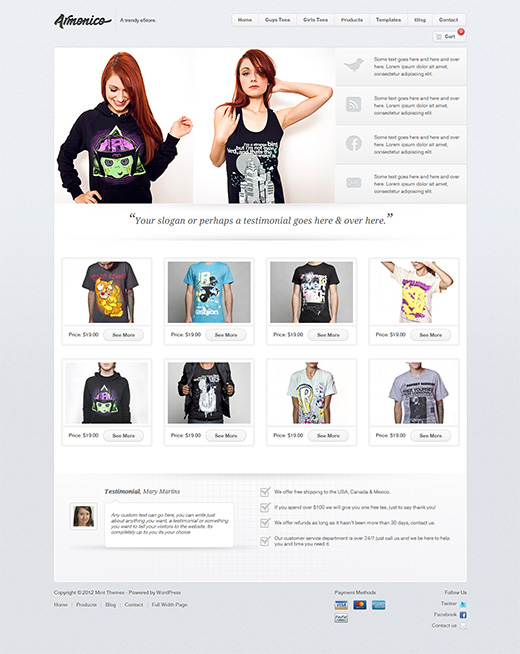 The Compra theme is an incredible, feature-packed, eCommerce theme for WordPress. You'll be selling products in your own online store with great design and a user-friendly layout. It features a complete home-page with 2 image sliders, products, testimonials and more.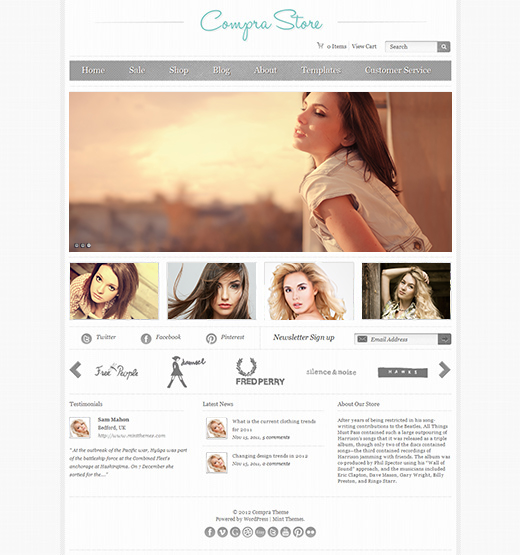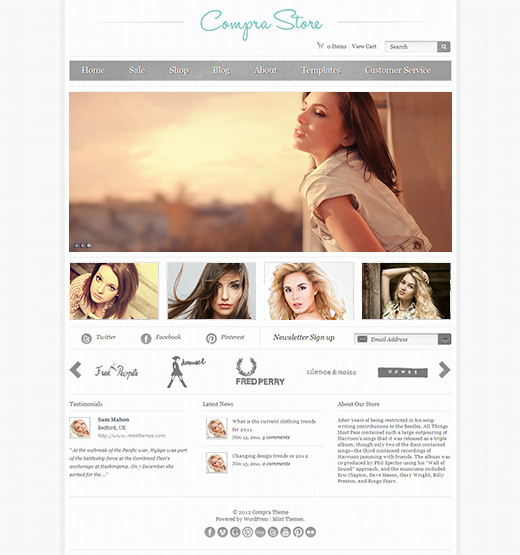 A white and clean WordPress e-commerce theme. Eureka supports popular e-commerce plugin and is mobile-ready. It is the satisfaction when you find just what you need.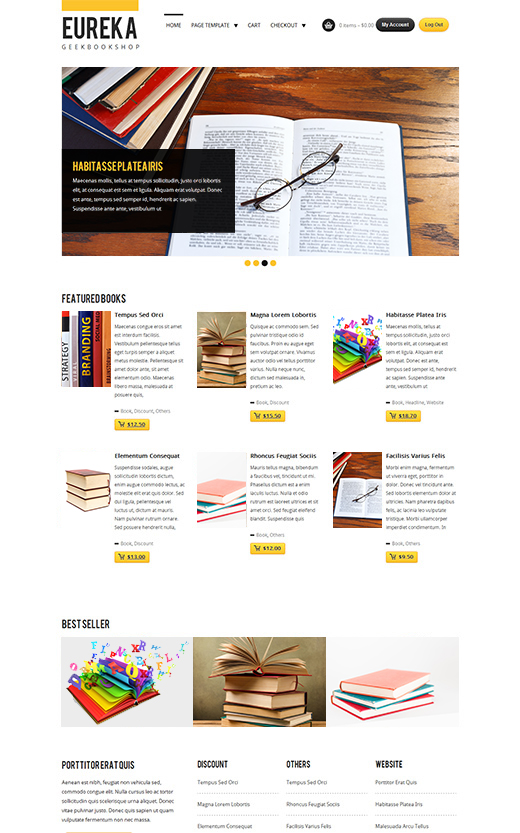 The Cloth WordPress theme offers boutiques, retailers and indie labels and e-commerce solution to sell through their website. Cloth will give the customers a smooth, attractive, easy, fun shopping experience and they are more likely to complete the purchase and they are more likely to come back again later.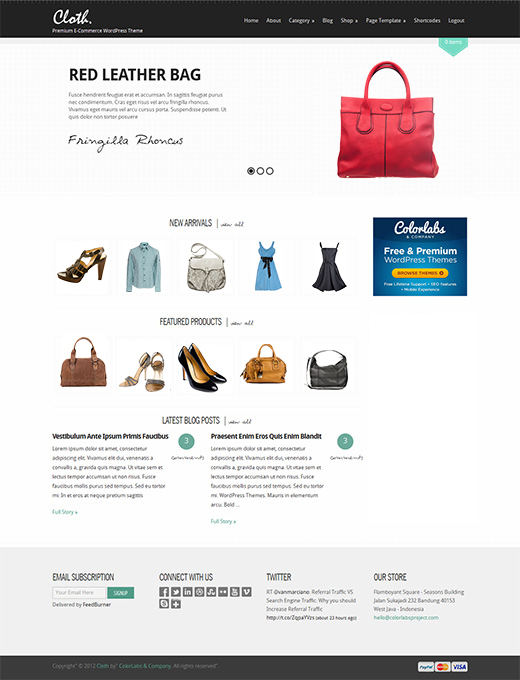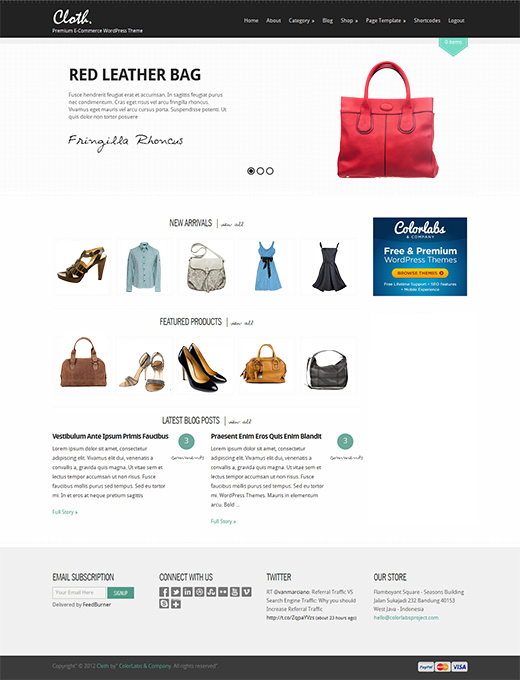 Letters is a WordPress theme for those longing for a slick business, portfolio or an e-commerce site. We tailor it to suit your portfolio of creative products. Letters is the perfect solution if you are needing some oomph for your online presence.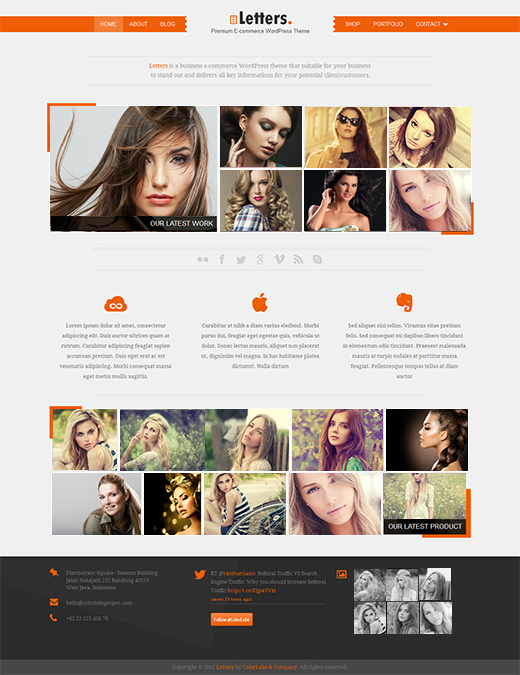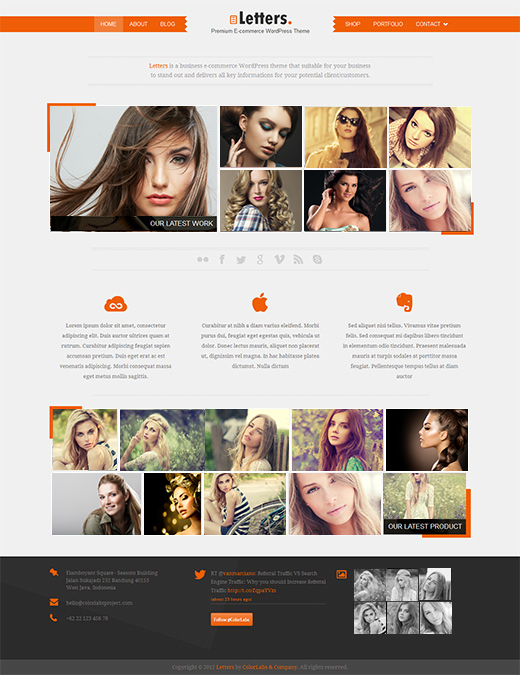 It transforms your WordPress install into a fully functional Ecommerce store complete with backend administration. Use wordpress to easily manage your store that sells Tangible or intangible/digital goods.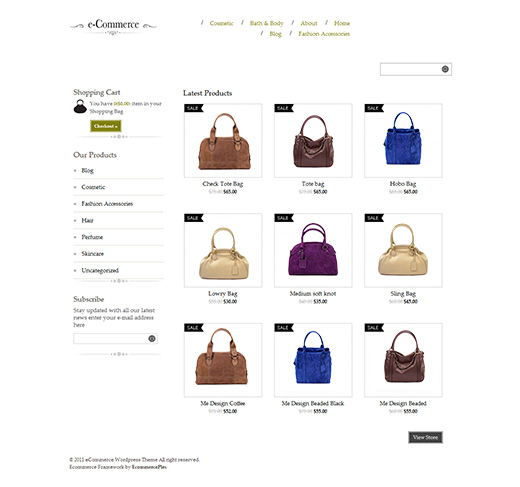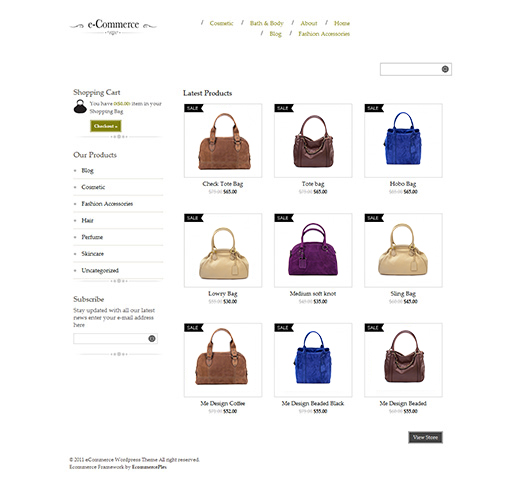 This theme will hep you in creating a Ecommerce site that not only has great features and functionalities of Ecommerce site, but also looks amazing.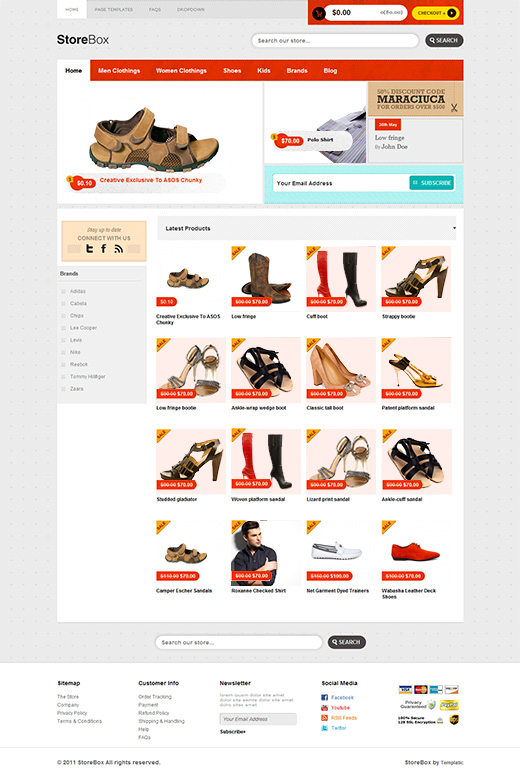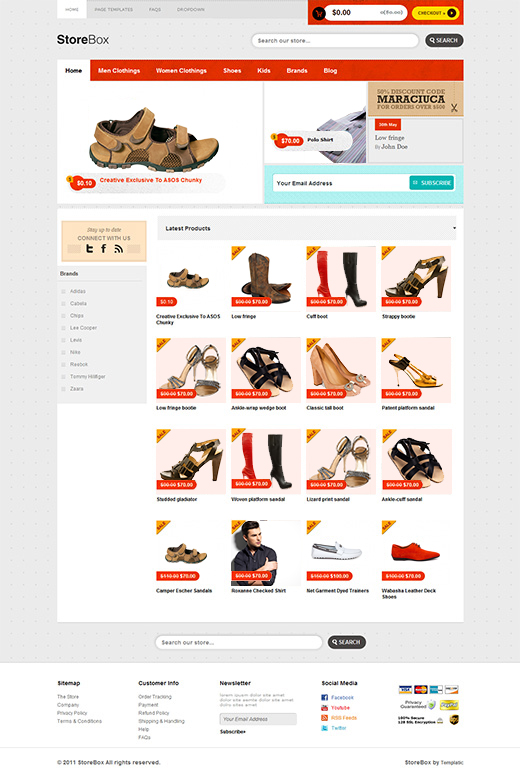 Diamond is the WordPress eCommerce Template, which is made in a modern style. Keeping pace with the times we offer a truly high-quality solution. Combined with a thoughtful and carefully elaborated design, Diamond will leave no one to be indifferent. Using this theme you can not only increase conversions quality and number of positive reviews but also make a pretty good surprise to your customers.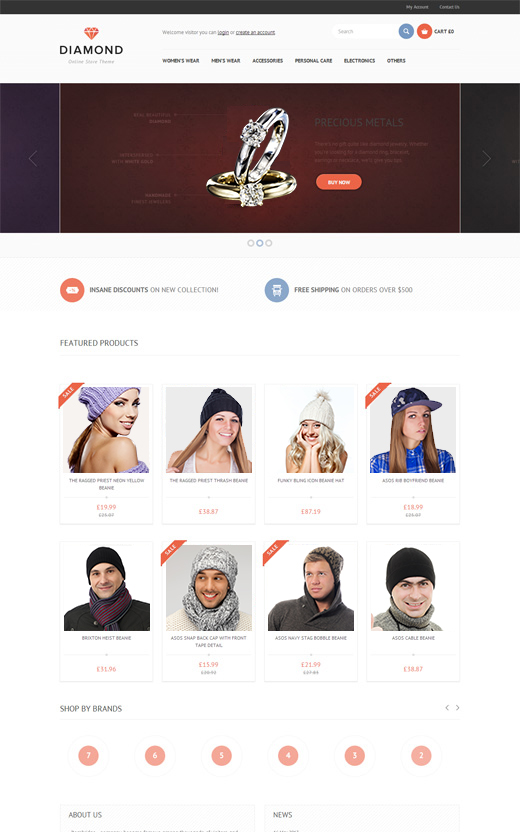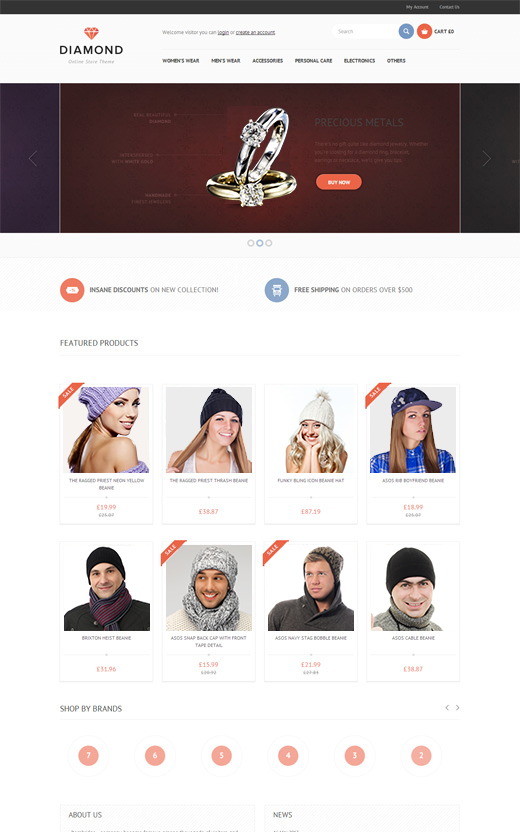 Rustik is a beautiful minimalist WordPress+WooCommerce theme that makes your products the center of attention. You can create your own logo on the fly in the theme options with a selection of 400+ fonts, and any font size, font style and font color.The theme comes with two readymade color schemes and you can adjust many color options from the theme admin to give it your own style.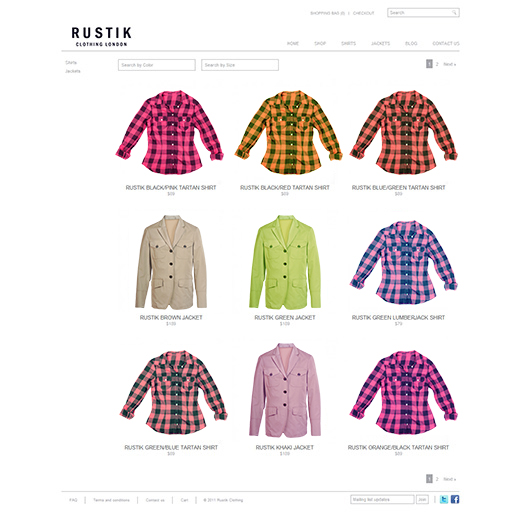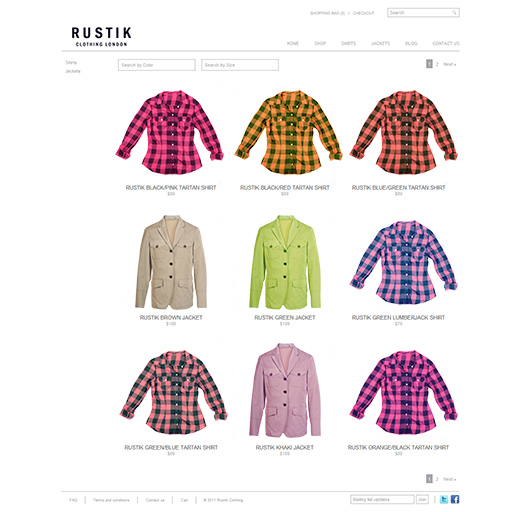 Gather is a minimal and fully responsive e-commerce theme. With this theme, you can sell your products, show off your work, and maintain a blog – and do it all in style. Gather is WooCommerce ready, so you can have your online shop up and running in no time!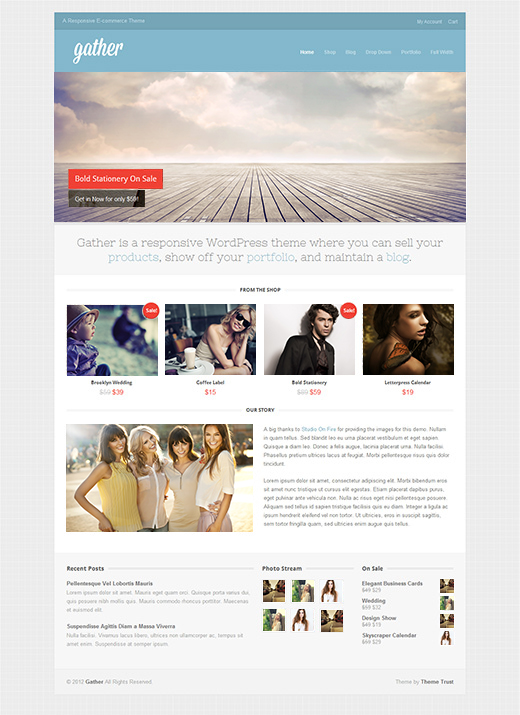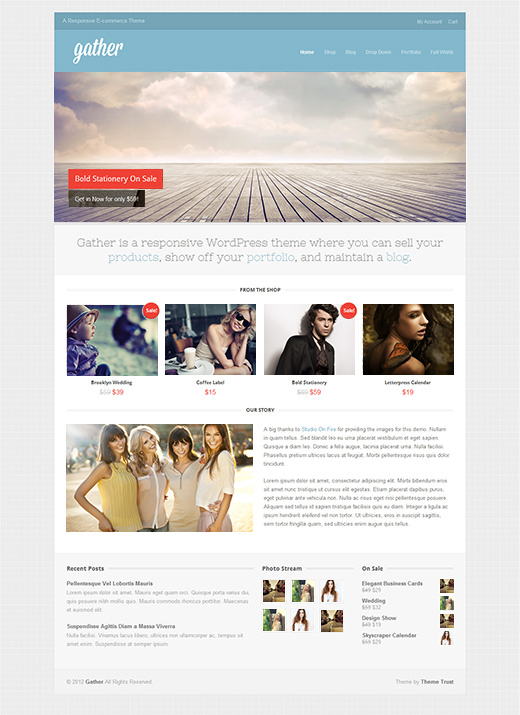 Thanks for sharing this post! [socialring]