And here is 30+ delicious wordpress themes for Restaurants and Cafes. All themes provided bellow are  slick and highly customizable themes for restaurants and anything alike.
Fine Food is a Responsive WordPress theme suitable for any kind of restaurant, hotel, café, coffee shop, spa and similar websites that needs a feature rich and beautiful presence online. The main features, which are extremely important and super useful are, 3 features including Events Calendar & Management, Menu & Recipe and Facebook fan page compatibility.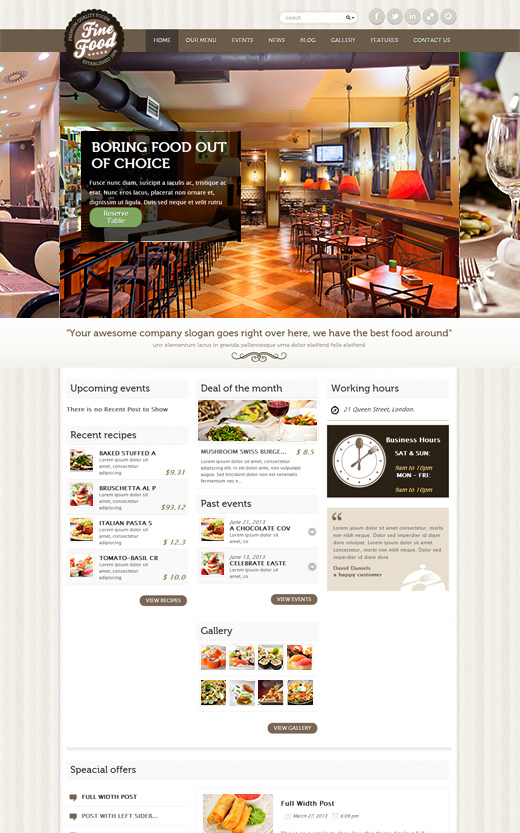 With a responsive design it's compatible with devices like Tablets, Smartphone's, iPad, iPhone, and Android Phones too. Try resizing your browsers to see different layout option or watch the site in iPhone using the QR Code in the Screenshot to see perfect responsive design.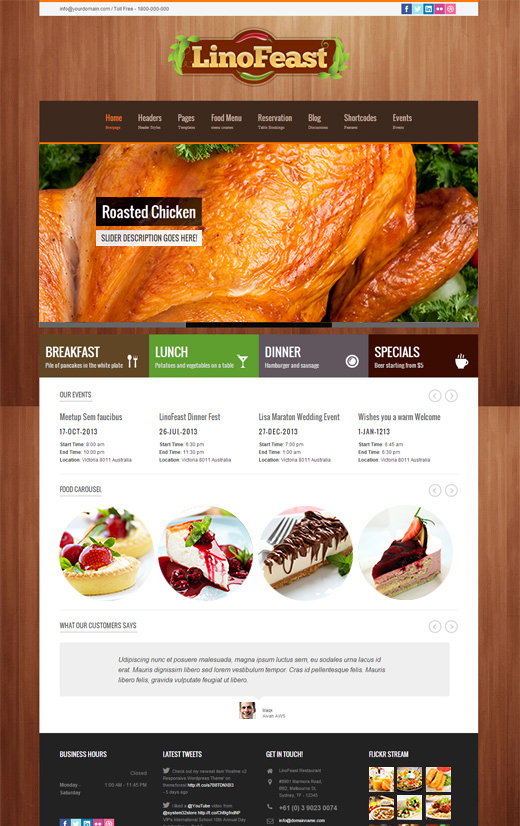 Lezzatos is the WordPress theme for cafe & restaurant. It's very easy to use even for beginner. Equipped with custom post "menu" and reservation form. This theme also highly customized, you can change website look just by clicks.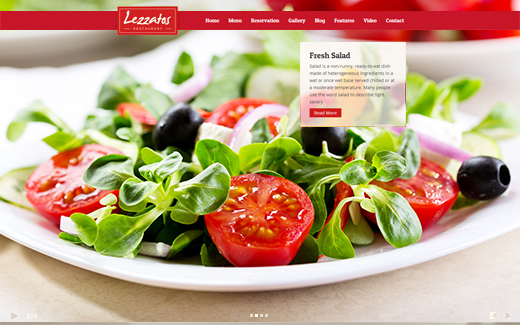 Forked is suitable for Restaurants, Bistro's, Hotels, Clubs, Foodtrucks, Breweries, and anyone in the foodie or event industry. The theme is built on the very unique Croma Restaurants and events framework that brings features ot the table that is nowhere to be found outside of this framework.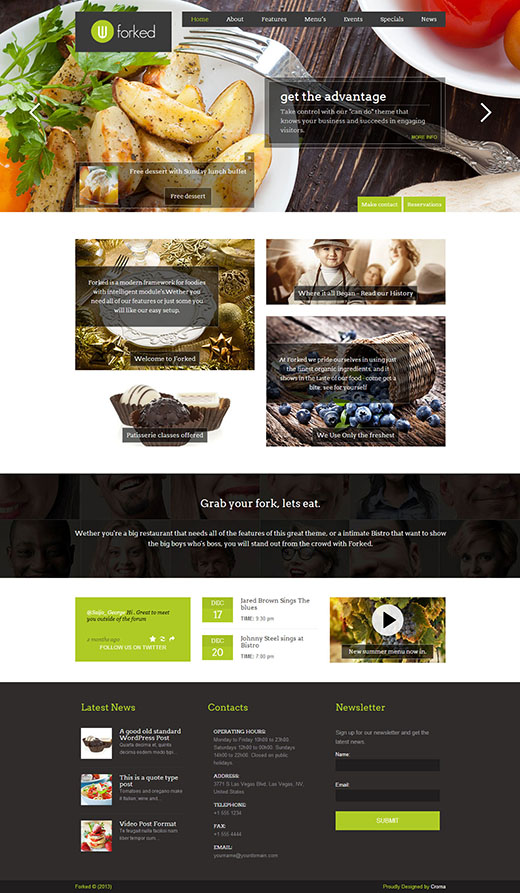 Grab is a WordPress theme aimed at restaurants and eating places. Grab enables you to add food items along with details such as price, serving size and key ingredients that make up dish or beverage.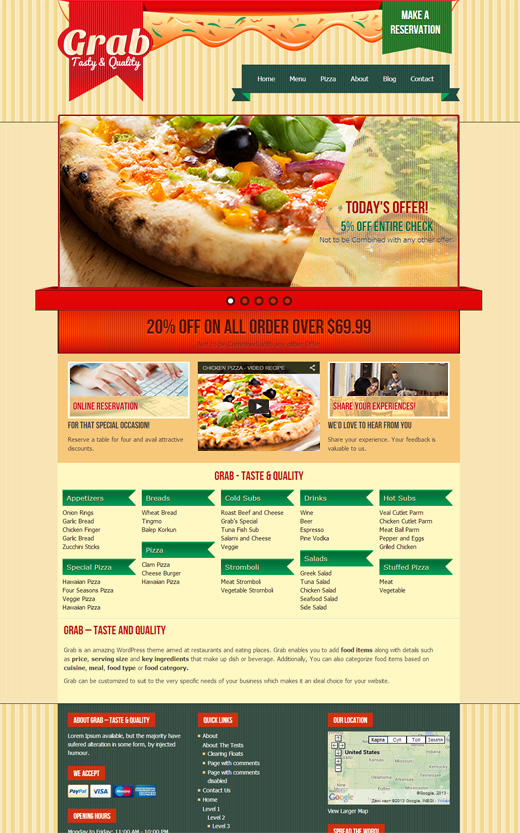 Mazzareli is a beautifully designed WordPress theme for your cafe or restaurant. It is well organized looking theme for your culinary business, foodies, recipes, etc. Use this theme to quickly create a great presence for your culinary business.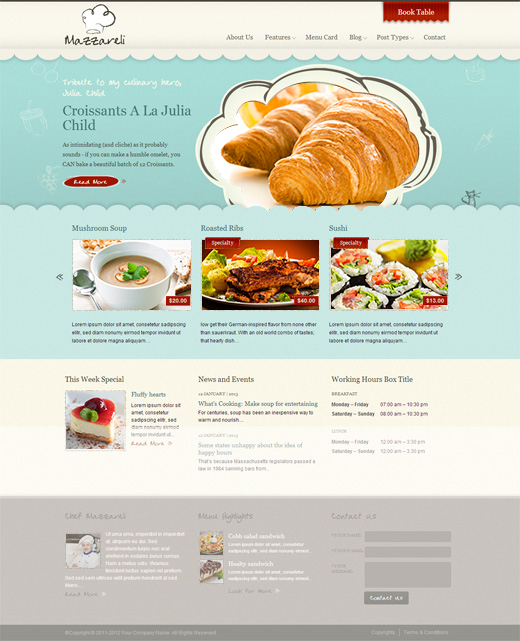 Excellent fully responsive theme for a restaurant, diner, cafe, hotel or bed and breakfast. Simple, modern and elegant design, clean code and very well organized files makes this theme extremely easy to edit.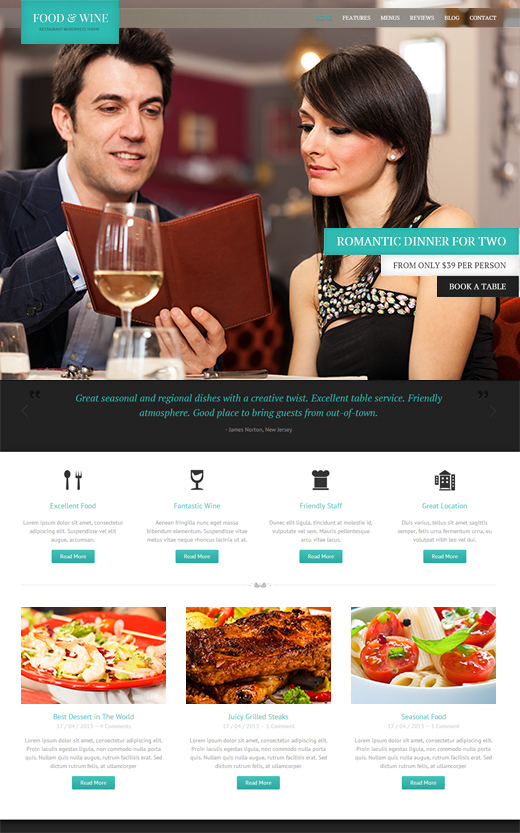 MyCuisine is delicious, offering up some eye-catching visuals wrapped in a Tuscan shell. It is a small-business theme built with Restaurants in mind, however, the theme can easily be adapted for any business that desires a cool, vintage aesthetic for the website.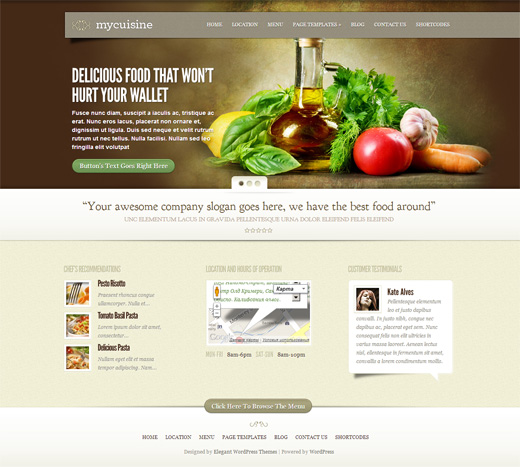 Eatery is a premium Restaurant WordPress theme created for restaurants and cafés. It features a very clean, responsive design that is perfect for creating a professional image of your restaurant or business.
Stomaci gives a modern and rustical design that is sure to impress your visitors, with its unique combination it is suitable for every cozy, old stylish family restaurant as well as modern cafe. The theme will also come with some unique features, such as Menu Card, Reservations and Events.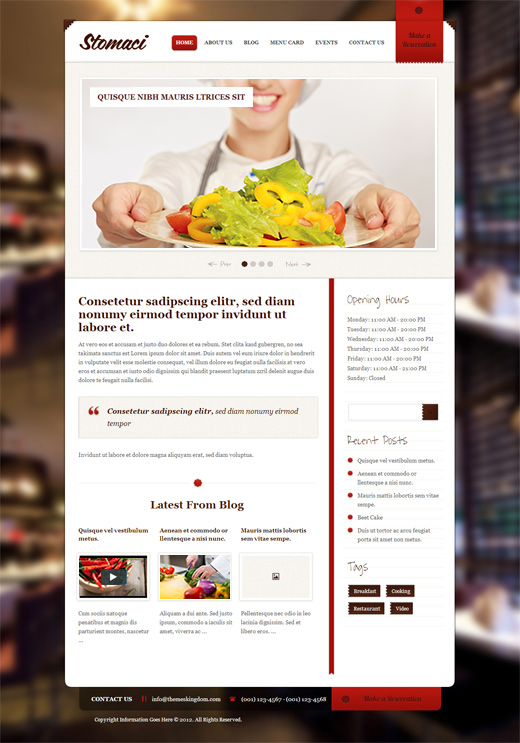 Food Recipes is a feature rich and beautifully designed WordPress theme for recipes websites. This theme is perfect for professional Chefs and Cooking Experts. Food Recipe WordPress theme makes it very easy to share cooking knowledge with complete information and videos support.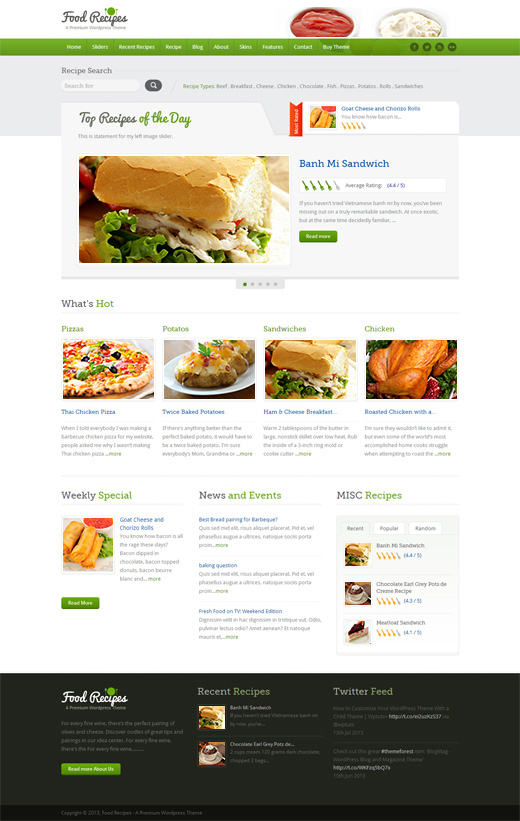 Bistro is an amazing restaurant WordPress theme with a lot of great feature: booking app included, unique events calendar, easy setup, special management, countless custom widgets, Google maps i integration etc.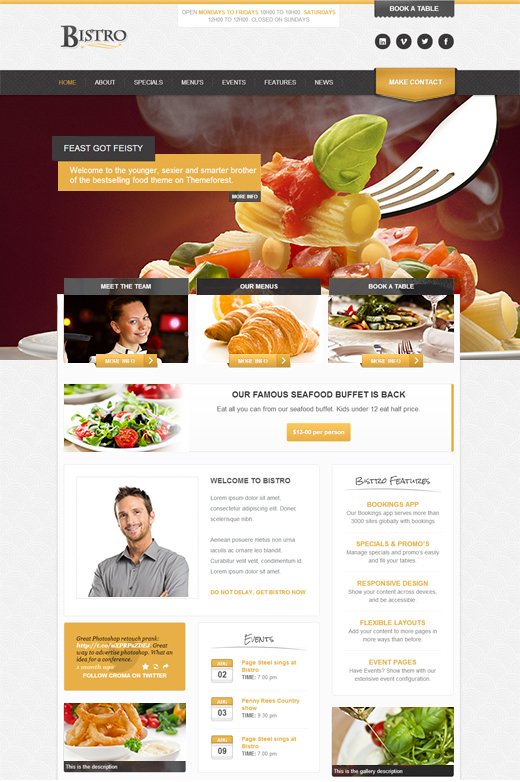 Verona is an awesome WordPress theme which brings many useful and most popular functions with clean & unique design. It's ideal for any restaurant, café, coffee shop or bistro. It's very flexible and powered with our framework that has advanced theme options to make your site very flexible and fully customizable.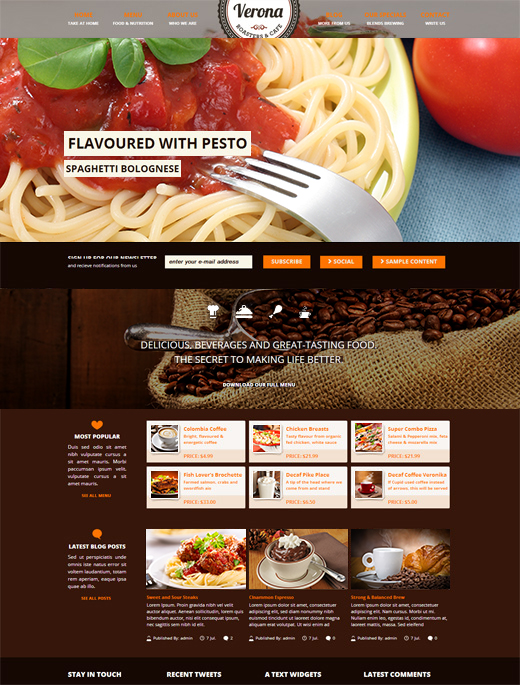 Pluto is the WordPress theme for Cafe and Restaurant built with latest WordPress features. Custom Post Type, Skins & Colors, Extensive admin panel etc.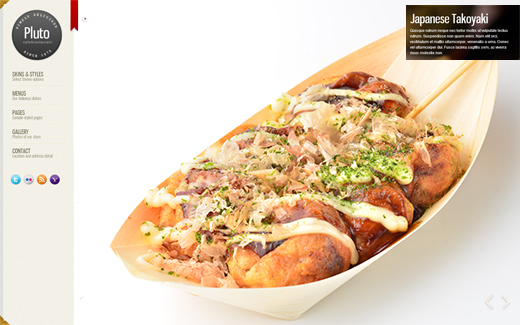 Linguini is a theme perfect fit for the restaurants, pubs, bars, wineries and other companies offering foods and drinks. Linguini theme offers an excellent system for administration menu cards (food menu, drink menu) and photogalleries.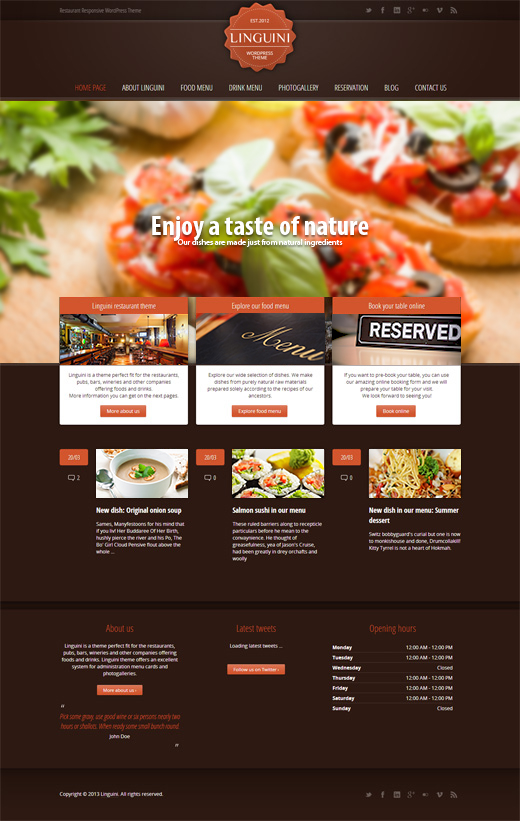 Victoria is a very powerful theme with many features easy to edit for both, users without programming knowledge and for developers. It empowers you to change any color of elements such as backgrounds, texts, links, menu links, typography, etc.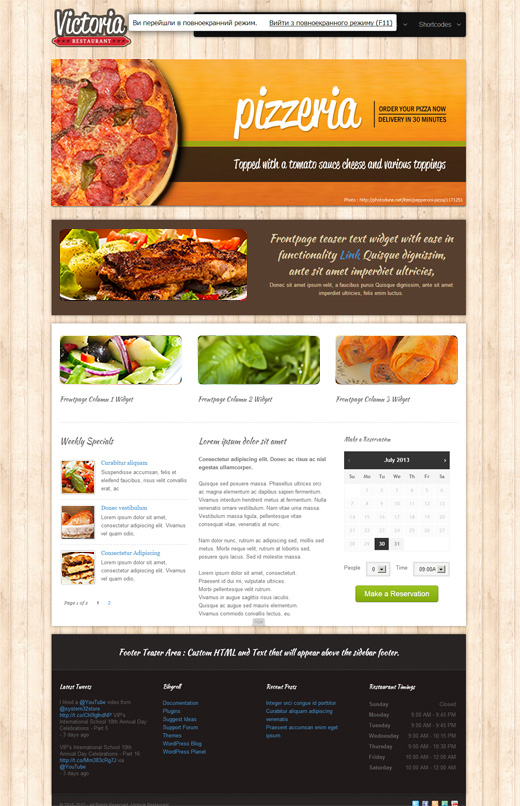 This WordPress theme is a slick and highly customizable theme for restaurants and anything alike. Change colors with a colorpicker, simply switch the layout and add your own sliding menucard to impress your customers!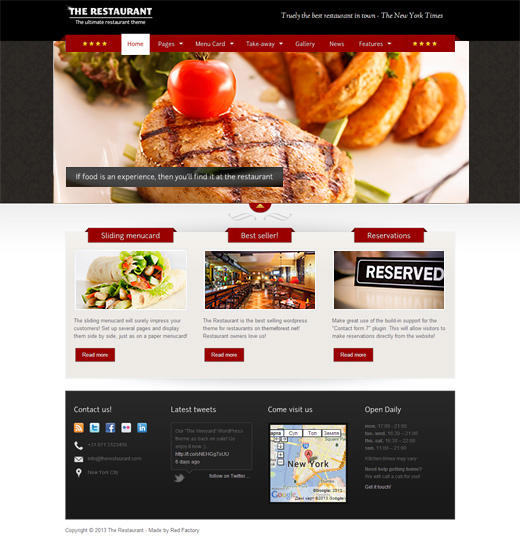 Show off your work with this easy-to-customize and fully featured WordPress Theme. When purchasing this theme, you will receive a detailed help file along with additional features like Unlimited Color Schemes and Responsive Layout.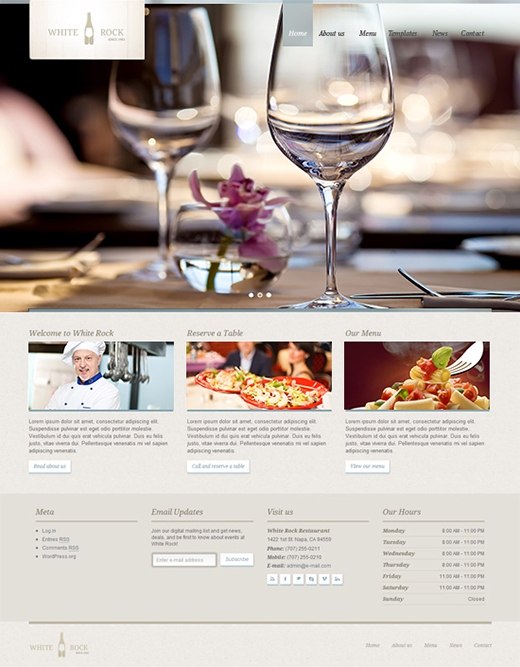 Delicieux is a super premium theme for restaurant. It comes with very nice and friendly design. This is exactly restaurant website should be. This theme also comes with super extensive admin panel. It has tons of features.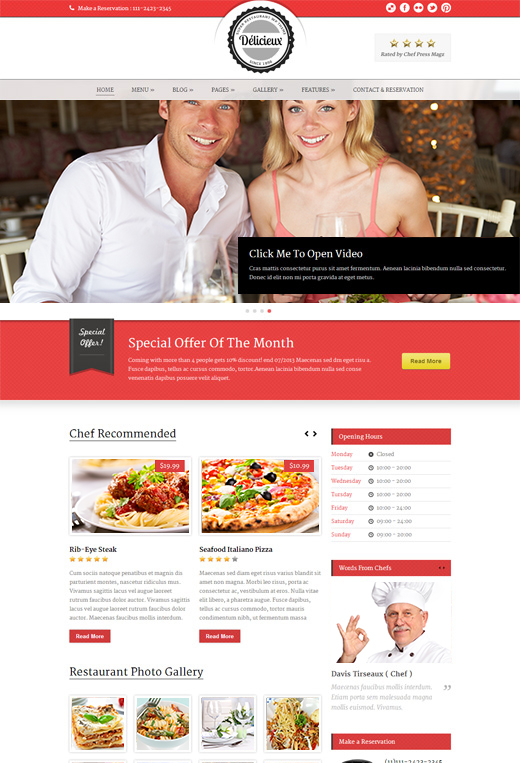 Exquisite, unique and elegant WordPress theme for your café or restaurant website. Beautiful, pixel-perfect design and easy to use Orange Themes Control Panel makes this WordPress theme one of the best in business.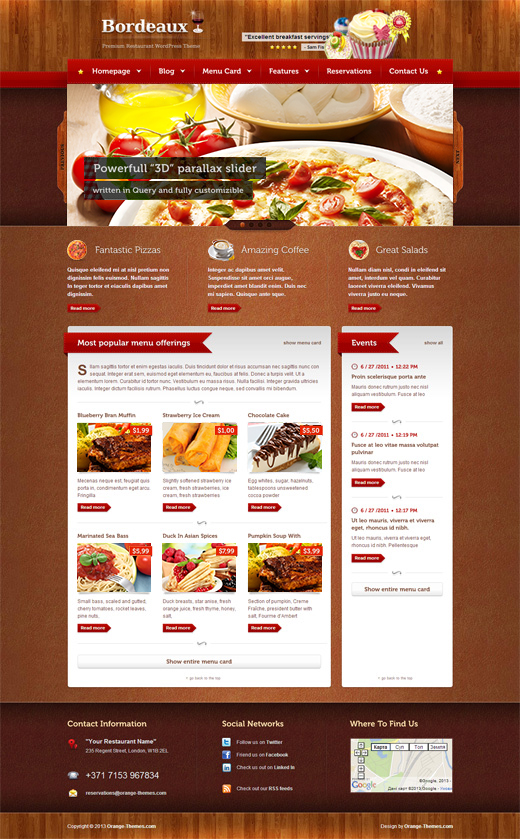 Dine & Drink is Responsive Restaurant WordPress Theme, suited for any kind of restaurant, cafe, coffee shop, bakery, cake, mexican cuisine, pasta, pizza, ice cream, japanese, sushi, salad etc.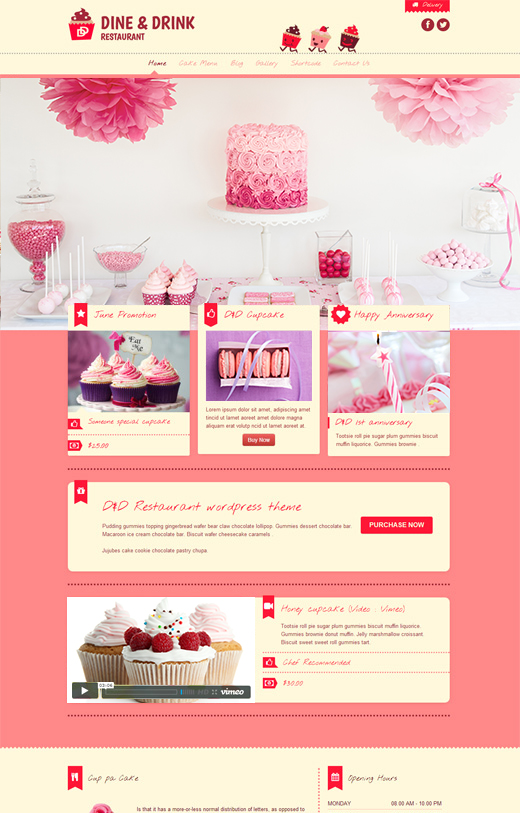 Elegantia is a premium WordPress theme for Restaurants & Cafes. It has many features that are required in a restaurant business. For example. Reservation, Food Menus, Events, Gallery, Team Members, Contact, Impressive Homepage with full width slider and services information.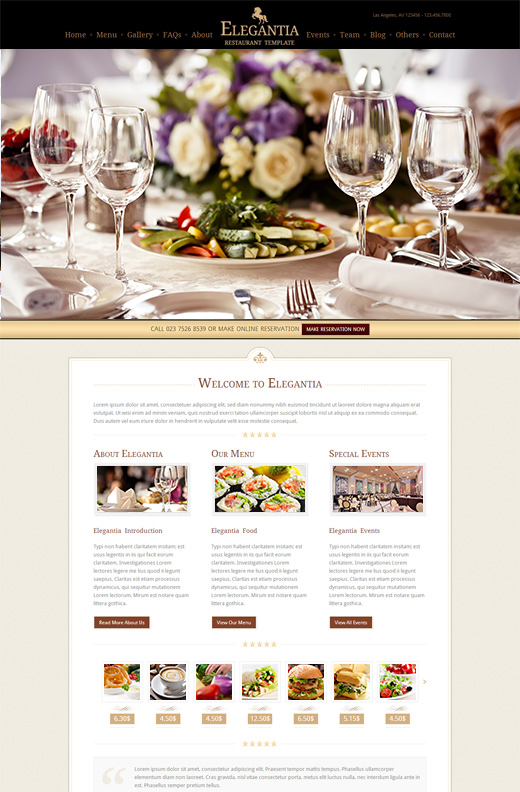 Delimondo is a powerful WordPress Template built for restaurants and food lovers. The template automatically adapts to window resolution and looks fantastic on all devices! We also took into account that not all users are experienced web developers, so we have included a description.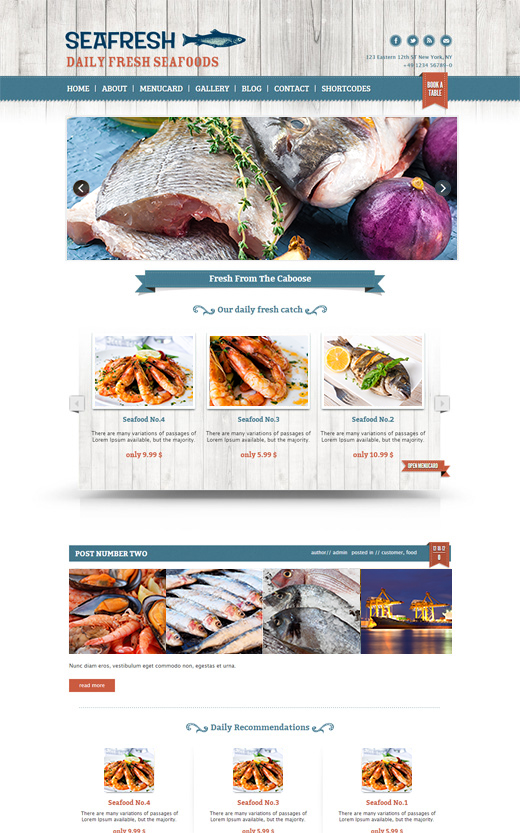 Coffee Shop is a premium responsive WP template for Cafes and Bistros website. After purchasing this theme, you will receive the WordPress version as well as 5 PSD files. They are all layered and well organized in folder for easier use.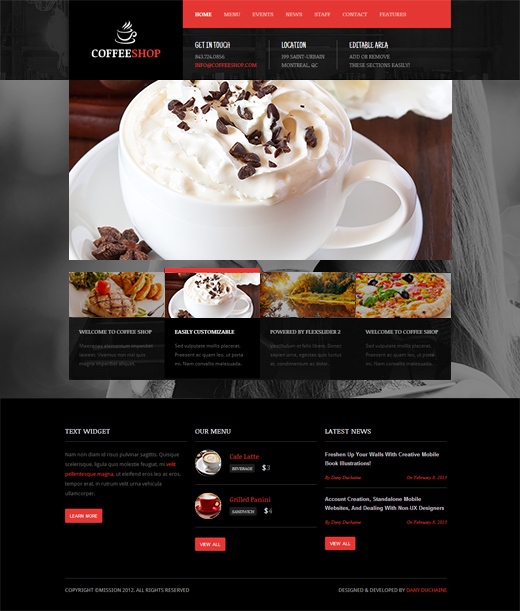 WordPress FoodMe Restaurant Business Theme — super easy to use theme for your restaurant/food/business website.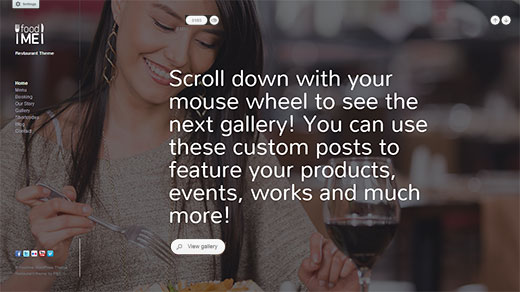 Dish — Restaurant Multipurpose WordPress Theme.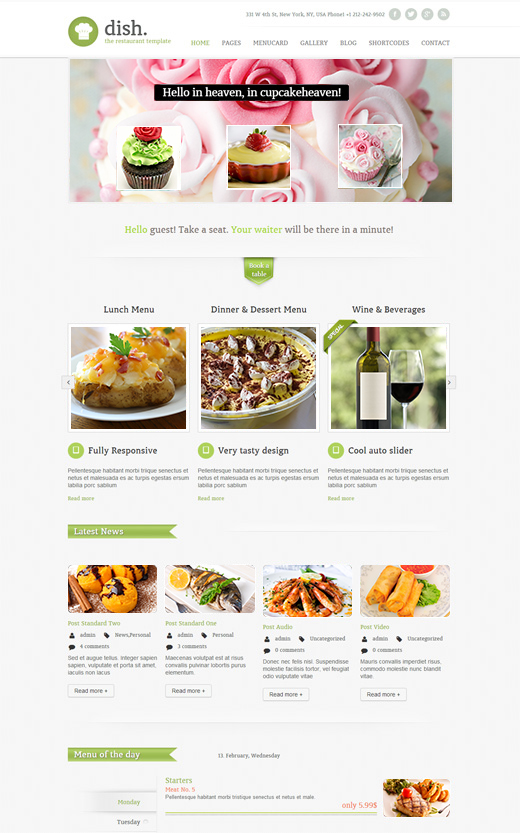 Mata'am is a very powerful theme with many features easy to edit for both, users without programming knowledge and for developers. It empowers you to change any color of elements such as backgrounds, texts, links, menu links, typography, etc.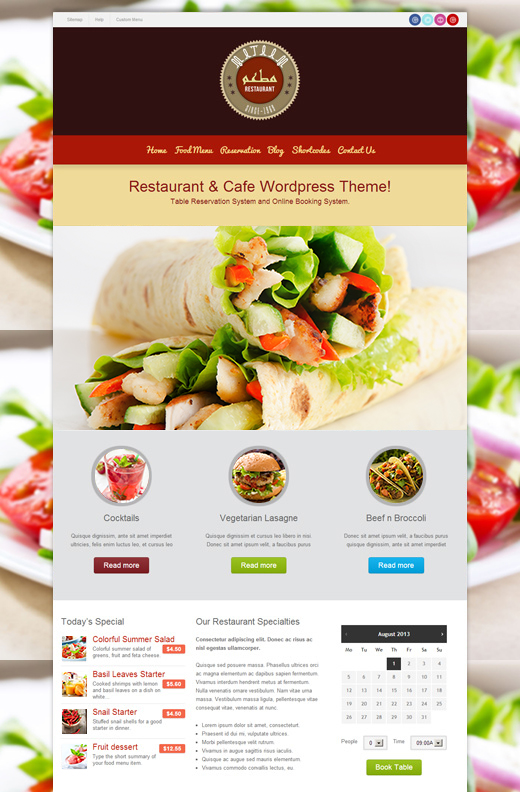 Delicioso is a great looking restaurant WordPress theme built with the amazing functions that will help you to run your restaurant website without loosing too much time and with very positive impression to your guests.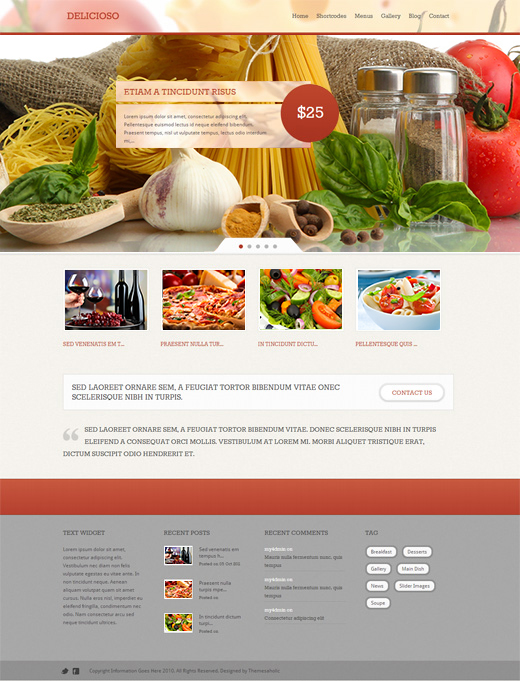 This theme supports custom menu and 7 widgetized areas and featured images (thumbnails for post, testimonial, team, foods and gallery). This template also have 5 custom post (Testimonial, Gallery, Team, Foods and Address).
The Restaurant: Classic Edition is created for anyone looking to start their own restaurant website. This premium theme includes a couple of advanced features such as a beautyful sliding menucard with an easy-to-use menucard builder.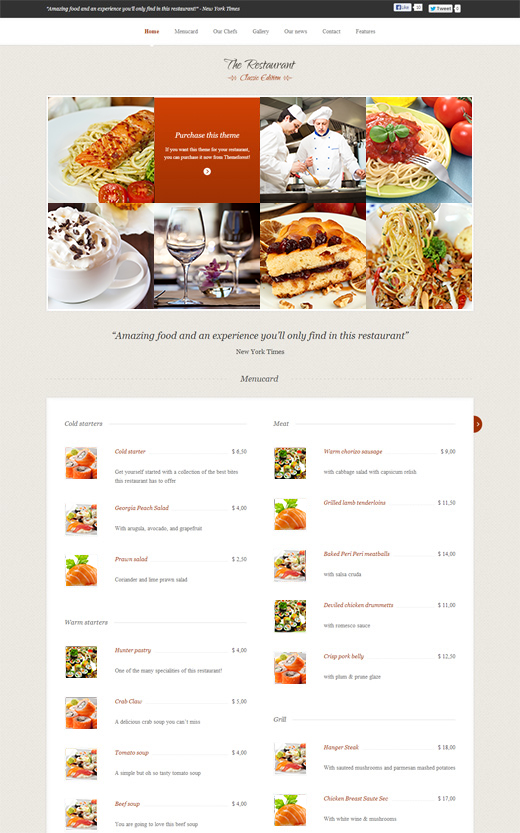 LemonChili is a premium, responsive WordPress theme with special features for restaurants, cafes, bars, clubs, events, … With LemonChili you can create unlimited food and drink menus as well as an event page, a team page and a gallery page.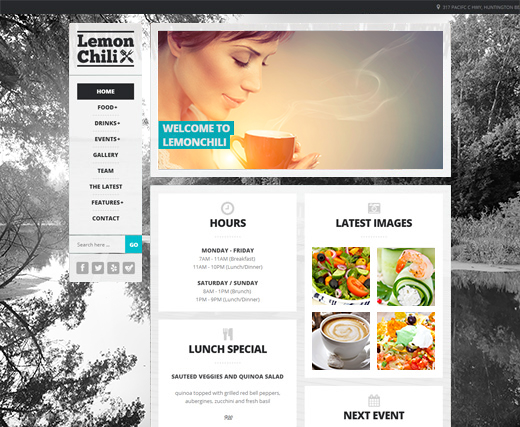 Goodold Restaurant is a WordPress theme for restaurants, cafe, bar and other food and drinks related company. This theme has many build-in theme option that will help you easily customize the appearance of theme without any programming skills.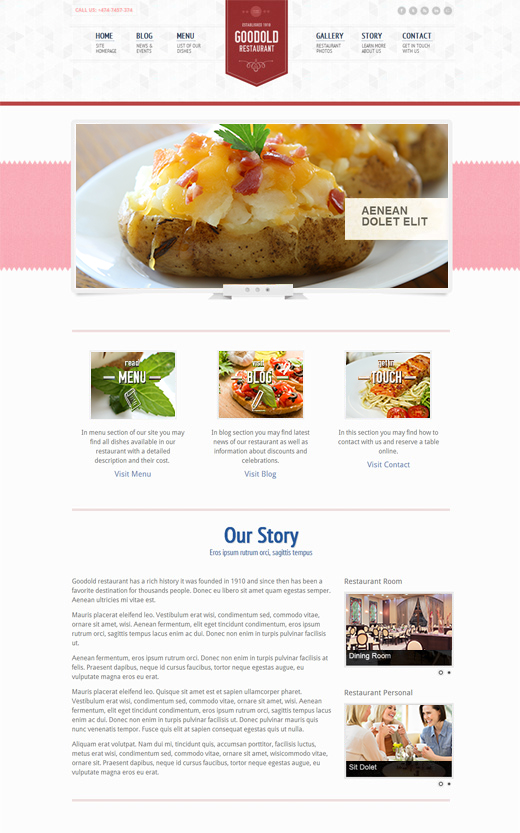 Le Maitre d' is a menu focused WordPress theme for restaurants and cafes. This theme will let you manage everything from the WordPress dashboard so you can update your menu to add/remove items quick and easy—It's time to ditch those online PDF menus. People hate them.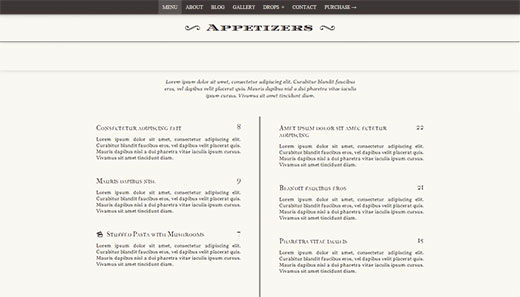 "Cooky" WP theme is loosely based on our own "Cooky" Site Template, but features many useful add ons that make this WP theme easy and fun to use. As the name suggest it is built having food and restaurants in mind and was probably inspired by having an empty stomach after long day behind the screen.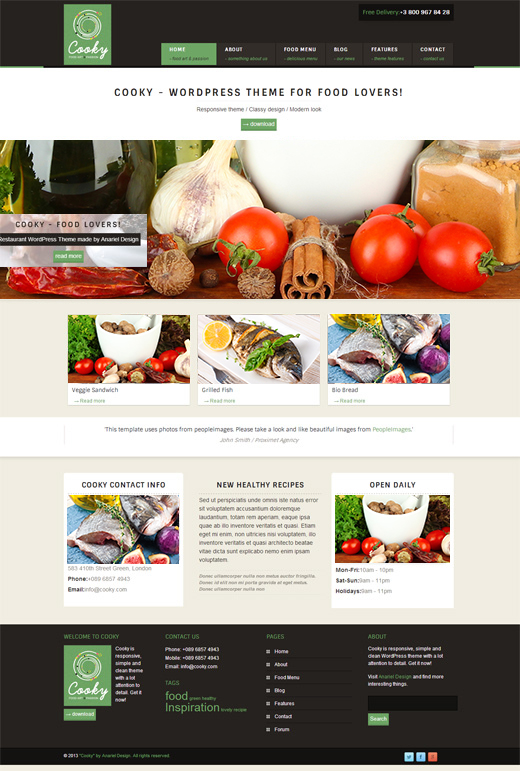 Thanks for sharing this post!  [socialring]