We have chosen some of the best free & premium Business WordPress Themes. Please check out as we are sure that you are going to love them. These themes can be easily installed on your servers on your existing WordPress websites or will be perfect for any new website you might be thinking to launch.

Feather has a light and airy quality that gives your website a fun and care-free vibe. The theme is simple, but its subtle details and textures have been designed with care. If you are looking for a subdued design that is still stylistic and impressive, then Feather just might be the theme for you.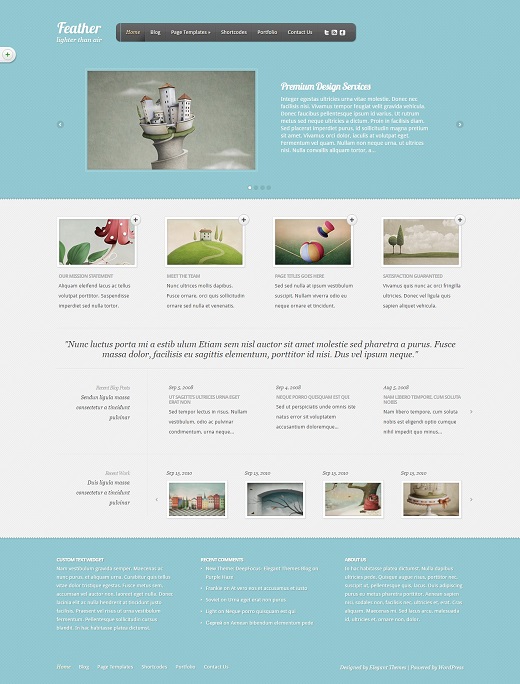 Flexible is a sleek and minimal portfolio theme packed full of some awesome features. The theme puts your work first, keeping the design elements to a minimum while still maintaining a definitive modern style. With its filterable, ajax-powered multi-media gallery, Flexible is perhaps our most feature-rich gallery theme yet.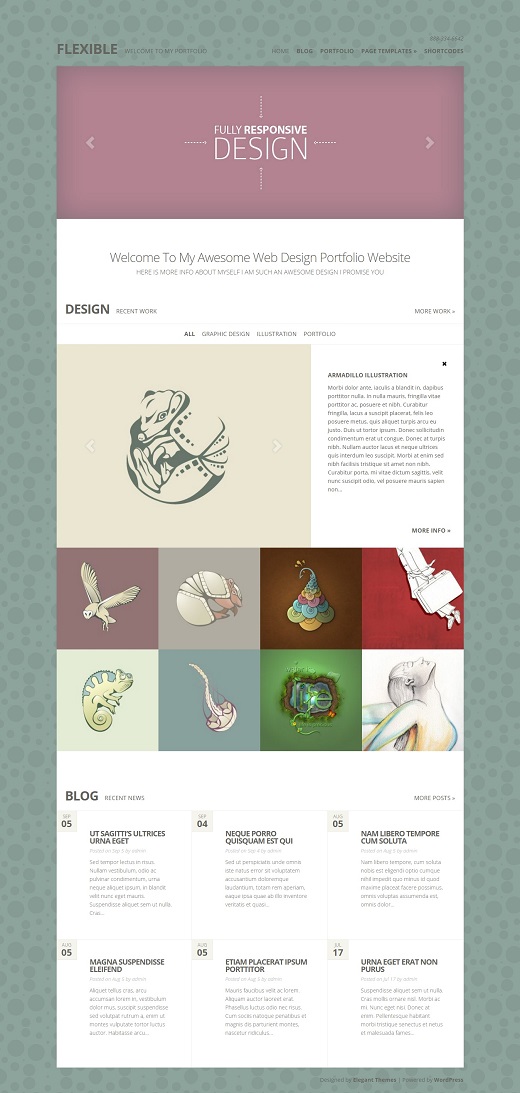 Now you can turn your WordPress blog into a fully functional online photo gallery while still maintaining all of the features of a normal blog. Along with the gallery layout, DeepFocus comes with a robust blog and CMS-style homepage as well, making it an amazing solution for artists/photographers looking to build an online presence.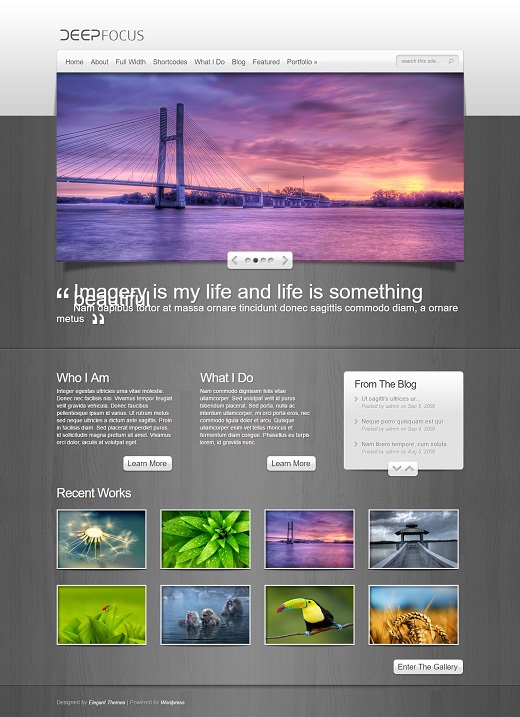 Gleam was built to dazzle. With its flashy effects and smooth ajax loading techniques, this theme creates a truly unique experience that is sure to grab your visitor's attention. Allowing for custom full BG photos for each page, Gleam makes it easy to create a custom stunning appearance for each section of your website. The theme also comes with a full-screen portfolio section, giving you a new way to display your work.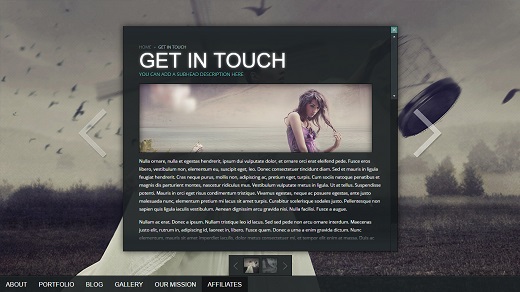 Harmony is a versatile WordPress theme for bands and musicians. This theme has all of the features that a band would need, including the ability to play songs, handle events, upload photo galleries and sell merchandise. Harmony's style is bold and features big and beautiful background images that can be easily customized to give your page a unique look. Every band needs a great online presence for their fans to find, so get started today with Harmony!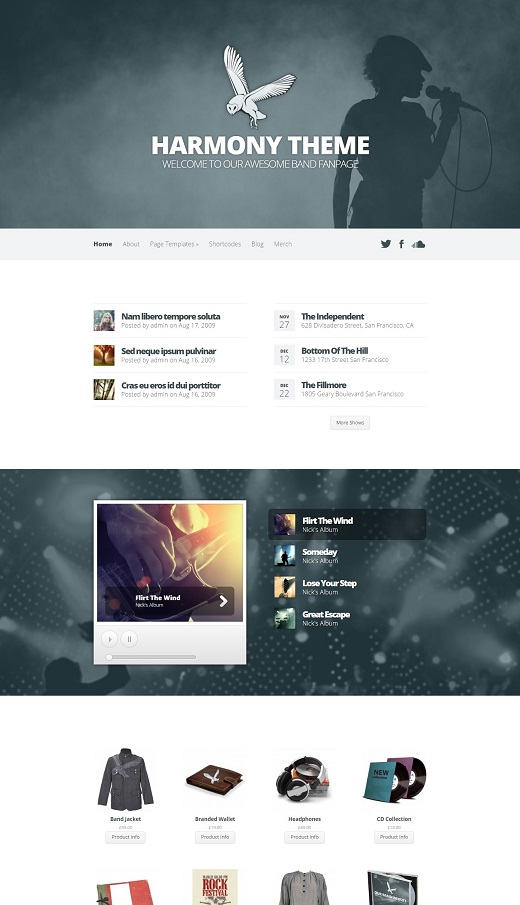 Envisioned is a beautiful and powerful portfolio theme that enables you to easily create professional, multi-media galleries. Envisioned has the most powerful gallery features of any of our themes, allowing you to produce versatile layouts of various sizes and aspect ratios.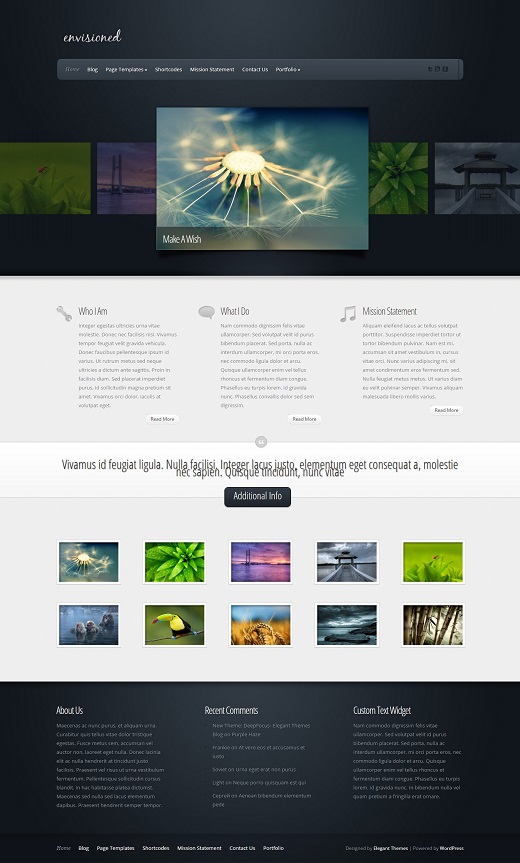 Notebook is a fun multimedia theme that takes advantage of WordPress post formats and advanced CSS3 animations. The result is a unique and highly engaging design that is sure that impress your visitors. Notebook makes it easy to share a variety of content, including audio, video, photographs and standard blog posts.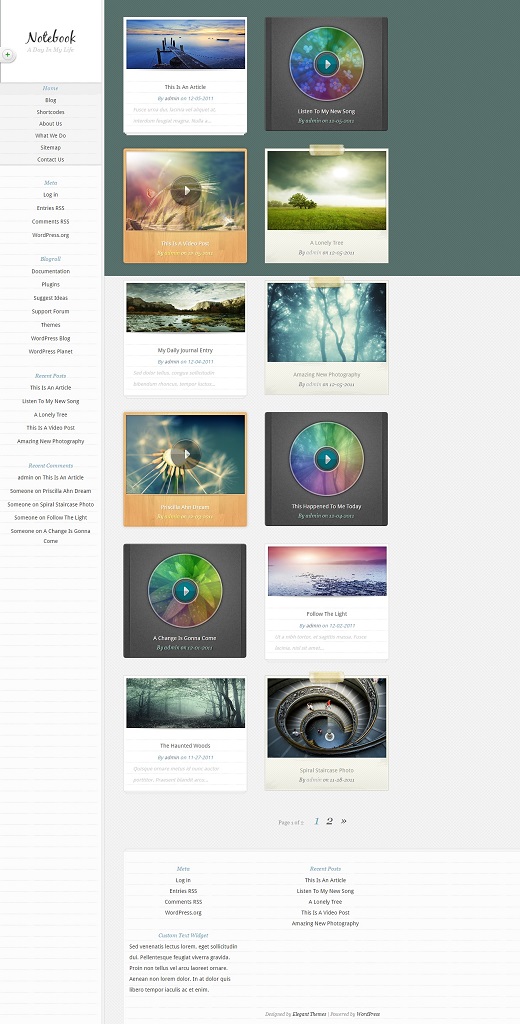 Webly is a professional theme with just enough charm and whimsy to give your website that fun and unique edge. With powerful tools, such as the multimedia slider and content bar on the homepage, Webly provides you with creative ways to engage your visitors. If you are looking for creative theme that will make your business stand out from the crowd, then look no further!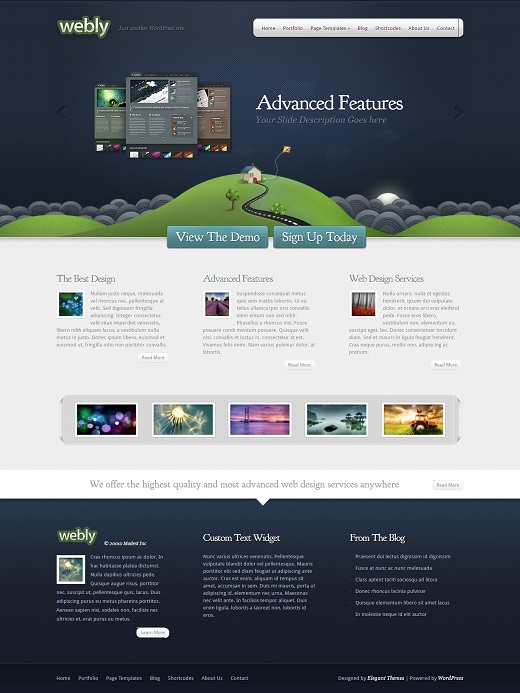 LightBright makes it easy to share your daily life through it's tumblr-style post types. Using the custom post types/taxonomies added in WordPress 3.0, the theme adds special integration options for photos, video, audio, quotes, notes and links. If you love the format of tumblr but don't want to give up the versatility of WordPress, this is the theme for you.

My goal with DailyNotes was to make the simplest and most elegant medium possible through which you could share your daily life. The theme is very minimal in its design, and has been trimmed down to the bare essentials. For anyone looking to create a fun and inviting personal blog, I'm confident that DailyNotes will serve you well!.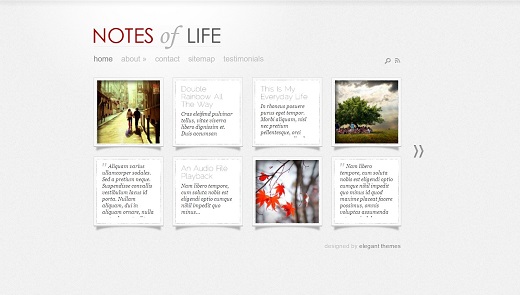 ePhoto was created for those looking to turn their blog into a photo gallery. While the theme was created with photographers in mind, it can certainly be used to display any type of digital imagery. While the main content of the theme is image based, I have also added the ability to create a separate blog page where normal blog posts can be integrated alongside your photos.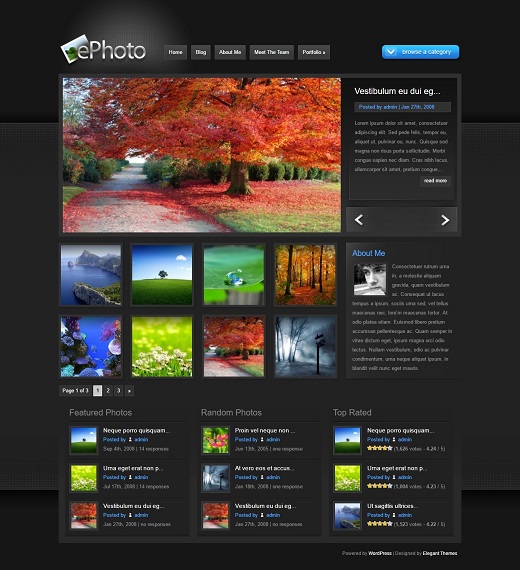 eGallery is a theme made to transform your blog into a fully functional online gallery. This theme has been created with simplicity in mind, and is designed to emphasize the artwork you choose to showcase. The design has been greatly enhanced using javascript, and is easy to implement.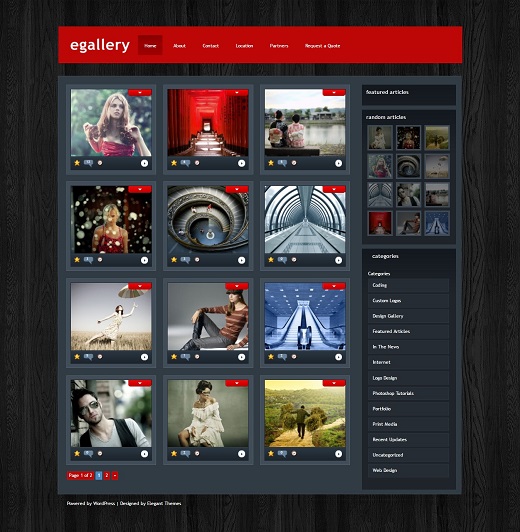 eVid is a theme designed for video bloggers. I have set it up to easily integrate videos from video hosts such as Youtube, Vimeo, Veoh, MetaCafe, and so on. This theme does not have a native video player, but it does include a custom video interface with added "blogger-related" functions. This theme is only for sites that plan to showcase videos within their post pages. I have test the theme with all the most popular video hosts, but I expect that it will work with any website that offers a flash embed code.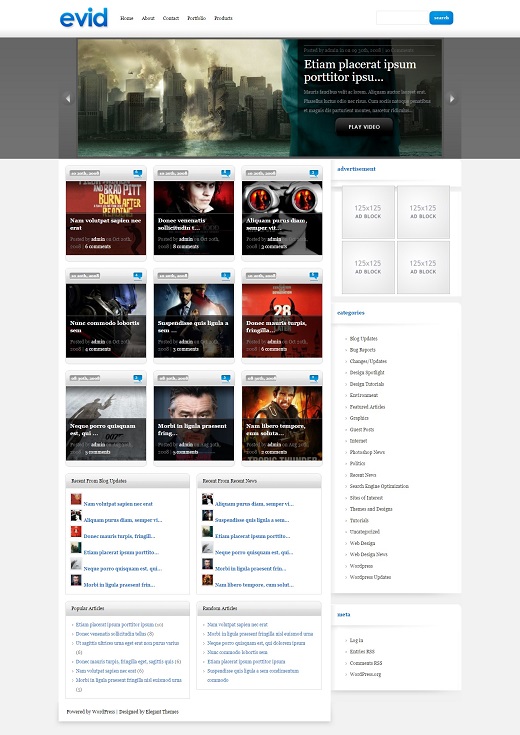 If you are looking to re-invent your personal website, then Glider just might be the theme for you. Featuring a contemporary style and a unique javascript layout, this theme is sure to leave your visitors impressed. Along with looking cool, Glider is also versatile, and includes a fully featured blog and portfolio section in addition to the basic page-based homepage.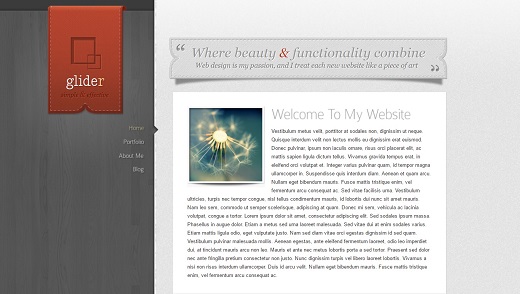 Builders is a theme that's designed specifically for the construction industry. Whether you sell tools or services, you'll be able to attract more customers with a stunning site design and smart layout. Pick a site that's built for your business!

JustFit is the ultimate fitness and exercise WordPress theme. Whether you run a fitness community, are a personal trainer, publish as an online magazine, or own a local gym, JustFit has the features to help you grow your following. Show off testimonials, results, products and workouts, and still maintain a blog.

myPortfolio is the perfect WordPress theme for showcasing your work. With a beautiful and highly customizable layout and lots of options, you'll be able to keep visitors on your site and wow them with examples of your services and products!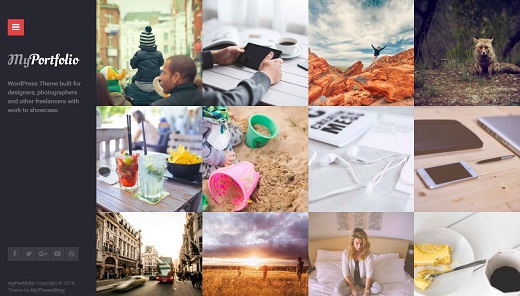 PointPro is a premium WordPress theme for professionals. With a modern, responsive design, a stunning layout with lots of headings and sections and a slew of top-end features; this is a theme that can allow you to compete with the top players in your niche!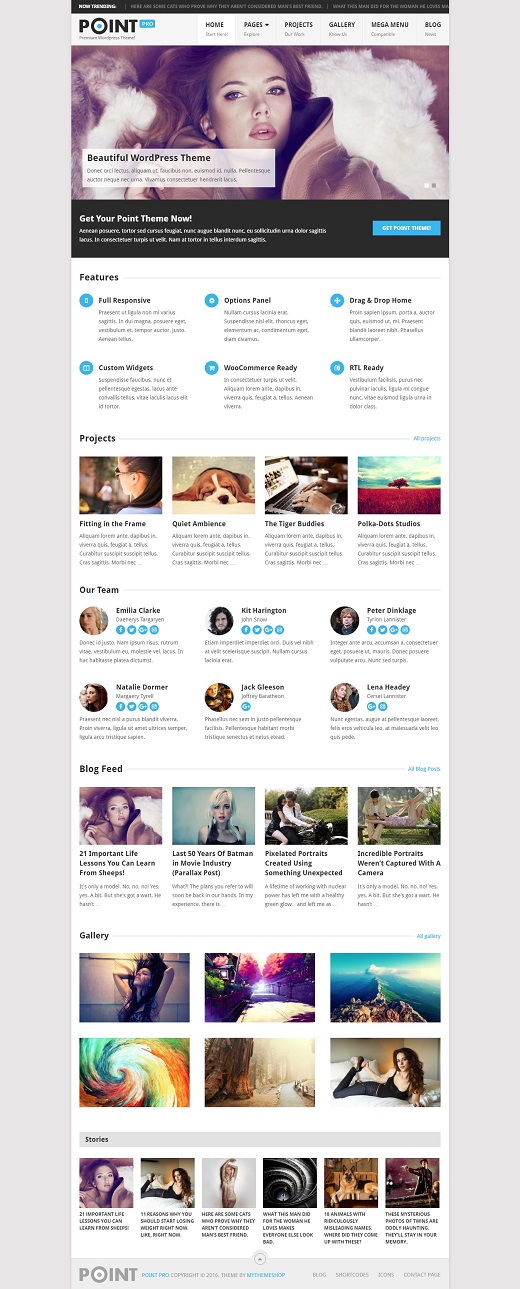 Business is a corporate style WordPress theme ideal for businesses. Leverage the power of WordPress and blogging to build a company website that features a clean, professional design, features to get new customers, ecommerce support and complete customizability.

Corporate is a professionally designed WordPress theme that is ideal for businesses, agencies, corporations, and freelancers, who are looking to grow their business. Show your experience, portfolio, team members, and services, and help grow client relationships and your company, with Corporate.

MobileApp is an awesome WordPress theme that is designed to help you promote your mobile application or game. With the ability to animate screenshots, have unlimited sections, and seamlessly integrated download buttons, you'll see more users and you can show them how it looks on their device, with 6 screens provided.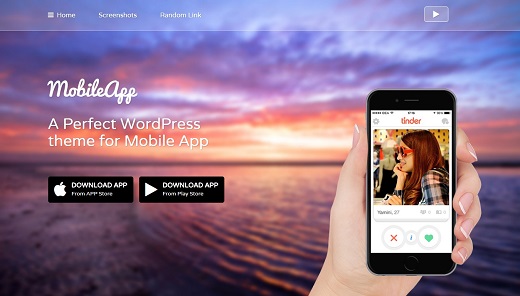 Salvation is a clean, elegantly designed WordPress theme that is perfectly suited for various organizations, such as churches, religious groups, and charitable organizations. Featuring an event management system, a donation form, and custom widgets, your users will love the design and features.

School is a fully responsive WordPress theme that features a clean, light design, with plenty of room for educational information, and custom post types for galleries and events that enhance the ability to provide a quality education. It's perfect for schools, classes, daycares, and other educational programs.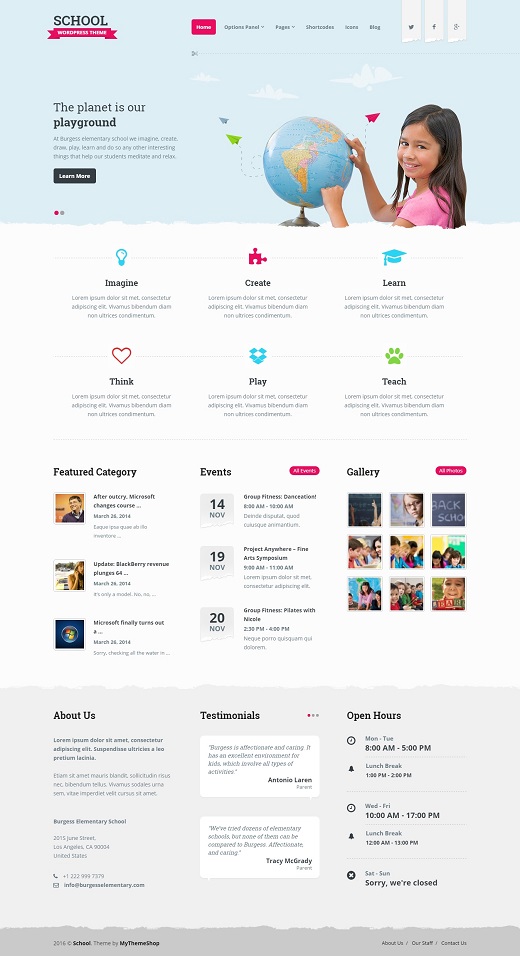 Portfolio is a clean and minimal portfolio WordPress theme designed to help you display your works in style, with a fully responsive layout, a user-friendly interface, a huge library of custom widgets and all the features you'll need to showcase your portfolio.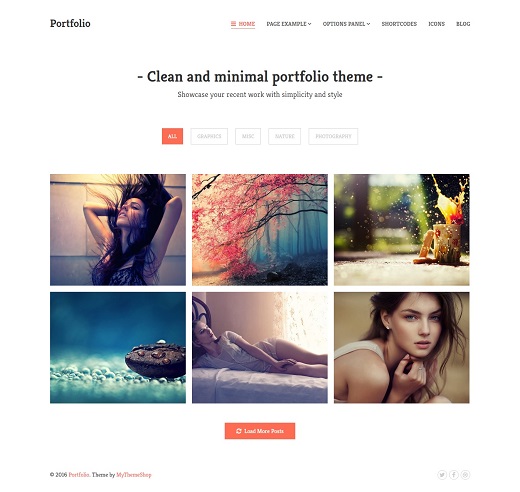 CleanApp is the perfect theme to showcase your iPhone, Android, mobile, or other application. With CleanApp, you can build your app website and show off your app features, screenshots, testimonials, and help your users get your app thanks to the user experience optimization that improves downloads.

Onepage is a must-have single page WordPress theme. Featuring a creative Drag and Drop homepage layout and unique blog layouts, OnePage has a responsive design with clean, handcrafted code that loads fast and is optimized for SEO. Fully customizable, it includes powerful theme options and features to help your site.
Thanks for sharing this post! [socialring]