Turn your website into a powerful and easy publishing instrument with great WordPress Magazine themes provided below.

MagXP is the ultimate Magazine WordPress Theme. With 4 homepage layouts, and an options panel that lets you control the design, you can change the design from bright and clean to dark and minimal quickly. MagXP combines flexibility, form and function perfectly.

Interactive is an eye-catching and highly professional blog theme that is perfect for webmasters with lots of content and who want to engage with their audience. Countless options make the theme perfectly customizable, while the powerful features give you more ways to interact with your visitors and to keep them coming back.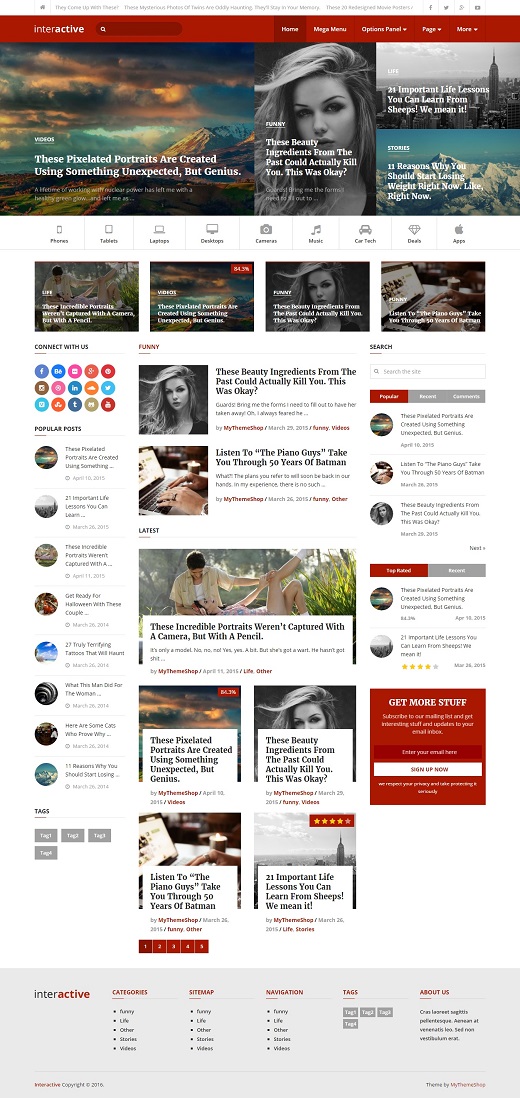 MoneyFlow is a modern and professional blog theme for users who are serious about making a living online. Take advantage of advanced features and easy monetization and impress your visitors with a dynamic and appealing layout. Search engine optimization, AdSense integration and WooCommerce support are all done for you – all you need to do is start blogging!

WordX is a beautiful and professional theme for blogs and online magazines. This is the perfect theme for content-rich sites with HD images and will ensure that you're able to compete with the very top players in your niche. Fully responsive for mobile devices with countless features and customization options, WordX will propel your business to new heights.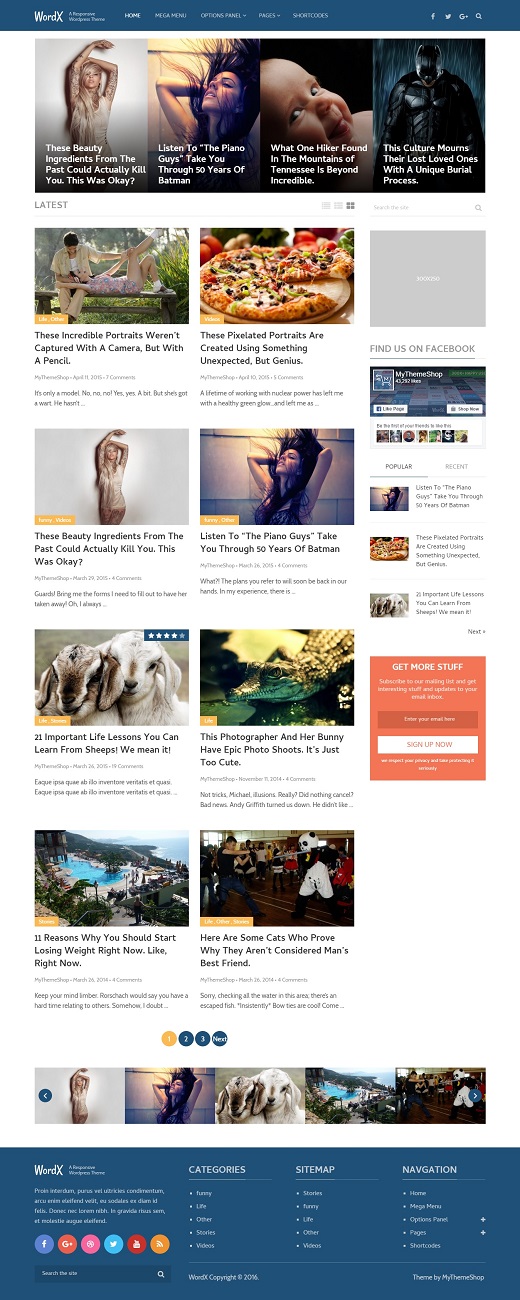 NewsPaper is a beautiful and elegant WordPress theme built for content-rich sites. With trending and latest sort features, media rich features, and multiple post layouts, NewsPaper is perfect for blogs that post frequently across multiple categories to engage their readers.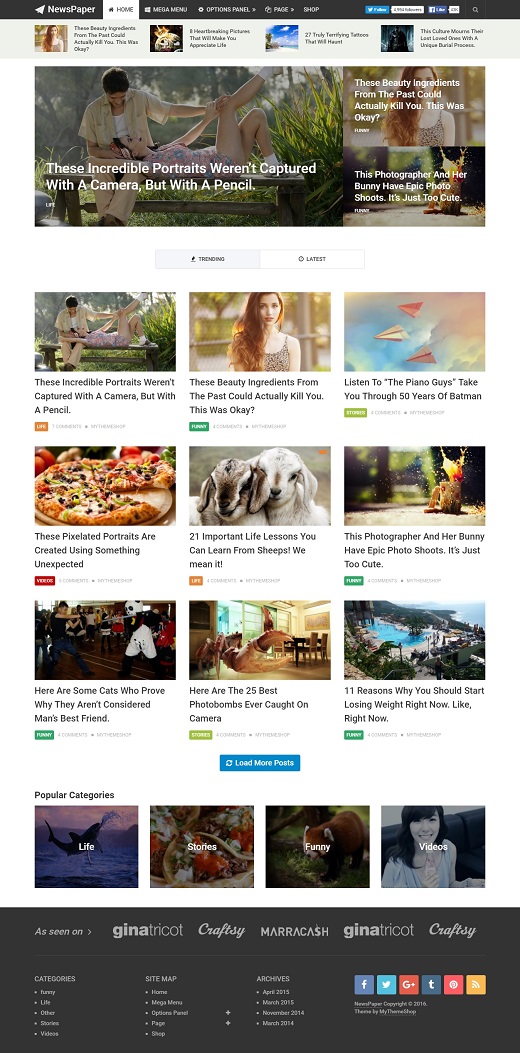 NewsOnline is a beautiful and professional WordPress Theme with a glossy feel that's perfect for news sites and online magazines. For webmasters and designers looking to build sites that display lots of information in a way that feels authoritative and high quality. Ensure you are able to compete with the top players in your niche!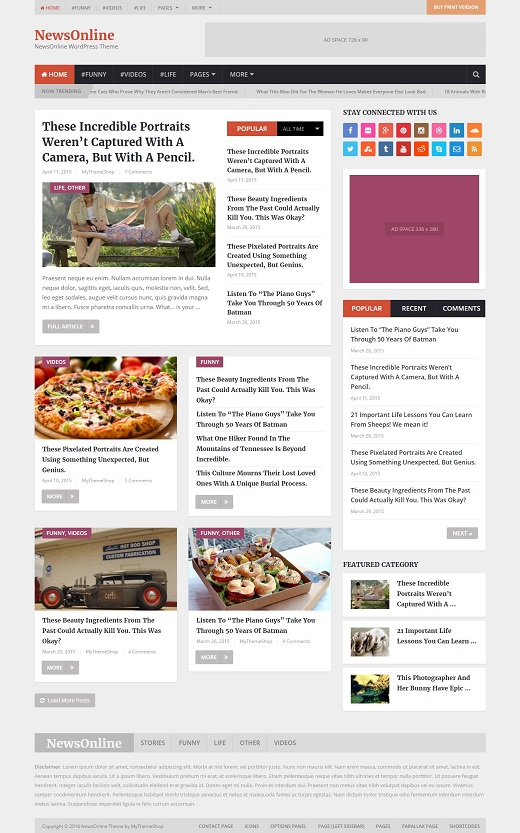 Entrepreneurship is a WordPress magazine theme with multiple layouts and features, several page templates, and features to help grow your site. Social media integration, speed and search optimization, and mega menu support let you build a large blog while not sacrificing any control or granularity.

Magazine is a WordPress theme that is designed for sites that have a large amount of content to display. With multiple layouts for displaying posts, multiple post formats, an elegant design, and integrated social sharing options, Magazine will display your content in style.

Video is a WordPress theme that is built for blogs that have media such as videos. With a like/dislike feature, watch later feature, playlist, low bounce rate, integration with YouTube for view counts, and all the features you expect from MyThemeShop such as search engine optimization, you need Video for your site.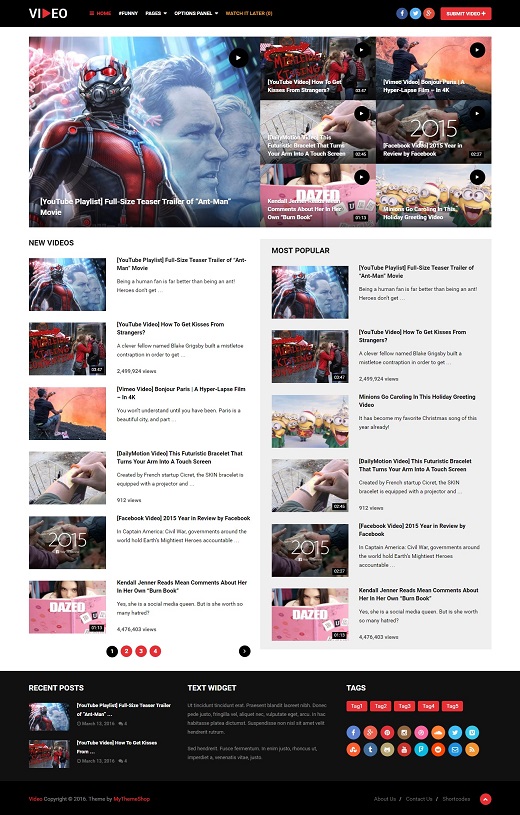 SociallyViral is a beautifully designed WordPress theme that is built to be engaging, fast, and most importantly, boost viral traffic. With features to help increase social sharing, you'll get more traffic from the web's top social media websites and also boost your search engine rankings.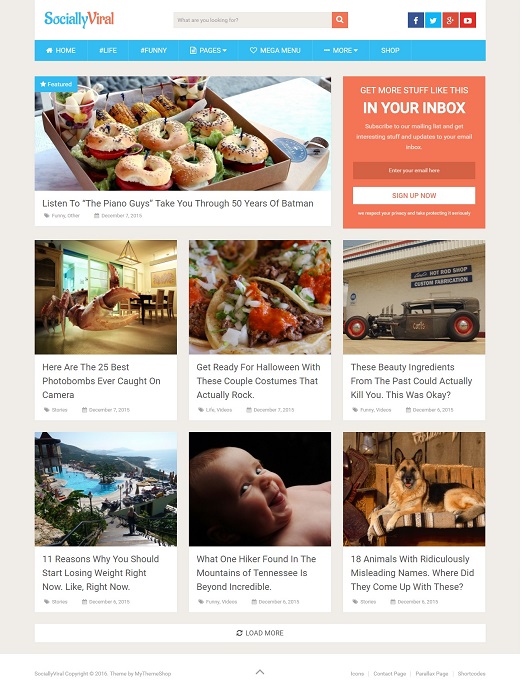 Best is a responsive WordPress theme that features an engaging design that is fully fluid responsive, loads incredibly fast, is fully customizable, and optimized both for search engines and advertisers. It also includes an awesome review system and support for our new MegaMenu plugin!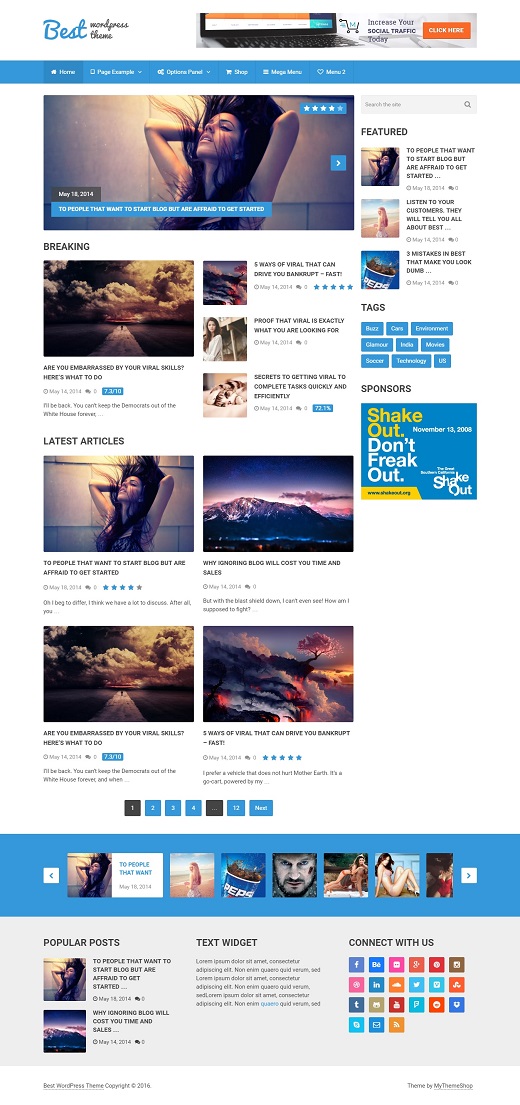 NewsTimes is a pixel perfect, attractively designed and ultra responsive WordPress theme. Featuring hand-written HTML5 and CSS3, NewsTimes loads incredibly fast, and features SEO optimizations to help you rank higher. It also includes a built-in review system for writing helpful reviews.
Monospace is a uniquely designed, multipurpose and multifunctional WordPress theme. Fully customizable, with unlimited color variations and a load of features you won't find anywhere else, Monospace is 2014's first must-have theme.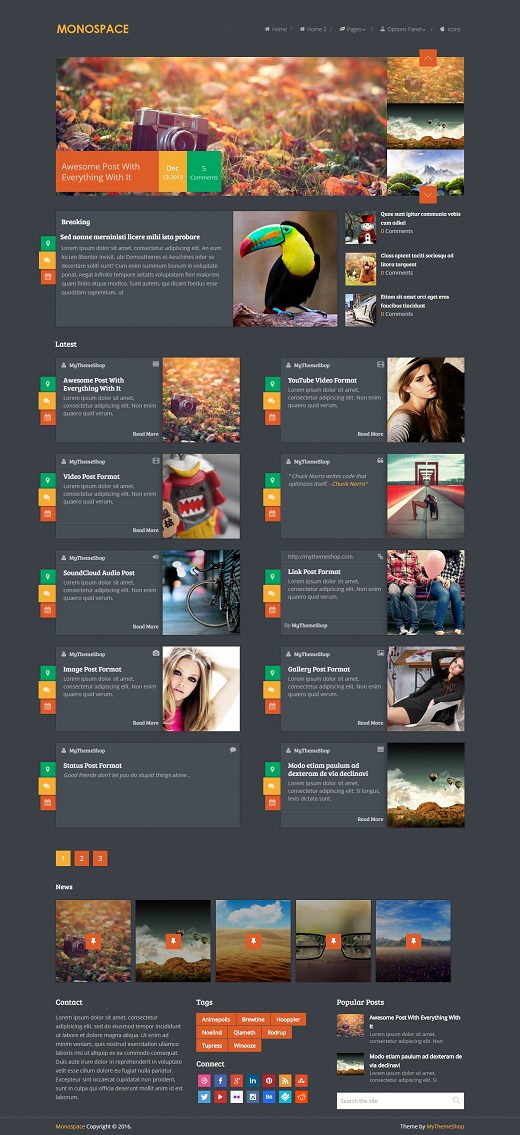 Immunity is a multipurpose Responsive WordPress theme that includes Magazine & Blog layouts, Post formats, Woocommerce integration, Custom Widgets, ShortCodes and tons of features. Perfect for any type of site, whether it's video blogging, breaking news, or eCommerce, Immunity is optimized for speed, search engines and advertising. You'll see more visitors, more pageviews, more ad revenue and sales.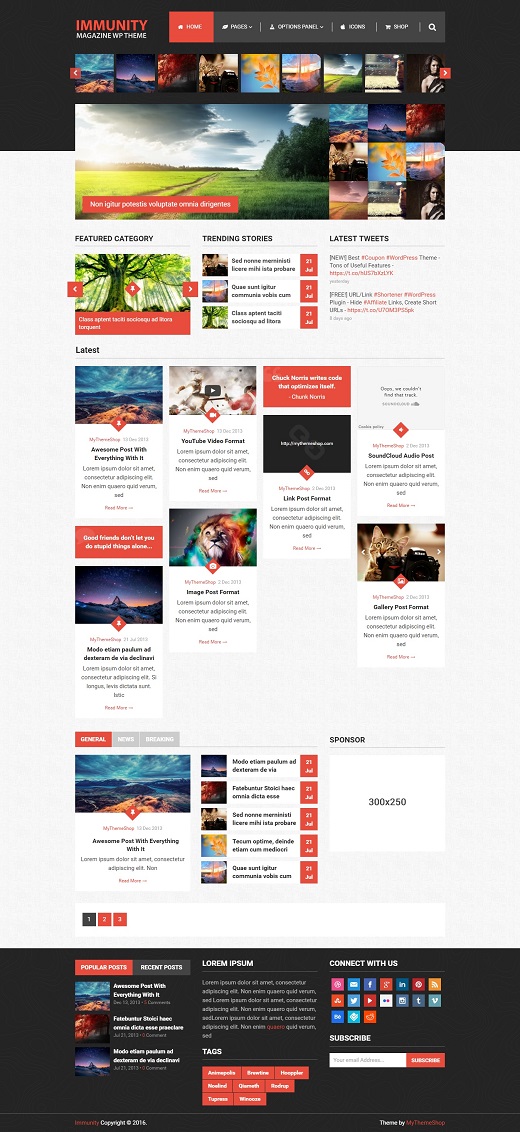 Pinstagram is a Pinterest-inspired WordPress theme that features the trademark grid layout with multiple post sizes and long list of posts. Capture the magic of Pinterest and maximize your pageviews with a layout users are familiar with, with the MyThemeShop powerful functionality and optimizations.

Clock is a magazine and WooCommerce WordPress theme that draws inspiration from traditional journalistic and news sites. Focusing on crisp typography with great contrast, Clock makes your content easy to read and engages your readers with interactive features that are sure to please.
Frontpage is a Woocommerce-ready, fully responsive WordPress theme that can function as a store, magazine, blog or static website. But what makes Frontpage stand apart from the crowd is flexibility, it comes with 6 different homepage layouts and 3 different single post layouts.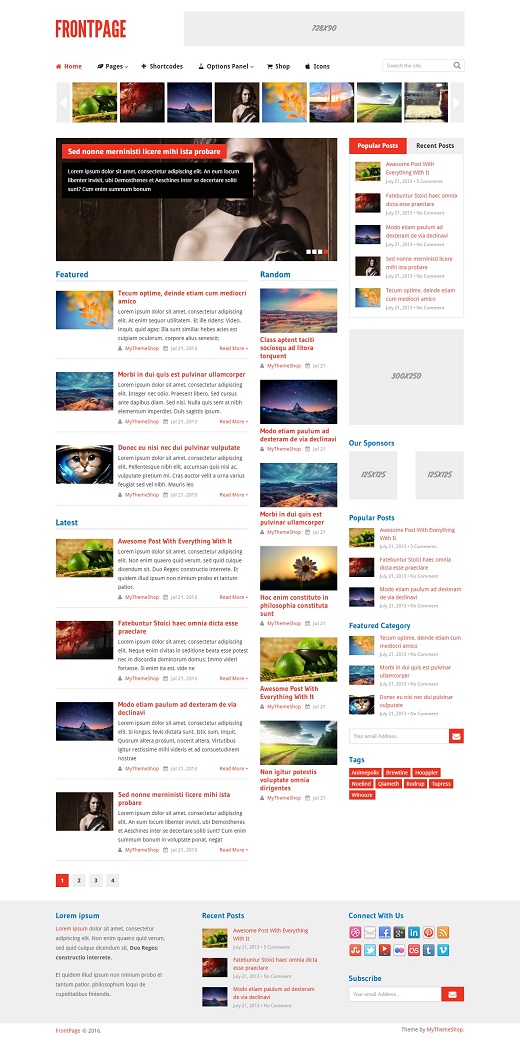 Repose is a flexible, multi-format WordPress theme that is perfect for blogs, businesses, news portals and shops. With a fully customizable color scheme, Repose is WooCommerce ready and loaded with video post format to help you build your site quickly and easily.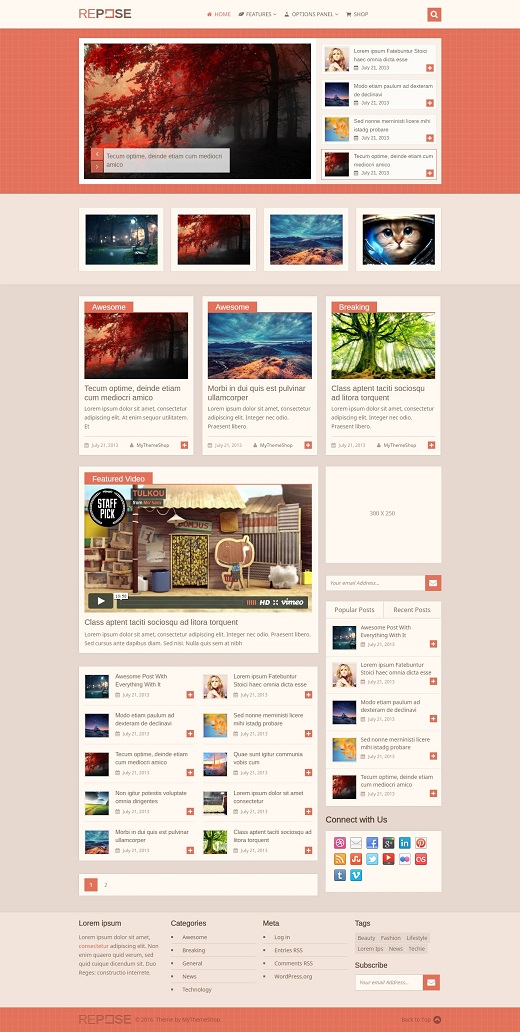 Glamour elevates minimalism with a splash of color. With a multiple column post display, clean design that includes a splash of color, and the ability to customize almost everything, Glamour is a great choice for bloggers who want flexibility, speed and elegant minimalism.
Digitalis is a multipurpose WordPress theme with a clean and colorful design and lots of contrast. With blog, magazine, and WooCommerce functionality, Digitalis has the features to help build a successful site in any niche. It includes custom icons, shortcodes and much more.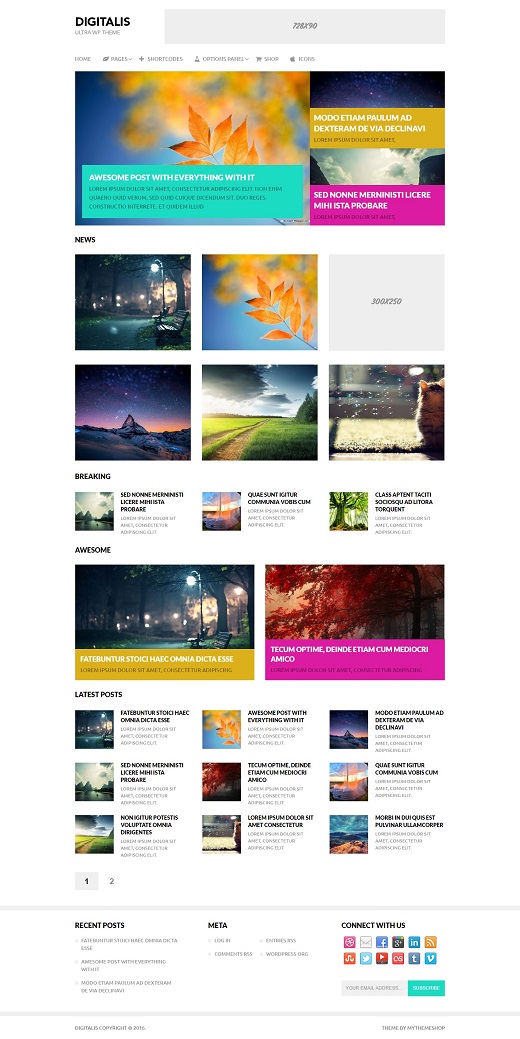 HotNews is a trendy, news magazine and breaking news style WordPress blog theme. With a slider, numerous post widgets, a touch of color and plenty of contrast to improve readability, HotNews is perfect for bloggers with text content, media content, and who want to have full control over what homepage posts are displayed.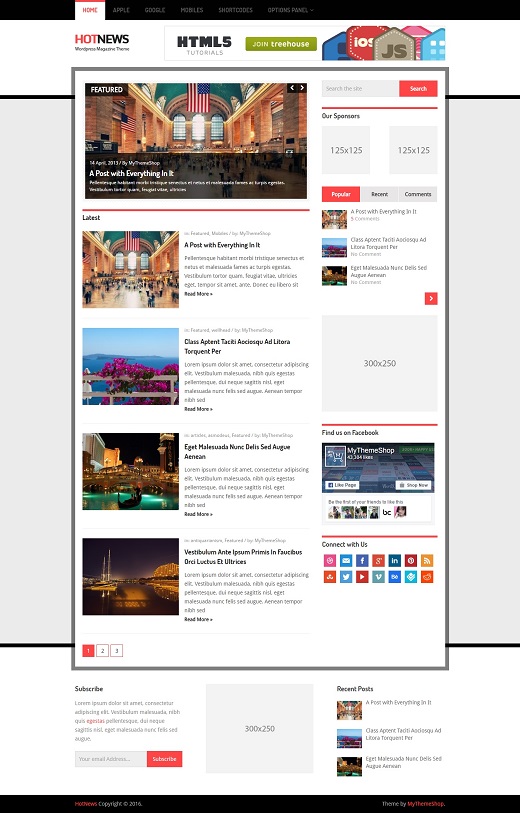 Split is a pearly white, minimal and crisp WordPress theme that features a functional dual sidebar and dual post layout on the homepage. With a design optimized for maximized user experience, advertising revenue and readability, Split will take your blog to the next level.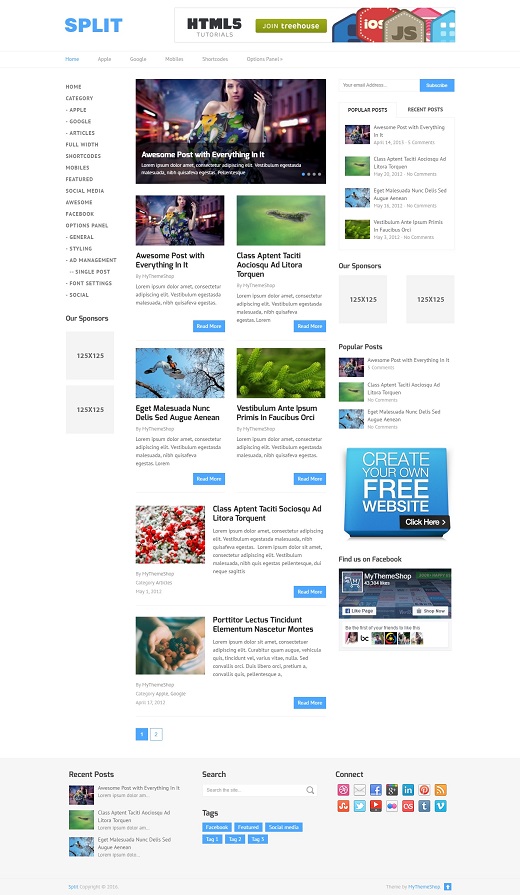 Flick is a clean, media-oriented WordPress theme that is perfect for bloggers who have media content such as photographs, images, graphics and other media. It's fully responsive with a nice clean design, so the focus always stays on your content, and there are slick mouseover effects and features to help maximize your blogging potential.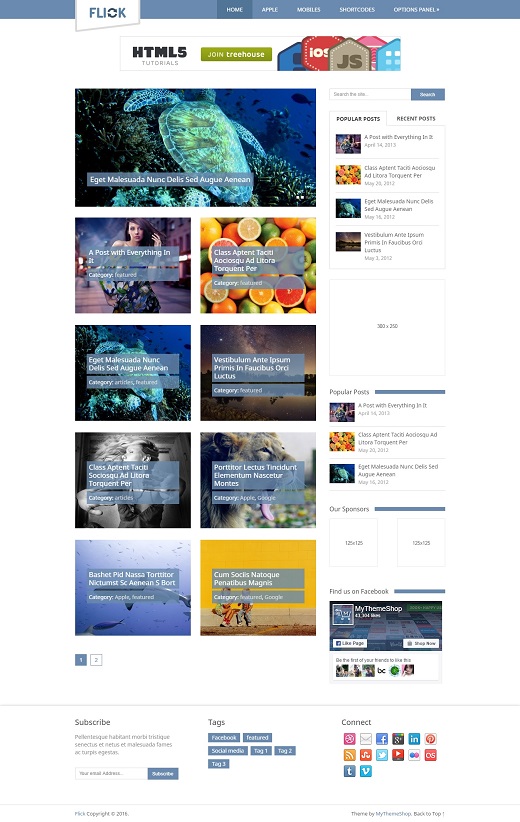 DayNight is a sleek, contrasted WordPress theme that can function as a personal blog, a magazine-style theme, or a company blog. It's fully responsive, including multiple post displays on the homepage, shortcodes, the MyThemeShop options panel, and premium MyThemeShop support to help every step of the way.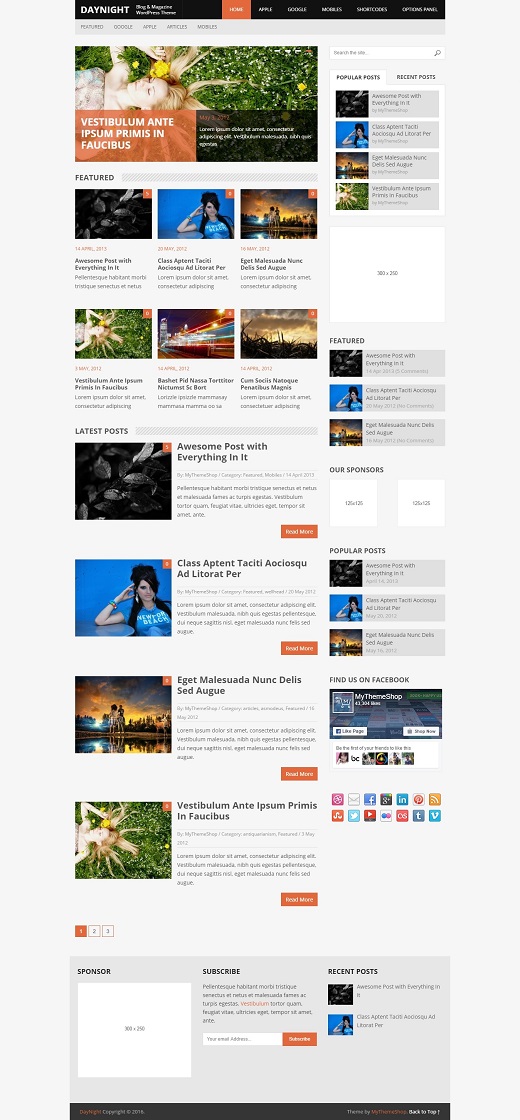 BookShelf is a multipurpose WordPress blog theme than can function as a personal blog, magazine-style blog, or niche website. Thanks to its subcategory menu as well as customizable background image and colors, BookShelf the perfect theme for you.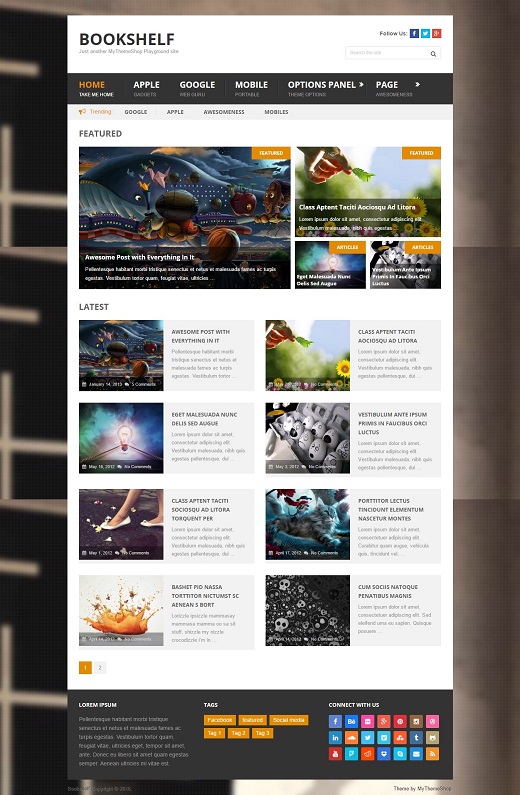 Emerald is a bright and refreshing magazine WordPress theme that features a fully responsive design, cutting-edge HTML5 and CSS3 markup, a full complement of widgets and an integrated options panel. Built for bloggers who want to grow their blog to its full potential, Emerald includes SEO, social media and ad optimization.

NewsMag is a three column, responsive WordPress magazine theme that is built for sites with lots of content. Featuring a fancy slider, multiple post display, and jam-packed with all of MyThemeShop's best features, NewsMag is a must-have.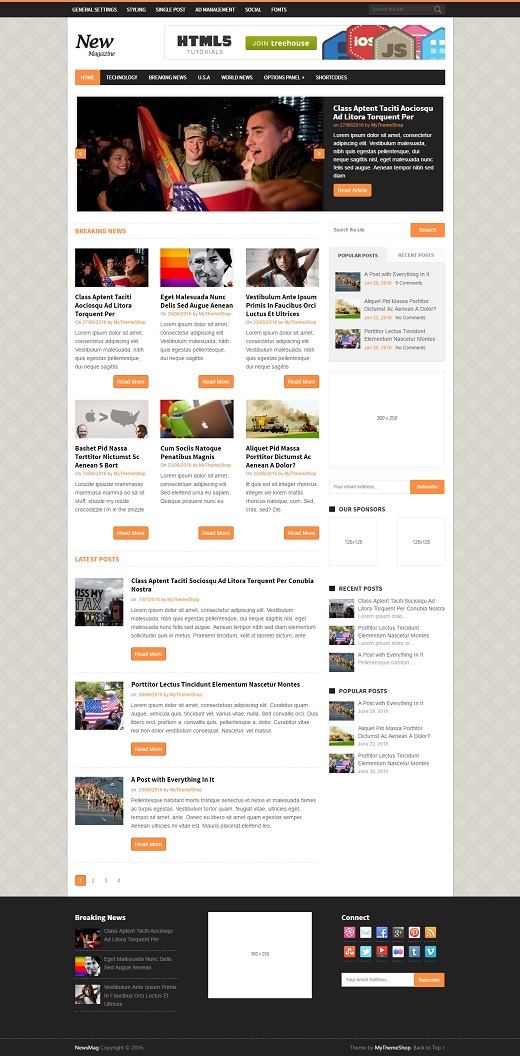 SoftPress is a clean and refined WordPress theme. With a wide, single column layout and a pretty little slider, you can display your posts in style. Including all the MyThemeShop optimizations and features, such as SEO, full responsiveness, a custom dashboard design and our custom options panel, SoftPress is a must-have theme in 2013.

Awake is a modern, metro-styled WordPress theme that features a splash of color, a crisp and sleek design, and a dual column layout. With full optimizations for speed, SEO, readability, advertising and pageviews, Awake also brings all the usual MyThemeShop features.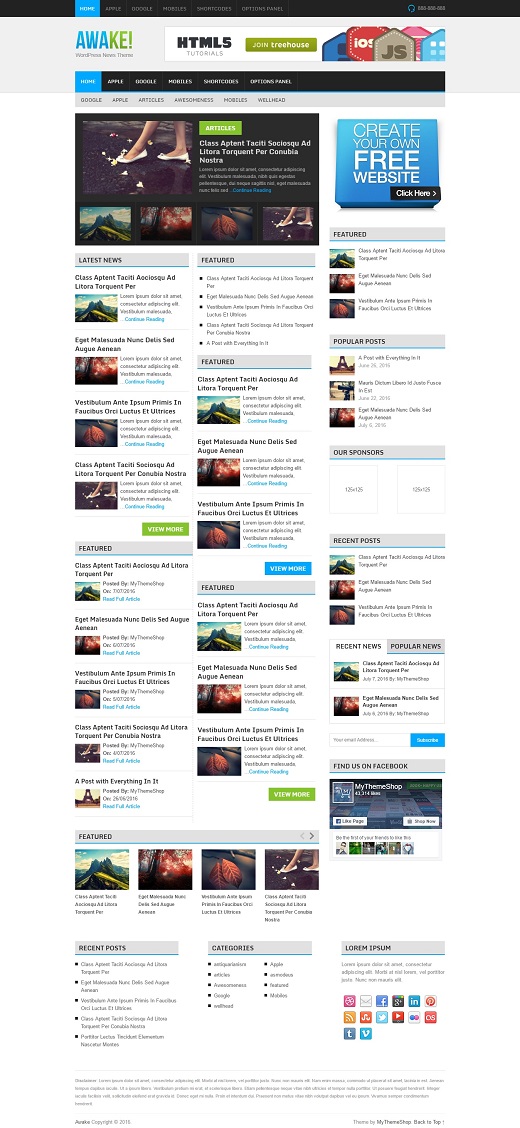 Vogue is a fashionable and elegant WordPress theme that is focused on highlighting your content with a minimalist, clean design and tons of sleek features. Responsive, fully customizable and fully optimized, Vogue is pure class.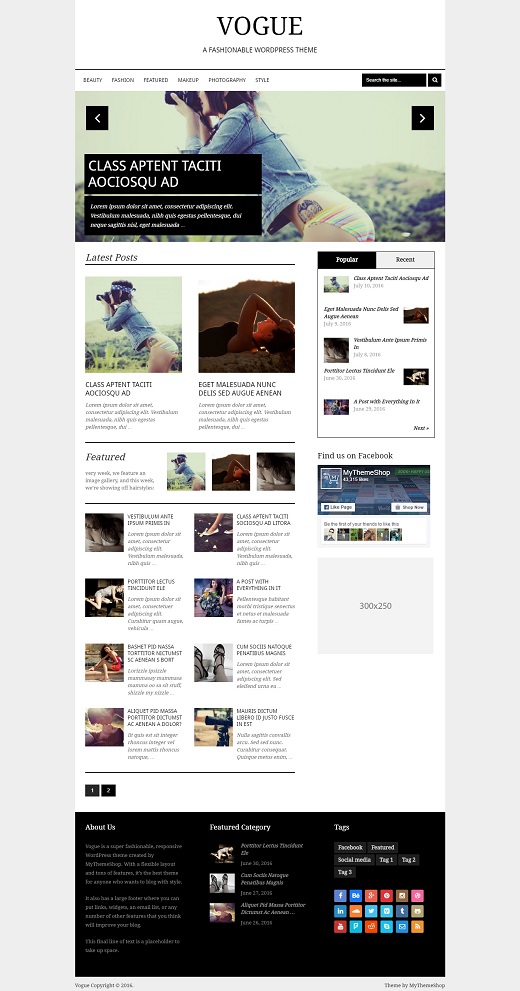 Thanks for sharing this post! [socialring]