We have chosen some of the best free & premium Portfolio WordPress Themes that can be easily adopt to your company website. The following themes will make your website professional looking in a few clicks.

Introducing the most powerful and flexible WordPress theme created by Themify, making it easy to create any site quickly and beautifully (and responsive, of course). Take full control of your theme design from header to footer. Ultra is a "must-have" theme for designers and developers.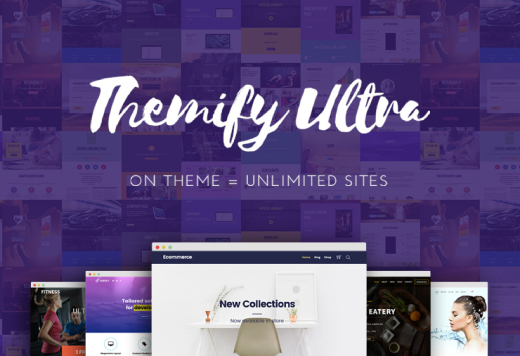 Peak is a modern grid based WordPress theme, boasting a masonry tiles layout that can adapt to any screen size or device thrown at it. The tiles layout is auto populated and aligned perfectly in a grid, but you can set your own custom tile size. Equipped with the optional mega menu, various post layouts, slide-out widgets, portfolio, and WooCommerce support, Peak is an excellent multi-purpose theme for blogs, portfolios, magazines, and ecommerce sites.

Music is a theme that brings art to life. Music is responsive and retina ready, built for artists, events, portfolios, photographers, and even apps. With Music, you can embed a music player, an album playlist, and even better – fullwidth video backgrounds! Create eye-catching pages with your own videos playing behind your content, without touching a line of code!

Parallax theme is a combination of two cool trends – parallax scrolling and single page design. It is designed to help you to build a stunning parallax scrolling site with ease. Showcase your work and services responsively on a single page. Viewers can enjoy your beautiful content in parallax scrolling sections. Impress your visitors with fly-in elements! The theme can be used as a single page or regular site with page URLs. Jump in the parallax scrolling trend now with Parallax theme!

Split is a fully responsive WordPress theme that's built with a split scrolling feature allowing you to create a cool splitting effect as you scroll from one row to the next. We've built this feature to allow you to display any content (fullwidth video, image, text) on any row of your site using this visually appealing effect. We've also included a pair of post layouts, no sidebar (half page), and sidebar (fullwidth feature image). These layouts allow you to change the way you display your portfolio or blog pages. In addition to this, we've packed this theme with 9 differently colored skins, 8 sample page layouts, header and footer visibility options, infinite scroll, and a masonry layout. Visit the demo to see what you can build with Split!

Fullpane is a theme inspired by the famous Themify Parallax theme, the iPhone 5C, and the JOBS movie site. Every pixel is hand-coded to perfection using the latest and greatest code in the world of CSS3, JavaScript, and HTML5. Fullpane includes many different layout options, custom post types, and animations effects, and is a multi-purpose theme that allows you to create colorful and stunning websites for personal blogs, agency websites, and photographers or videographers showcasing their portfolio. Check out the Features page to see Fullpane in action!

The Elegant theme is a simple yet elegant, multipurpose theme that removes all the fancy animations and graphic effects, and instead focuses more on your content. Crafted with minimal design and great attention to typography, Elegant theme provides a stunning visual that displays and functions beautifully across all devices. With the bonus Portfolio and Team post type on top, new image filter feature, masonry and grid layouts, Elegant is the perfect theme for writers, artists, designers, agencies, editorial sites, and individual portfolios.

Themify Corporate is a professional-looking multi-purpose theme that is based from our very own Themify.me site. Both responsive and retina ready, Corporate is built for businesses, portfolios, photographers, web apps, or general company sites to promote your services. We've packed this theme with multiple features such as video background, animations, social icons, and animated progress bars making it one of our most flexible themes that caters to any type of user. This is the ideal WordPress theme for anyone looking to spice-up their site.

Inspired by Windows 8 Metro design and the Metro theme, Stack is built to work seamlessly with the Tiles Addon (included in the theme), allowing you to create amazing metro designed layouts using the drag & drop Builder. Stack is a fluid & responsive WordPress theme that works on all resolutions, and on any device (desktop, tablet, and mobile). It comes with masonry & infinite scroll features for WordPress Post Formats, portfolio, and WooCommerce shop. The Stack theme is ideal for showcasing your portfolios (design, photography, etc.), creating an unique eCommerce site, and building general corporate sites.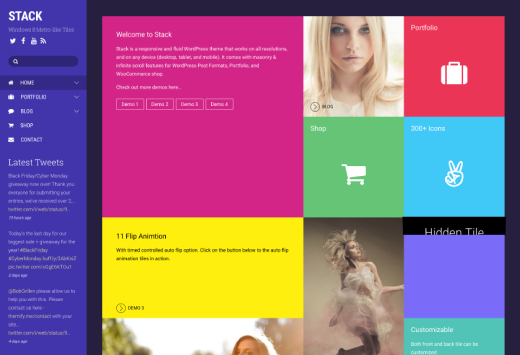 Big fan of Pinterest? You've got to love this new theme we have to offer – Pinboard. It features an auto stacking layout with infinite scroll as seen on the Pinterest desktop site. If you are unfamiliar with the term "infinite scroll", it means that new posts are loaded automatically when you hit to the bottom of the page. The stacking layout works perfectly and responsively on any resolution using a desktop or mobile devices such as iPad, iPhone, Blackberry, and Android. Check our demo and resize your browser window to see how the layout adapts. It also includes multisite integration which enables users can sign-up and post. See Pinboard multisite demo and sign-up. It works on both single WordPress or multisite installation.

Flat design is definitely a hot trend as seen in Windows, Andriod, and even Apple's iOS7. Are you ready to dive in the flat trend? Our Flat – is perfect for you! Flat theme is beautiful, modern, bold and colorful. Modern web design is about interaction and technology. Flat theme utilized HTML5, Javascript, and CSS3 to display the content beautifully. As the page scrolls down, the content will appear with various transitional effects: fly-in, fade-in, slide-in, drop-in, animated circles and progress bars. Aside from the Themify Builder, Flat is packed with many extra shortcodes and custom post types such as Timeline, Team, Portfolio, and Testimonial. Get Flat theme now to flatten your site!

Inspired by Windows 8, Metro is a responsive, beautiful, minimal, and colorful theme that is perfect for blog and portfolio sites. Using the Tile custom post type, you can mimic the Metro design by showing various tiles: buttons, gallery sliders, images, maps, and text. Showcase your portfolio with either a single featured image or an image slider. Make your blog interesting by publishing different post formats such as: images, videos, quotes, galleries, links, etc. It comes with 9 different colors based on Windows 8's Metro that you can apply to all or individually to all blog, Tile, and Portfolio posts.
Agency theme is clean, minimal, and responsive WordPress theme meant for design agencies. Agency is a corporate theme that allows design agencies to easily showcase their design portfolio, display their products and service offerings, provide social proof through customer testimonials, and display the hard working people on their team. Fully customizable using the Themify shortcode convention, allowing complete freedom in how the website behaves and displays itself across any and all devices.

Simfo is a minimal responsive theme with a subtle touch of grungy texture. Design-wise, it has great attention to details — great balance of white space and beautiful typography. Functionality-wise, it works on all screen resolution and most browsers including the mobile devices such as iPad, iPhone, Android, and Blackberry. The template includes optional lightbox and post sorting navigation. Simfo is a perfect theme for portfolio and general blog sites. If you like Simfo, you may also like ThemeMin and Elemin.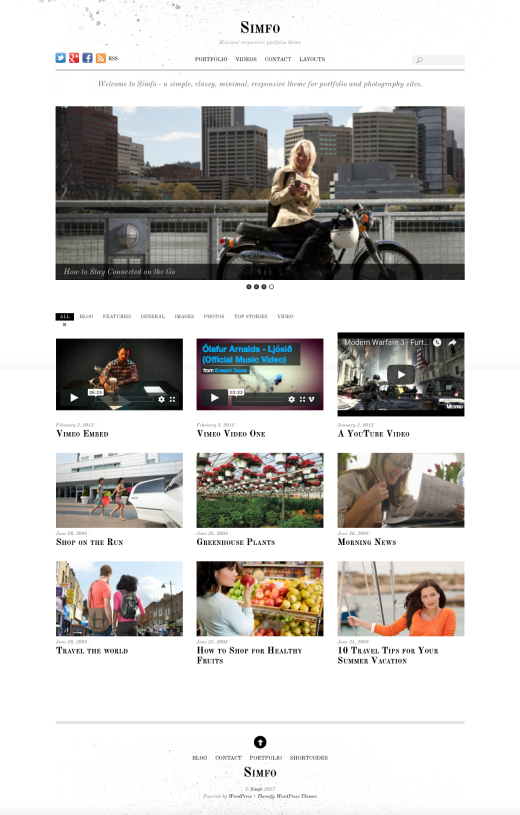 Bold is a blog and portfolio theme that allows you to showcase various types of media (images, videos, galleries, sliders, and maps) in a fullwidth design. Your media content is put in center focus with beautiful typesetting. Each post gives you full control of media alignment, font styles, background color and image. For your convenience, we've packed a number of color presets, font styles, and background images. But if you feel like using your creativity, you may upload custom background image and specify any color with the color picker. No coding skills required to be creative! And not to mention it is a responsive theme that works on desktop and mobile!

Minimal design + responsive layout + fullscreen gallery = Fullscreen theme. It is a gorgeous photo gallery theme where the photos are put in center focus. Users can toggle to fullscreen mode by clicking on the fullscreen button and pressing escape key to exit the fullscreen mode. The fullscreen gallery can be individually assigned to Posts and Pages. For the regular WordPress gallery, there are two display options: photoswipe or lightbox. You may use Fullscreen to showcase lightbox media such as popup image, video, and iframe window.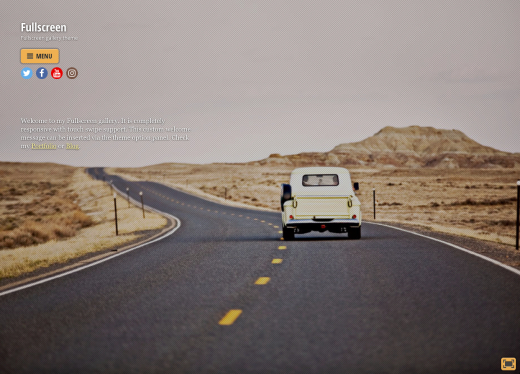 PhotoTouch is a beautiful photo theme designed with mobile devices in mind. It features a gallery/slideshow that mimics the iPhone native Photos app. User can swipe or press arrow keys to go through the photos, double tap, auto play, pinch and expand, etc. Combined with the responsive design and slider, PhotoTouch is a perfect theme to showcase your photo portfolios. Most importantly, it works on both desktop and mobile devices such as iPhone, iPad, Blackberry, and Android phones (view demo).

Tisa is the latest addition to our responsive theme collection. What is responsive? Responsive means the design is adaptive to the browser's viewport. The layout is completely fluid. No matter what device and resolution that your visitor is using, the theme automatically resizes and flow with the viewport. It works on most desktop browsers (Chrome, Firefox, Safari, IE, etc.) and mobile devices such as iPhone, iPad, Blackberry, and Android. To see this in action, view the demo and resize the browser window. If you like responsive layout, you may also like: Elemin, Funki, Minblr, Wumblr, and iTheme2.